Me Too and my Son the Guzzler – A poem for parsha Ki Teitzei
If you go out to war against your enemies…and you see among the captives a
beautiful woman and you desire her, you may take [her] for yourself as a wife.
I can see this was written long before
the sensibilities of me too came along.
And how these ancient sensibilities
themselves created the need for
me too to come along. And despite
that obviousness making so much sense
to me, one only has to turn on the news
for five minutes to realize we still have
so many humans who have yet to
come along. Come along, humans.
It wasn't right in Biblical times to
regard any humans as property and
it's not right now. Come along.
Yes, you too.
This son of ours is wayward and rebellious; he does not obey us;
[he is] a glutton and a guzzler.
This is what we told to the elders of the city
at the gates of the city. to describe our
wayward and disobedient sons before
they pelted them to death. This was before
therapy and consequences and
I'll turn this thing right around.
This is when we gave up too easy.
What child doesn't behave like a glutton?
Which of our children haven't we caught
guzzling? I'm sure I told my son three times
just yesterday quit guzzling like a glutton.
He listens. But he'll do it again.
He doesn't know how not to yet.
Don't give up on your little gluttons.
Show them the way with your way.
It looks like they're not getting it, but
they will get it. The tree grows up to
look just like you. It's all they know.
---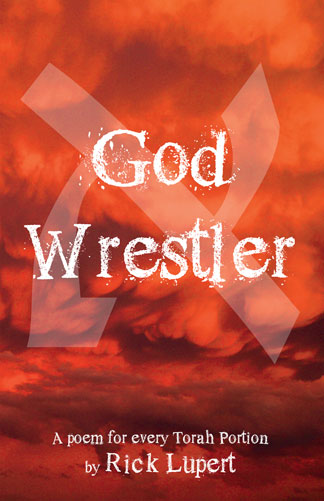 Los Angeles poet Rick Lupert created the Poetry Super Highway (an online publication and resource for poets), and hosted the Cobalt Cafe weekly poetry reading for almost 21 years. He's authored 23 collections of poetry, including "God Wrestler: A Poem for Every Torah Portion", "I'm a Jew, Are You" (Jewish themed poems) and "Feeding Holy Cats" (Poetry written while a staff member on the first Birthright Israel trip), and most recently "Hunka Hunka Howdee!" (Poems written in Memphis, Nashville, and Louisville – Ain't Got No Press, May 2019) and edited the anthologies "Ekphrastia Gone Wild", "A Poet's Haggadah", and "The Night Goes on All Night." He writes the daily web comic "Cat and Banana" with fellow Los Angeles poet Brendan Constantine. He's widely published and reads his poetry wherever they let him.
"Please note that the posts on The Blogs are contributed by third parties. The opinions, facts and any media content in them are presented solely by the authors, and neither The Jewish Journal nor its partners assume any responsibility for them. Please contact us in case of abuse."