Moses the Warrior and the Spatula of Destiny – A Poem for Parsha Matot-Masei
Moses sent them the thousand from each tribe to the army
The famous Moses, the prophet, the orchestrator of freedom
gets a lot of attention for his basket in the water back story,
for his striking of the Egyptian task-master
for his commingling with the Bush that burned
but wasn't consumed.
We know all about the holy flack he got for
hitting the rock, and we feel bad, after he spearheaded
a forty year project to get us to the promised land,
that he doesn't get to cross the river with us.
But the details of him as the head of an army
although we read them every year, or at least
we're assigned to read them every year,
don't get as much attention.
The thousands of men he sent to war.
The commands he issued to kill every enemy male.
The slaughtered kings, the captured women
and children, and possessions, and livestock.
The burned cities and castles. The plunder.
Moses laid a path of war on his way to
the Holy Land, all by the Lord's command.
This is our holy text. This is the legacy of
how we earned freedom.
…along with Phinehas the son of Eleazar the kohen
to the army, with the sacred utensils
Beware the spatula of destiny!
---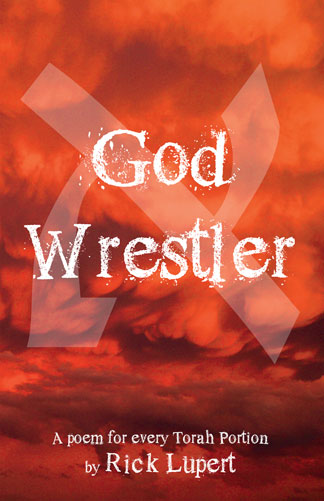 Los Angeles poet Rick Lupert created the Poetry Super Highway (an online publication and resource for poets), and hosted the Cobalt Cafe weekly poetry reading for almost 21 years. He's authored 23 collections of poetry, including "God Wrestler: A Poem for Every Torah Portion", "I'm a Jew, Are You" (Jewish themed poems) and "Feeding Holy Cats" (Poetry written while a staff member on the first Birthright Israel trip), and most recently "Hunka Hunka Howdee!" (Poems written in Memphis, Nashville, and Louisville – Ain't Got No Press, May 2019) and edited the anthologies "Ekphrastia Gone Wild", "A Poet's Haggadah", and "The Night Goes on All Night." He writes the daily web comic "Cat and Banana" with fellow Los Angeles poet Brendan Constantine. He's widely published and reads his poetry wherever they let him.
"Please note that the posts on The Blogs are contributed by third parties. The opinions, facts and any media content in them are presented solely by the authors, and neither The Jewish Journal nor its partners assume any responsibility for them. Please contact us in case of abuse."