An Eye for an Eye is Too many Eyes – a poem for Torah Portion Mishpatim
an eye for an eye, a tooth for a tooth,
a hand for a hand, a foot for a foot,
We could go on like this forever
an elbow for an elbow, a spleen for
a spleen, an eyelash for an eyelash
a toe for a toe (it would have to be
the same toe), a breath for a breath
a lip for a lip, a neck for a neck,
you should stop me because I
could go on forever, a glance for
a glance, a knee for a knee,
a wrinkle for a wrinkle, a buttock
for a buttock (see, you really
should have stopped me.)
I'm not sure what our need is
for an assemblage of equal
punishments for equal crimes.
I have no use for someone's eye.
I'd like to give the loud talkers
my headache instead of more
loud words. I'd like to give
knowledge and opportunity
to those who are stuck
feeling their only out is
to steal my sheep. As an aside
I'd love some sheep who feel
free with the wool so I could
knit some sweaters for those
cold cold judges who spend
all their time making laws.
My donkey fell into a pit.
What are we going to
do about that?
---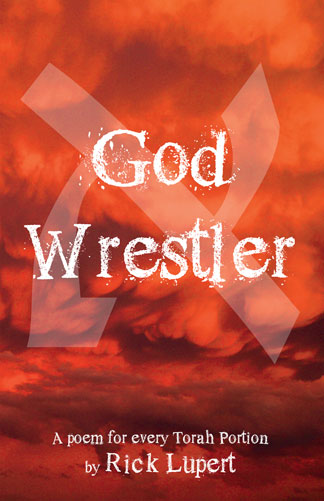 Los Angeles poet Rick Lupert created the Poetry Super Highway (an online publication and resource for poets), and hosted the Cobalt Cafe weekly poetry reading for almost 21 years. He's authored 23 collections of poetry, including "God Wrestler: A Poem for Every Torah Portion", "I'm a Jew, Are You" (Jewish themed poems) and "Feeding Holy Cats" (Poetry written while a staff member on the first Birthright Israel trip), and most recently "Hunka Hunka Howdee!" (Poems written in Memphis, Nashville, and Louisville – Ain't Got No Press, May 2019) and edited the anthologies "Ekphrastia Gone Wild", "A Poet's Haggadah", and "The Night Goes on All Night." He writes the daily web comic "Cat and Banana" with fellow Los Angeles poet Brendan Constantine. He's widely published and reads his poetry wherever they let him.
"Please note that the posts on The Blogs are contributed by third parties. The opinions, facts and any media content in them are presented solely by the authors, and neither The Jewish Journal nor its partners assume any responsibility for them. Please contact us in case of abuse."