Kvetching by the Sea – a Poem for Torah Portion Beshalach
Is it because there are no graves in Egypt that
you have taken us to die in the desert?
Ladies and gentleman, the Israelites
invented sarcasm right here in the desert!
Of course, there are graves in Egypt.
We just can't afford them, and we'd
have to build them ourselves.
All the best Egyptian burial traditions
are decidedly not Jewish. We're not
meant to wrap ourselves in bandages
and we certainly don't take all our
stuff with us.
Ladies and gentlemen, the Israelites
invented kvetching, right here in the desert!
We hadn't thought up the word dayenu yet
so it wasn't enough we were brought
out of Egypt, or that meaningful frogs
fell out of the sky, or even that a slew
of Egyptian first-borns were…slewn.
All that matters know is we might get wet
and, outside of the occasional Spitz
and Krayzelburg, you know how we feel
about swimming.
Ladies and gentlemen, the Israelites
invented the dialog of the Jewish mother
right here in the desert! It's fine, you swim
across the lake, your father and I will get
decapitated by Egyptian swords. Or maybe
I'll just take a spear, I'm no good to anyone
without my head. Do me a favor, when you
get to the promised land, after you're done
slaughtering the locals, marry a nice Jewish
someone. You don't want to have to explain
the concept of 'one God' to a Canaanite baby
while my lifeless body sits on the shores
of the Red Sea (which they sometimes call
the "Dead" Sea for reasons which are now
obvious to me) not able to tell you anything.
---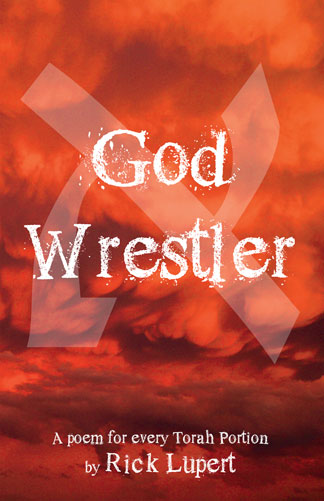 Los Angeles poet Rick Lupert created the Poetry Super Highway (an online publication and resource for poets), and hosted the Cobalt Cafe weekly poetry reading for almost 21 years. He's authored 23 collections of poetry, including "God Wrestler: A Poem for Every Torah Portion", "I'm a Jew, Are You" (Jewish themed poems) and "Feeding Holy Cats" (Poetry written while a staff member on the first Birthright Israel trip), and most recently "Hunka Hunka Howdee!" (Poems written in Memphis, Nashville, and Louisville – Ain't Got No Press, May 2019) and edited the anthologies "Ekphrastia Gone Wild", "A Poet's Haggadah", and "The Night Goes on All Night." He writes the daily web comic "Cat and Banana" with fellow Los Angeles poet Brendan Constantine. He's widely published and reads his poetry wherever they let him.
"Please note that the posts on The Blogs are contributed by third parties. The opinions, facts and any media content in them are presented solely by the authors, and neither The Jewish Journal nor its partners assume any responsibility for them. Please contact us in case of abuse."