I Think I Just Ifed Up – A Poem for Parsha Bechukotai
If you follow My statutes and observe
My commandments and perform them,
This is the pop-up window that won't go away
The if-then of our whole funky sacred existence.
The message of every chapter of every book –
There – I've just done all the book reports
you'll ever need. You can quote me.
The Lord would prefer that you quote me.
That you do the if so you'll get the then.
The rains you need falling out of the sky
The wheat you need shooting up out of the ground
(no offense gluten free believers.)
The trees fat with fruit
The grapes ready to be stomped on
and swished around in your glass
Your stomach crying out
send nothing else – I'm good!
Your door locks and walls no longer necessary
as the only thing that comes from their other sides
is love.
Love is the then.
Are you going to
if this up?
---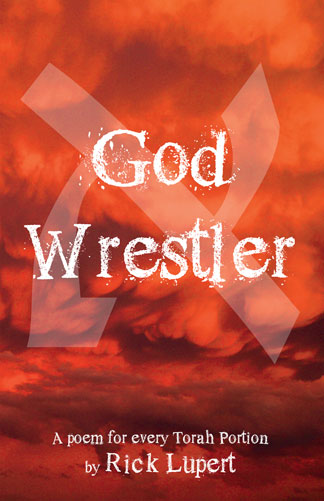 Los Angeles poet Rick Lupert created the Poetry Super Highway (an online publication and resource for poets), and hosted the Cobalt Cafe weekly poetry reading for almost 21 years. He's authored 23 collections of poetry, including "God Wrestler: A Poem for Every Torah Portion", "I'm a Jew, Are You" (Jewish themed poems) and "Feeding Holy Cats" (Poetry written while a staff member on the first Birthright Israel trip), and most recently "Hunka Hunka Howdee!" (Poems written in Memphis, Nashville, and Louisville – Ain't Got No Press, May 2019) and edited the anthologies "Ekphrastia Gone Wild", "A Poet's Haggadah", and "The Night Goes on All Night." He writes the daily web comic "Cat and Banana" with fellow Los Angeles poet Brendan Constantine. He's widely published and reads his poetry wherever they let him.