A Tale of Beards and Stars – A poem for Parsha Toldot (Aliyah 1) by Rick Lupert
Two nations are in your womb, and two kingdoms will separate from your innards,
and one kingdom will become mightier than the other kingdom
This is the kind of information parents shouldn't be given.
You want the best for all your children and try not to
play favorites, but you've been given an inside track here
and when you utter phrases like I love you both just the same
it falls flat in your own ears. How do you explain the
different sized college funds when you know one will
end up owning the college, and the other will just
grow a beard? This is the knowledge that let's you
go back in time and change everything. This is
not the way it's supposed to be.
And the first one emerged ruddy;
he was completely like a coat of hair
Such a bold color for a child
Esau, the human fashion statement
a face like blood, a body like winter –
A pinch in his foot as he burst into the world.
Dumb like a beard. Already hungry.
Already glad not to have to
share air with his brother.
Esau, red as the day he was born.
Already ready to give it all up.
Jacob was an innocent man, dwelling in tents
Jacob, quiet – a tent dweller, soup cooker
inheritance trickster, birthright stealer –
Destined to own the farm.
Jacob, the thinker, momma's little boy
You thought two kids was a lot –
wait 'til you see what he can do.
Jacob makes the lentils. Jacob of the
kempt beard. Jacob, never quite let go
of his brother's foot.
And I will multiply your seed like the stars of the heavens
There's that promise again
The prenatal care of our dreams
A forever glance up to see
the impossibility of keeping up
with holiday cards.
It's okay. You can always
see the stars, but
it's not your responsibility
to reach them. You couldn't
if you tried.
---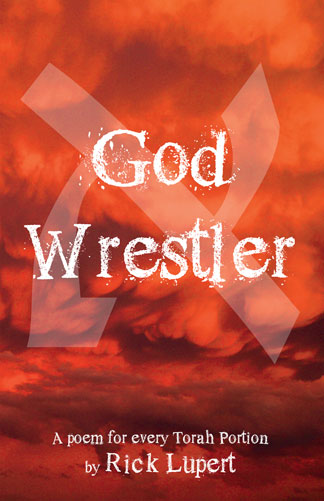 Los Angeles poet Rick Lupert created the Poetry Super Highway (an online publication and resource for poets), and hosted the Cobalt Cafe weekly poetry reading for almost 21 years. He's authored 21 collections of poetry, including "God Wrestler: A Poem for Every Torah Portion", "I'm a Jew, Are You" (Jewish themed poems) and "Feeding Holy Cats" (Poetry written while a staff member on the first Birthright Israel trip), and most recently "Donut Famine" (Rothco Press, December 2016) and edited the anthologies "Ekphrastia Gone Wild", "A Poet's Haggadah", and "The Night Goes on All Night." He writes the daily web comic "Cat and Banana" with fellow Los Angeles poet Brendan Constantine. He's widely published and reads his poetry wherever they let him.