The Day the Fish Left the River – A Poem for Haftarah Va'eira by Rick Lupert
I'm starting to feel bad for Egypt and
all the trouble they're about to have with their fish.
I realize I was a captive there for hundreds of years
though I have no physical memory of this.
I think there's a name for this kind of empathy –
a syndrome that didn't exist back when we
were slinging stones to build pyramids.
But now as we remember getting out
Pharaoh is a crocodile and he's got hooks
in his mouth, and all the Nile's fish are
sticking to his scales, and all the fish are
leaving the river altogether, leaving Egypt
nothing to eat, and unbuilt buildings to build
all by themselves, all because Pharaoh,
the crocodile Pharaoh, claims to own the river
Claims to be responsible for the wealth of the river,
the now empty river – And now it's his people's turn
to vacate for forty years. (Nobody gets out of
the forty year punishment.) I have no idea where
they went – Just that they were unimportant
wherever that was. Until they got to go back
(did I mention it was forty years?) to their river
to their dust. Forever humbled, and doomed
to topple. I only believe so much in prophesy
but I turn on the news and there's no-one
called Pharaoh anymore.
---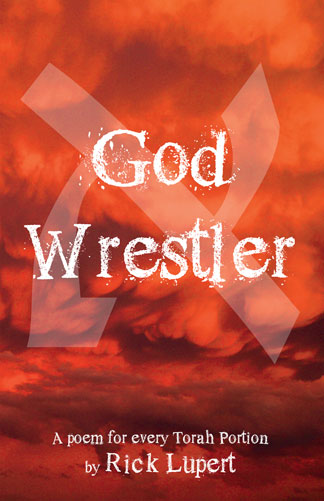 Los Angeles poet Rick Lupert created the Poetry Super Highway (an online publication and resource for poets), and hosted the Cobalt Cafe weekly poetry reading for almost 21 years. He's authored 21 collections of poetry, including "God Wrestler: A Poem for Every Torah Portion", "I'm a Jew, Are You" (Jewish themed poems) and "Feeding Holy Cats" (Poetry written while a staff member on the first Birthright Israel trip), and most recently "Donut Famine" (Rothco Press, December 2016) and edited the anthologies "A Poet's Siddur: Shabbat Evening",  "Ekphrastia Gone Wild", "A Poet's Haggadah", and "The Night Goes on All Night." He writes the daily web comic "Cat and Banana" with fellow Los Angeles poet Brendan Constantine. He's widely published and reads his poetry wherever they let him.