Priests Don't Dress Like They Used To – A poem for parsha Tetzaveh (Aliyah 1)
and they shall take to you pure olive oil, crushed for lighting,
to kindle the lamps continually.
I can't account for the purity of the olive oil
in my kitchen. I just know it's organic and
from Italy via the local boutique grocery store.
I've never tried to kindle lamps with it as
these days, our world is illuminated through
manipulating switches at exactly the right moments.
Timing is everything. You don't want to be
halfway into a room and realize you ignored
the lever, carefully installed at the entrance.
We don't keep them lit continually, these days –
because global warming and coal and green
and the planet and the polar bears – Except in our
houses of the holy, where we pay other people
to turn on the lights, where we never are without
a reminder of what happened at the beginning.
You shall make holy garments for your brother Aaron,
for honor and glory.
Nothing says all glory to God more than a
festive tunic. Multi-colored! A call back to Joseph.
Checker pattern – Throw in a robe and a sash.
Throw in a cap and an ephod. Make sure to
read the original source so you know what an
ephod is. You don't want to be the only one
at the party, praising God, and throwing around
the word ephod like you've been using it your
whole life. Did I mention the cap? The decorative band?
All the colors you can imagine…especially if they're
gold, blue, purple, and crimson. God's favorite colors!
He says so right in the Book!
you shall engrave the two stones with the names
of the sons of Israel
I don't mean to waste your time, but if I were to
rewrite this whole thing, I'd change the word sons
to children as they come in every imaginable gender.
Now that I've got that out of the way, I can tell you
we've been doing this forever. Taking the names
of the people who came before, putting them on stones
and lining the walls of our tabernacles. We're still
paying for it with the gold we took from Egypt.
We're still wondering if they're ever going to
want it back.
---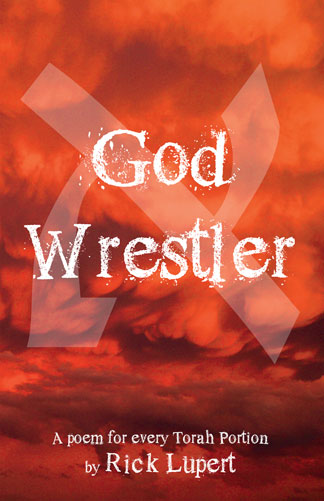 Los Angeles poet Rick Lupert created the Poetry Super Highway (an online publication and resource for poets), and hosted the Cobalt Cafe weekly poetry reading for almost 21 years. He's authored 22 collections of poetry, including "God Wrestler: A Poem for Every Torah Portion", "I'm a Jew, Are You" (Jewish themed poems) and "Feeding Holy Cats" (Poetry written while a staff member on the first Birthright Israel trip), and most recently "Beautiful Mistakes" (Rothco Press, May 2017) and edited the anthologies "Ekphrastia Gone Wild", "A Poet's Haggadah", and "The Night Goes on All Night." He writes the daily web comic "Cat and Banana" with fellow Los Angeles poet Brendan Constantine. He's widely published and reads his poetry wherever they let him.
"Please note that the posts on The Blogs are contributed by third parties. The opinions, facts and any media content in them are presented solely by the authors, and neither The Jewish Journal nor its partners assume any responsibility for them. Please contact us in case of abuse."