The Final Singalong — A Poem for Haftarah Haazinu by Rick Lupert
Since I spend so much time singing ancient Jewish words
with the children of the San Fernando Valley, I was so pleased
to see King David wrote a song…like Moses before him
wrote a song. A song I thought you'd never hear on the radio
because of it's staggering 945 word count with no refrain at all,
until I realized they've been playing the 2633 words of
Alice's Restaurant for decades, not to mention the encyclopedic-
lengthed 5083 words of R. Kelley's Trapped in the closet.
Why can't we set the whole thing to music and demand
heavy rotation? Is that what David had in mind? Is that why
he included the word nostrils twice, so it would have
more of a quirky pop-appeal?
This is the last song of the year. A duet with Moses who
sings posthumously. They were the first two to do this.
To sing of strength. To sing of the source of our comfort.
Their songs are our songs and we are still collecting
the royalties. This music, our inheritance. I say always
end with song. Ideally one everyone can sing.
We've got one more chapter before we start this
whole thing over, and sometimes because of the
peculiar ways in which the days of the week land
on the calendar, we don't even read it. We find ourselves
at the beginning again, wondering how we got here.
So sing this song. Repeat parts of it to extend this cycle
beyond its natural boundaries. And ha-azinu…listen.
Let all the voices go into your ears. They've been
echoing from generation to generation, ever since
they first left Moses and David's lips.
---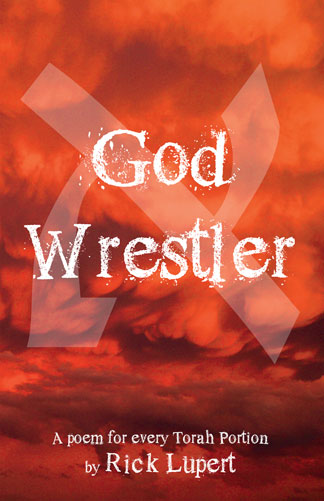 Los Angeles poet Rick Lupert created the Poetry Super Highway (an online publication and resource for poets), and hosted the Cobalt Cafe weekly poetry reading for almost 21 years. He's authored 21 collections of poetry, including "God Wrestler: A Poem for Every Torah Portion", "I'm a Jew, Are You" (Jewish themed poems) and "Feeding Holy Cats" (Poetry written while a staff member on the first Birthright Israel trip), and most recently "Donut Famine" (Rothco Press, December 2016) and edited the anthologies "Ekphrastia Gone Wild", "A Poet's Haggadah", and "The Night Goes on All Night." He writes the daily web comic "Cat and Banana" with fellow Los Angeles poet Brendan Constantine. He's widely published and reads his poetry wherever they let him.
https://jewishjournal.com/blogs/from-the-lupertverse/239232/final-singalong-poem-haftarah-haazinu-rick-lupert/ Up Next