L.A.-based Holocaust claims lawyer sues FBI over Clinton warrant
E. Randol Schoenberg was confused when he read a ">here to download a copy of the complaint]
By the time the FBI reopened the investigation, it had already spent months investigating the Clinton emails.
"It's like somebody's been to your house and searched ten times and says, 'Oops, there's a drawer I missed. Can I go back in?'" Schoenberg said.
The New York Times article was the last time Schoenberg saw mention of a search warrant in the press. So he decided to file a request on Nov. 12 under the Freedom of Information Act (FOIA) to review the warrant. Two days later, the FBI acknowledged receiving his request.
The transparency law allows government agencies twenty days, excluding holidays and weekends, to determine whether it will comply with the request and notify the petitioner. After three weeks during which he heard nothing from the FBI, Schoenberg contacted David B. Rankin, a Manhattan-based attorney specializing in FOIA requests, and filed suit in the United States District Court of Southern New York.
In an interview with the Journal, Schoenberg speculated one of two things happened to allow the FBI to obtain a search warrant: Either a lax judge didn't care enough to scrutinize the warrant application, or "it could be something more nefarious."
Not unlikely, by his estimation, is that somebody provided the FBI allegedly incriminating information that turned out to be untrue.
In the course of his Holocaust-related work, he said, he's worked with law enforcement and U.S. attorneys, persuading them to investigate or file suit.
"You're allowed to give them information and encourage them to start investigate or file lawsuits," he said. "That's totally fine as long as it's correct. But what if it's false?"
Part of the reason he filed suit in New York (other than the fact that Weiner's computer was there) is that he suspects somebody in the Manhattan orbit of then-candidate Donald Trump may have provided a false lead to the FBI, he said.
In the interview, he named New Jersey Governor Chris Christie, former U.S. Attorney General Michael Mukasey and former New York City Mayor Rudy Giuliani, all Trump allies, as potential sources for the FBI's investigation.
Shortly after filing the FOIA request, he laid out in a Jewish Journal op-ed what could be at stake if incriminating information comes to light.
"This is potentially very serious, something that if traced back to Donald Trump might even lead to impeachment,"
http://jewishjournal.com/nation/213047/
4 liberal Jewish groups join call on Trump to nix national security adviser choice
213014
http://jewishjournal.com/nation/213014/
Sanders endorses Clinton
Democrat Bernie Sanders endorsed former rival Hillary Clinton for president in a belated show of party unity on Tuesday, saying it was critical that Democrats come together to defeat Republican Donald Trump in the Nov. 8 election.
"She will be the Democratic nominee for president, and I intend to do everything I can to make certain she will be the next president of the United States," Sanders told a raucous crowd that included plenty of vocal Sanders supporters.
Five weeks after Clinton clinched the Democratic presidential nomination, the U.S. senator from Vermont ended his upstart campaign and joined her at a rally in Portsmouth, New Hampshire, to put their bitter primary battle behind them.
"I have come here to make it as clear as possible as to why I am endorsing Hillary Clinton and why she must become our next president," Sanders said.
Sanders' endorsement brought the most prominent holdout in the party's liberal wing into Clinton's camp less than two weeks before the opening of the Democratic National Convention in Philadelphia, where Clinton is expected to become the party's nominee.
Clinton hopes the joint appearance will help her win over Sanders supporters, some of whom carried Sanders signs into the rally and frequently drowned out her supporters. In recent Reuters/Ipsos polling, only about 40 percent of Sanders backers said they would back Clinton, and the crowd at Tuesday's rally made it clear she still had work to do.
"I am absolutely certain I will not vote for Hillary Clinton," said Gale Bailey, a Sanders supporter and an unemployed graphic designer from Rochester, New Hampshire, who attended the rally in a Sanders T-shirt.
"She's a crook, and I'm not going to vote for a crook," Bailey said, adding that she would write inSanders' name on the November ballot.
The appearance in Portsmouth concluded weeks of negotiations between the two camps asSanders pressed for concessions from Clinton on his liberal policy agenda.
It came after Clinton last week adopted elements of Sanders' plans for free in-state college tuition and expanded affordable healthcare coverage. Sanders also successfully pushed to include an array of liberal policy positions in the Democratic platform, which a committee approved on Saturday.
Sanders did not win all of his policy fights, most notably failing to win support for blocking a vote in Congress on the Trans-Pacific Partnership trade deal.
But he told reporters at the rally in Portsmouth that "our job now is to see that platform implemented by a Democratic Senate, a Democratic House and a Hillary Clinton president – and I am going to do everything I can to make that happen."
Top Democrats, including President Barack Obama and Senator Elizabeth Warren of Massachusetts, a favorite of the party's liberal wing, have already announced their support for Clinton, leaving Sanders at risk of being left behind in the Democratic battle against Trump.
"I think all signs point to the fact that we're going to have a very united party going into Philadelphia," Clinton campaign spokesman Brian Fallon said on CNN earlier on Tuesday, "and when you compare it to the Republicans, we're going to be miles ahead of them."
Trump has struggled to unify the Republican Party after alienating many establishment figures with his stances on immigration, Muslims and women. A number of prominent Republicans are skipping the party's convention in Cleveland next week.
In another sign of the Democrats' growing unity, two prominent liberal groups that had backedSanders, the Communications Workers of America labor union and the Congressional Progressive Caucus PAC, announced their support for Clinton on Monday.
The congressional group is led by two of Sanders' biggest backers in Congress: Raul Grijalva of Arizona, who already had endorsed Clinton, and Keith Ellison of Minnesota.
New Hampshire is where Sanders first served notice of the strength of his campaign by beating Clinton handily in the primary.
In 2008, Clinton and Obama held their first joint rally in the state after his victory in that brutal primary race. To make sure everyone got the point, it took place in the town of Unity.
http://jewishjournal.com/nation/187299/
Report: GOP reinstates platform language on Jerusalem as 'undivided' capital
187269
http://jewishjournal.com/nation/187269/
Clinton camp disavows writer who accused Elie Wiesel of 'inciting hatred'
The Clinton campaign rejected comments by a journalist who accused Elie Wiesel, the Holocaust survivor and Nobel Peace Prize laureate who died July 2, of "inciting hatred" and "defending apartheid."
"Secretary Clinton emphatically rejects these offensive, hateful, and patently absurd statements about Elie Wiesel," Jake Sullivan, a policy adviser to Hillary Clinton's presidential campaign, said in a statement shared with JTA on Wednesday. "She believes they are wrong in all senses of the term."
The statement was in response to a series of tweets over the weekend by Max Blumenthal, a journalist who often writes critically about Israel. Although Blumenthal has no connection to the Clinton campaign, he is the son of Sidney Blumenthal, a longtime confidante and adviser to the presumptive Democratic presidential candidate. The connection is mentioned frequently by other journalists when writing about Max Blumenthal.
Just hours after Wiesel's death on Saturday, Max Blumenthal wrote a flurry of tweets insisting Wiesel should not be be honored because of his unwavering support for Israel.
"Elie Wiesel is dead. He spent his last years inciting hatred, defending apartheid & palling around with fascists," Blumenthal wrote.
"Elie Wiesel went from a victim of war crimes to a supporter of those who commit them. He did more harm than good and should not be honored."
In his response, Sullivan said Blumenthal and others "should cease and desist" from criticizing the Auschwitz survivor and author.
"Elie Wiesel was a hero to her as he was to so many, and she will keep doing everything she can to honor his memory and to carry his message forward," Sullivan wrote of Clinton.
Responding to the campaign's statement, Max Blumenthal accused Clinton of remaining silent when Wiesel accused Palestinians of "ritual child sacrifice." He was referring to an advertisement in 2014 by The Jewish Values Network in which Wiesel spoke out against Hamas and allegations that it had intentionally placed munitions and fighters in areas near children.
Blumenthal's tweets were echoed by other critics of Israel, including Dorothy Reik, president of the Progressive Democrats of the Santa Monica Mountains and a member of the Los Angeles County Democratic Central Committee. In an email posted on social media, Reik wrote that she agreed with Blumenthal's tweets about Wiesel, adding, "I had met people who made their livings from the holocaust [sic] but never to the extent that Wiesel did."
In a letter to the chair of the Los Angeles County Democratic Party, the Anti-Defamation League's Pacific Southwest regional director, Amanda Susskind, wrote that the the ADL was "deeply disturbed" by Reik's email and urged the party to "denounce these repugnant sentiments."
http://jewishjournal.com/nation/election2016/187152/
Jared Kushner's employee blasts him for ignoring anti-Semitic imagery in Trump campaign
187092
http://jewishjournal.com/nation/187092/
Clinton gets key Nevada win, Bush drops out after Trump takes South Carolina
Hillary Rodham Clinton defeated Bernie Sanders in the Nevada Democratic caucuses, which was seen as a key contest for the former secretary of state in the race for the party's presidential nod.
Donald Trump, meanwhile, cruised to a win in the Republican South Carolina primary, while Sens. Ted Cruz of Texas and Marco Rubio of Florida were battling it out for second place. Former Florida Gov. Jeb Bush, the favorite a year ago and the candidate who attracted the most establishment Jewish donors, dropped out.
Clinton led Sanders, 52.6 to 47.4 percent, with 90 percent of the votes counted, CNBC reported, citing Reuters, on Saturday night. The Vermont senator, an Independent, called Clinton to congratulate her not long after the caucuses closed.
Nevada, the third nominating state in the campaign, is not winner take all, and both candidates leave the state with delegates.
It was viewed as key to salvaging Clinton's campaign after she suffered a crushing defeat to Sanders earlier this month in New Hampshire — the first time a Jewish candidate has won a primary state. Clinton, who once led Sanders substantively in polls, had won a razor-thin victory in the Iowa caucus.
Her campaign said Nevada and the Feb. 27 primary in South Carolina, where she is leading in polls, would showcase her ability to turn out minorities and more moderate voters. Iowa and New Hampshire are overwhelmingly white, and Democrats in those states tend to be more liberal than the national party.
Officials in Nevada's substantial Jewish community expressed unhappiness with the timing of the caucuses, during the Sabbath.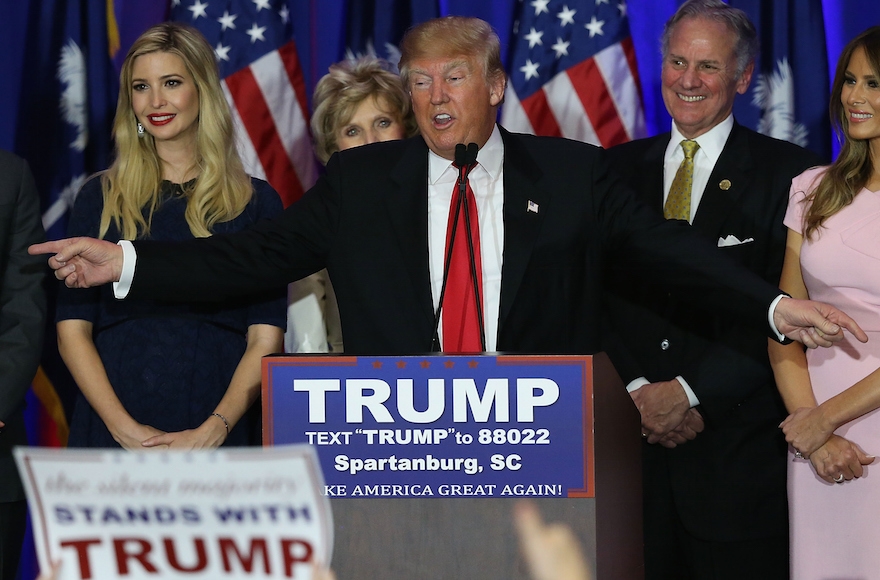 Donald Trump speaking following his victory in the South Carolina primary in Spartanburg, South Carolina, Feb. 20, 2016. Photo by Spencer Platt/Getty Images
In South Carolina, with 99 percent of the vote counted, Trump had 32.5 percent of the vote, CNN reported. Cruz and Rubio, both second-generation Cuban-Americans, were essentially tied for second, with Rubio at 22.5 percent and Cruz at 22.3 percent. Trump has now won two of the states, New Hampshire and South Carolina; Cruz won in Iowa.
Bush languished in fourth place, with 7.9 percent of the vote. He needed to finish a strong third or better to stay in the race after performing poorly in Iowa and New Hampshire. The establishment candidate from early on, Bush's rivalry with Trump has often been bitter and personal. He has attracted the support of the bulk of Republican Jewish donors, although Rubio and Cruz also have major Jewish backers.
Rubio and Cruz are competing for the support of Sheldon Adelson, the casino magnate who in 2012 spent tens of millions of dollars in a bid to get a Republican elected.
The Republican Party will hold caucuses in Nevada on Feb. 23.
http://jewishjournal.com/nation/182725/
Harper Lee, 'To Kill a Mockingbird' author dies at 89
182674
http://jewishjournal.com/nation/182674/
In political attack on Clinton, Trump uses Yiddish vulgarity
Donald Trump used a vulgar Yiddishism to describe Hillary Rodham Clinton's loss to Barack Obama in 2008 for the Democratic Party's presidential nomination.
Speaking Monday at a rally in Grand Rapids, Michigan, Trump, who is polling as the front-runner among Republicans in the race for the presidency, said his likely rival in the general election was a loser.
"Even her race to Obama, she was going to beat Obama — I don't know who would be worse, I don't know, how does it get worse? — but she was going to beat, she was favored to win, and she got schlonged, she lost!" the real estate billionaire and reality TV star said.
"Schlong" is one of an array of vulgar Yiddish terms for penis; its use as a verb is not new. The Washington Post noted in an analysis Tuesday of Trump's use of the term that Trump himself used it in 2011 describing a Republican congressional defeat.
http://jewishjournal.com/nation/180669/
Trump beats Republicans, not Clinton, in one-on-one matchups
180654
http://jewishjournal.com/nation/180654/
AJC shows U.S. Jews split on Iran deal, back Clinton more than other candidates
An American Jewish Committee poll found U.S. Jews virtually split on the Iran nuclear deal and showed Hillary Rodham Clinton well ahead of the pack among preferred presidential candidates.
The annual AJC poll published Friday showed 50.6 percent of respondents approved of the sanctions relief for nuclear restrictions deal reached in July between Iran and six major powers, and 47.2 percent disagreed with it.
That's a virtual tie, based on the 4.7 percent margin of error. The poll of 1,035 Jews was conducted by GfK between Aug. 7 and Aug. 22. Recent general population polling has showed support for the deal plummeting to the 20s.
Asked about presidential candidates, 39.7 percent of respondents listed Clinton as their first choice, and Sen. Bernie Sanders, D-Vermont, who is vying with Clinton for the presidential nod, came in as a second choice, with 17.8 percent. Among Republicans, billionaire Donald Trump was in the lead, with 10.2 percent, followed by former Florida Gov. Jeb Bush, with 8.7 percent.
The poll suggested gains for Republicans, who have struggled for years to top 30 percent among Jewish voters: Overall, Democratic candidates garnered 58.5 percent of support while Republicans added up to 37.4 percent.
On the Iran deal, the AJC pollsters went for a straightforward question: "Recently, the U.S., along with five other countries, reached a deal on Iran's nuclear program. Do you approve or disapprove of this agreement?"
A range of other polls of U.S. Jews on the Iran issue have been accused of bias because of questions that attempted to contextualize or explain the deal.
In a follow-up question, the AJC respondents showed a lack of confidence in the ability of the deal to keep Iran from developing nuclear weapons. Those who replied "very confident" numbered just 4.9 percent, while "somewhat confident" were at 30.7 percent; The "not so confident" came in at 30.1 percent and the "not at all confident" were at 33.2 percent. Overall, that showed 35.6 percent expressing confidence in the deal and 64.3 percent expressing a lack of confidence.
The White House and other backers of the deal have lobbied the Jewish community hard for its support, as have the deal's opponents, including congressional Republicans, Israeli Prime Minister Benjamin Netanyahu and the American Israel Public Affairs Committee.
Respondents were slightly likelier than not to believe that ties between the United States and Israel were strained. Asked if U.S.-Israel ties were getting better or worse, 4.7 percent said "better" and 42.2 percent said they were the same, while 51.9 percent said they were worse.
Respondents were culled from a pool of 55,000 people who had been asked through a system of random selection to participate in such surveys. They responded via email.
Traditional pollsters prefer cold-calling, saying that self-selection — in this case, by agreeing to be part of a survey pool —inevitably skews results, leaving out respondents who might otherwise not have prepared themselves for polling. However, with the advent of cell phones, cold-call surveys have become for some groups prohibitively expensive, and an increasing number of polls are conducted through email among respondents who have expressed a willingness to be surveyed.
http://jewishjournal.com/nation/177526/
Clinton vows tough approach to Iran on nuclear deal
177442
http://jewishjournal.com/nation/177442/
State Department refers 305 Clinton emails for review
The U.S. State Department has so far identified 305 emails from Hillary Clinton's private server used while she was secretary of state to be reviewed for potentially classified information, the agency said in a court filing on Monday.
It said the emails referred for review came from a sample of about 20 percent of the Clinton emails screened to determine if they can be released publicly.
Last December, Clinton, the front-runner for the Democratic Party nomination in the 2016 presidential election, handed over about 30,000 emails she sent and received while America's top diplomat.
Clinton's use of her private email while secretary of state from 2009 to 2013 came to light in March and drew fire from political opponents who accused her of sidestepping transparency and record-keeping laws.
The FBI was looking into the security of the federal records and classified information contained among Clinton's emails. The U.S. government considers federal records to be government property.
The Justice Department has said the FBI investigation began after a government watchdog said at least four emails out of a sample of 40 he inspected contained classified information, including two that contained information deemed "top secret," the highest classification level.
Clinton has said she did not send or receive any secret information using that account.
The government forbids the sending of classified information outside unsecured networks because it could harm national security if intercepted.
After months of pressure, Clinton last week gave the FBI her private email server and a thumb drive of work-related emails from her tenure.
Asked about the additional emails being reviewed by intelligence agencies, State Department John Kirby told a media briefing on Monday: "It's a healthy thing."
"It doesn't mean that all 300 are going to end up at some level of (classification upgrade). I suspect some will and I suspect some won't," Kirby said.
http://jewishjournal.com/nation/176762/
Al Franken backs Iran deal, 5th of 9 Jewish Senate Democrats to do so
176668
http://jewishjournal.com/nation/176668/
Clinton, at Saban Forum, endorses Obama's Middle East policy
From the drive for Israeli-Palestinian peace to nuclear talks with Iran, Hillary Rodham Clinton is endorsing President Obama's Israel-related positions.
Clinton, who was Obama's secretary of state during his first term, spoke Friday night with Haim Saban, the Israeli-American entertainment mogul who through the Brookings Institution convenes an eponymous annual forum of Israeli and American leaders. Saban has been a backer of Clinton and her husband, former President Bill Clinton.
Her talk was notable for the degree to which she endorsed Obama's policies. Clinton derided perceptions that U.S.-Israel tensions had become tense under Obama.
"Nobody can argue with the commitment of this administration to Israel's security," she said when Saban pressed her on the perceived tensions.
Clinton, a likely contender for the 2016 Democratic presidential nomination, has been perceived since leaving the government as distancing herself from Obama — notably in her strident defense of Israel this summer during its war with Hamas in the Gaza Strip. Obama officials criticized some Israeli actions as excessive.
She forcefully endorsed the Israeli-Palestinian peace talks aggressively advanced by the Obama administration and resisted by the two sides. Their absence, Clinton said, created dangers for Israel and "leaves a vacuum that is filled by bad actors, threats."
Clinton deemed as "essential" the two-state solution sought by her successor as secretary of state, John Kerry.
The nuclear talks with Iran had effectively suspended its weapons program, she said, and the Obama administration had managed to sustain international support for sanctioning Iran as a means of keeping the Islamic Republic at the talks.
Clinton anticipated a U.S. security umbrella for Gulf Arab states as a means of reassuring them about Iran's intentions, but said membership in the group would be predicated on a "non-aggression pact" with Israel.
Speaking after Clinton was Yitzhak Herzog, the leader of Israel's opposition Labor Party. Herzog, who described parts of his campaign platform ahead of Israeli elections early next year, said he was likelier than Netanyahu to conclude a deal with the Palestinians and to improve relations with the United States.
Herzog said Netanyahu was isolating Israel.
"I don't believe in the biblical proverb that says a people who dwells alone," he said, referring to the passage in Numbers that ends "shall not be reckoned among the nations."
"We can't in this era dwell alone," Herzog said.
On Saturday, Vice President Joe Biden strongly defended the Obama administration's record on Israel, saying that because he was perceived as friendlier to Israel than the president, he often fielded complaints about Obama's alleged coldness to Israel.
"There's no doubt in President Obama's mind" about his "ironclad" commitment to Israel, Biden said.
Biden added that U.S. officials coordinated closely with Israel on Iran policy, saying that Israeli officials were present for "every jot and tittle" in the policy.
"We will not let Iran acquire a nuclear weapon, period," he said.
Biden appealed to the pro-Israel crowd to tone down talk of tension between the governments.
"Let's not make more of what are normal disagreements between friends than warrants," he said.
The vice president called on Israelis and Palestinians to refrain from actions that could increase tensions, citing incitement on the Palestinian side and what he called the "collective punishment" of the Israeli practice of demolishing the homes of terrorists.
Biden also expressed concern about what he said was increased anti-Semitism worldwide, including efforts to delegitimize Israel.
"There's no threat that worries me more than the rising tide of anti-Semitism," he said.
Much of the conference was off the record, but Martin Indyk, who returned to the Brookings Institution this summer after shepherding the latest failed attempt to return Israelis and Palestinians to the peace path, and Naftali Bennett, Israel's economics minister and a popular right-wing figure, agreed to make their debate on the record.
The heated exchange was focused on Bennett's rejection of Palestinian statehood. Indyk and Bennett each called the other deluded.
"How many people need to die in our country before you wake up from this illusion?" Bennett asked Indyk.
Indyk also pressed Bennett on past comments in which the Israeli said John Kerry, the U.S. secretary of state, encouraged terrorism and "amplified" anti-Semitism. Apparently chastened, Bennett said there were things he regretted saying and added that Kerry was a friend of Israel.
http://jewishjournal.com/nation/150328/
California-Israeli companies form stem cell research agreement
148221
http://jewishjournal.com/nation/148221/
Peres lauded in star-studded ceremony
World leaders praised and serenaded Israeli President Shimon Peres in honor of his upcoming 90th birthday.
The prime-time birthday celebration Tuesday night marked the start of the fifth annual Israeli Presidential Conference. Two of every three Israeli television viewers tuned in to the ceremony, which was broadcast on four Israeli television networks, according to Globes.
Peres was serenaded by Barbra Steisand with the traditional "Avinu Malkeinu" and by her signature "People." She was preceded in song by popular Israeli singers Eyal Golan and Shlomo Artzi.
"We have our queen and you have your Shimon," said former British Prime Minister Tony Blair, who started off the evening.
Prime Minister Benjamin Netanyahu recalled meeting Peres for the first time at the funeral of his brother, Yoni, who was killed while rescuing Israeli hostages in Entebbe, Uganda. He said he will never forget the words of comfort offered by Peres when he came to sit shiva with the family.
He also discussed the president's contributions to the state.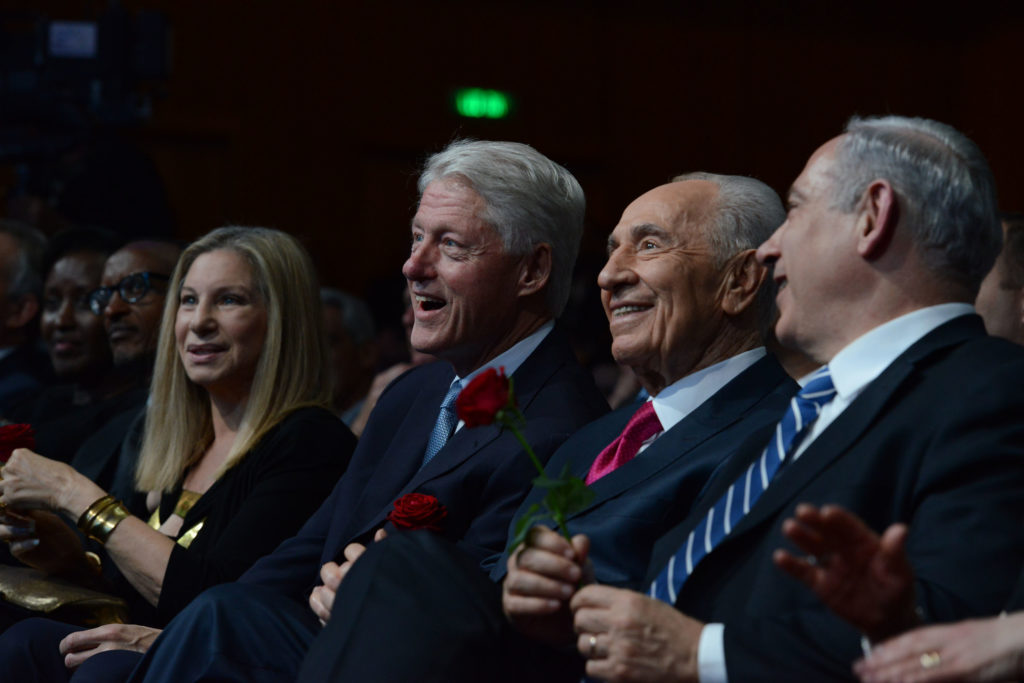 Left to right, Barbra Streisand, former U.S. President Bill Clinton, Israeli President Shimon Peres and Israeli Prime Minister Benjamin Netanyahu at Peres' 90th birthday celebration in Jerusalem, June 18, 2013. (Kobi Gideon/GPO/FLASH90)
"Shimon Peres has devoted his life to building Israel and building peace. A strong Israel creates the conditions for peace," Netanyahu said. "We extend our hand in peace to our neighbors, but we are always ready to defend ourselves. This is what I've learned from Shimon Peres: Look to the future, remember the past and be prepared to defend yourself."
Former President Bill Clinton, who sat next to Peres in the front row of the ceremony, called Peres "the world's social Einstein."
"You have tried to put together a unified theory of meaning," the ex-U.S. president said. He recalled that the two men have "buried people we love together."
"The thing that I love about you is the remarkable combination of mind and heart that allow you to always be big," Clinton said
Heads of state not in Israel for the ceremony offered recorded greetings and praise to Peres, including President Obama, German Chancellor Angela Merkel, Spain's King Juan Carlos and Russian Prime Minister Vladimir Putin.
Dozens of children participated in the program, including filling the stage and the aisles while singing John Lennon's iconic "Give Peace a Chance."
Peres spoke about how his life has dovetailed with the history of the State of Israel.
Israeli President Shimon Peres bestowing the Presidential Medal of Distinction upon former U.S. President Bill Clinton during Peres' 90th birthday celebration in Jerusalem, June 18, 2013. ( Uriel Sinai/Getty)
"On this occasion, I feel grateful because the chapters of my life are entwined with the story of the birth and the development of the State of Israel. Because I have been given the wonderful privilege to serve my country. To take part in the building of its strength. To pursue peace, our heart's truest desire," he said.
On the topic of peace, he added, "I believe that Israel can go higher and higher, if we make the necessary decisions. We genuinely and truly strive to be a nation among nations, a nation that gives. We long for peace with our neighbors."
Peres is the oldest sitting head of state; his birthday is on Aug. 2. The Presidential Conference, attended by nearly 5,000 world leaders and innovators, ends on Thursday.
http://jewishjournal.com/israel/117841/
Real Housewives of Orange County Crap
117812
http://jewishjournal.com/mobile_20111212/117812/
U.S. Secretary of State Hillary Clinton hospitalized with blood clot
U.S. Secretary of State Hillary Clinton was sent to the hospital on Sunday with a blood clot stemming from a concussion she suffered earlier this month and was being assessed by doctors, a State Department spokesman said.
"In the course of a follow-up exam today, Secretary Clinton's doctors discovered a blood clot had formed, stemming from the concussion she sustained several weeks ago," spokesman Philippe Reines said in a statement.
"She is being treated with anti-coagulants and is at NewYork-Presbyterian Hospital so that they can monitor the medication over the next 48 hours," Reines said, adding that doctors would continue to assess her condition.
"They will determine if any further action is required," he said.
U.S. officials said on Dec. 15 that Clinton, who earlier canceled an overseas trip because of a stomach virus, suffered a concussion after fainting due to dehydration.
They have since described her condition as improving and played down suggestions it was more serious.
Clinton's illness forced her to cancel planned testimony to Congress on Dec. 20 in connection with a report on the deadly attack on the U.S. diplomatic post in Benghazi, Libya, in September that killed the U.S. ambassador and three other Americans and raised questions about security at far-flung posts..
Clinton, 65, has said she remains ready to testify and was expected to appear before congressional committees this month before she steps down, as planned, around the time of U.S. President Barack Obama's inauguration in late January.
Clinton, who narrowly lost the Democratic presidential nomination to Obama in 2008, is consistently rated as the most popular of his cabinet members and is often mentioned as a potential presidential candidate in 2016.
http://jewishjournal.com/nation/111539/
Former Israel national soccer coach Emanuel Sheffer dies at 88
111522
http://jewishjournal.com/mobile_20111212/111522/
What's the Strategy?
A couple of years ago a private conversation between then French President Nicholas Sarkozy and President Obama was caught on a live mike. Sarkozy said I can't bare Netanyahu, he's such a liar." Obama responded: "You're fed up with him but I have to deal with him more than you do."
After the latest stunt one wonders how anyone can disagree with the President's irritation. Recall that the Prime Minister was widely perceived in Israel and the United States as overstepping the normal propriety of neutrality in a Presidential election. He pressed for a meeting with President Obama on his United Nations visit in September to get a commitment on American action in Iran. Obama wisely refused to take the meeting.
Why would anyone want an American commitment to bomb Iran and perhaps to go to war to be made in a political context on the eve of the election with the Jewish vote supposedly at stake in the swing states of Florida and Ohio?
Recall also that in the aftermath of the election, the President backed Israel to the hilt on its battle in Gaza clearly defending Israel's right to defend its citizens attack rocket attack – justifiably so, properly so. Recall that it was Obama that approved US economic support for the Iron Dome, which proved its value during the recent attacks on Israel, after the Bush administration had not been as forthcoming. The President and Secretary of State Hilary Clinton were essential to the ceasefire between Israel and Hamas and US Special Forces have been placed in the Sinai to keep quiet on the border between Israel and Egypt and perhaps to constrain Hamas.
The administration worked hard to oppose the overwhelming vote to give Palestine the status of an observer state in the United States and was certain to veto another Palestinian effort to gain Security Council recognition of the Palestinian State.
On the horizon, seemingly looms an existential threat to Israel of an Iranian nuclear bomb. Though Israel talks of attacking Iran, the more it talks about such an attack, the more clear it becomes that Israel does not want to take military action alone and would prefer that the United States with its greater capability would lead the attack.
And the Obama administration may be called upon to intervene in the civil war – perhaps we should call it a genocide – in Syria if the Assad resorts to using chemical weapons on his enemies, domestic or foreign. The US will be essential to easing Assad out of office as the discussions between the UN representative, the US Secretary of State and the Foreign Minister of Russia seem to indicate.
So why spit in the eye of the President and announce retaliation against Mahmoud Abbas by approving settlements connecting Ariel and Jerusalem and thus dividing the West Bank?
I know the domestic considerations. Palestinians were cheering the establishment of a their state – as if that was the outcome of the UN action. Hamas is cheering its "victory" in Gaza – one wishes them many more such victories.
And many Israelis would have preferred a ground war in Gaza to defeat Hamas once and for all. They were expressing sentiments of the heart not of the mind. IDF leadership and the Defense Minister have said time and again that the Gaza problem cannot be solved militarily, at least not without a political strategy, of which there is none.
So after working hard to protect Israel's interest and to defend Israel in the international community, the Israeli Prime Minister thumbs his nose at the reelected President and not only expands settlements but moves into the E1 sector. Were these plans actually to materialize, at least according to some informed sources, they would divide the West Bank and make a contiguous Palestinian State impossible.
Netanyahu had not only alienated the President but European leaders as well. His news conference in Germany was sidetracked into a defense of settlement while the most that the German Chancellor could say was that "we agreed to disagree." It is not exactly wise to alienate Europe further if action is needed on Iran – intensifying sanctions, tacitly supporting the military action. [As an aside, one wonders why the American Jewish community has not been more vocal in support of the Administration's red line on the use of chemical warfare. There is a strange silence on Syria.]
Netanyahu is a masterful tactician, but one wonders what is his strategy going forward, especially if he needs the President's good will for actions – diplomatic, political and potentially military against Iran?
If Iran is an existential threat to Israel, the strategy of an Israeli Prime Minister – any Israeli Prime Minister — should be to gather international support against Iran. As one looks at current actions, it seems that the only strategy that this Prime Minister has is his own reelection.
http://jewishjournal.com/opinion/111461/
Jews and pro-Israel community warm to prospect of a Secretary of State John Kerry
111450
http://jewishjournal.com/nation/111450/
Bus explodes in Tel Aviv in apparent terror attack; Hamas celebrates
A bomb exploded on a bus in central Tel Aviv on Wednesday, wounding 15 people in what Israeli officials said was a terrorist attack that could complicate efforts to secure a ceasefire in the Gaza Strip.
Celebratory gunfire rang out across Gaza as the news spread and the territory's Islamist rulers Hamas praised the bombing, but no one claimed immediate responsibility.
The blast shattered windows on the bus as it drove along a tree-lined street next to Israel's huge defence ministry headquarters. Israel's ambulance service said four people suffered moderate-to-severe injuries and 11 were lightly hurt.
Police said it was not a suicide attack and suggested that someone might have left the device on the number 142 bus.
The driver, who escaped largely unscathed, told reporters he had not seen anyone suspicious get on board.
"I felt the explosion … Smoke was everywhere, you couldn't see a thing," he said. The blue and white vehicle was not torn apart by the blast, indicating it was a relatively small device.
The bombing happened on the eighth day of an Israeli offensive against the Gaza Strip and coincided with intensive diplomatic efforts to secure a lasting truce.
Hamas spokesman Sami Abu Zuhri hailed the explosion.
"Hamas blesses the attack in Tel Aviv and sees it as a natural response to the Israeli massacres…in Gaza," he told Reuters. "Palestinian factions will resort to all means in order to protect our Palestinian civilians in the absence of a world effort to stop the Israeli aggression."
Sweet cakes were handed out in celebration in Gaza's main hospital, which has been inundated with wounded from the round-the-clock Israeli bombing and shelling.
"GATES OF HELL"
"You opened the gates of hell on yourselves," Hamas's armed wing, the al-Qassam brigades, said on Twitter. "Oh Zionists, you have to drag yourselves out of hell, go back home now, go back to Germany, Poland, Russia, America and anywhere else."
The last time a bomb blast hit Israel's commercial capital was in April 2006, when a Palestinian suicide bomber killed 11 people at a sandwich stand near the old central bus station.
Hamas militants have fired at least four rockets at the laid-back Mediterranean metropolis over the past week, but they scored no direct hits and caused no casualties.
Israel launched its air offensive with the stated aim of halting all missile launches out of the Gaza Strip, which lies some 70 km (40 miles) south of Tel Aviv, a cosmopolitan city renowned for its nightlife and vibrant beach culture.
Hamas had warned when the latest conflict flared that it would not confine itself to unleashing rockets.
"This was a terror attack. There is a massive preparedness within the police and security forces. We must keep awareness to a maximum. These are not normal times," said Israel's Police Chief Yohanan Danino.
U.N. Secretary-General Ban Ki-moon denounced the attack, saying nothing justified the targeting of civilians.
The United States, Israel's main ally, also condemned the bus bombing. "These attacks against innocent Israeli civilians are outrageous," the White House said.
More than 140 Palestinians, more than half of them civilians, have died so far in Israel's Gaza offensive. Five Israelis, including one soldier, have also been killed.
U.S. Secretary of State Hillary Clinton, trying to calm tensions over Gaza, flew from Israel to Cairo to meet Egyptian President Mohamed Mursi, who is spearheading ceasefire negotiations.
Reporting by Jeffrey Heller, Ari Rabinovitch and Nidal al-Mughrabi; Writing by Crispian Balmer; Editing by Alistair Lyon
http://jewishjournal.com/israel/110431/
Tel Aviv's grace under fire
110410
http://jewishjournal.com/israel/110410/
Death, grief in Syrian village, U.S. cries "murder"
Graphic scenes of grief and death in a Syrian village bore witness on Friday to a massacre President Bashar al-Assad's opponents say was the work of his troops and militia allies, drawing words of outrage from the outside world.
There was "indisputable evidence that the regime deliberately murdered innocent civilians," said U.S. Secretary of State Hillary Clinton, demanding access for U.N. observers who on Thursday had been spectators to hours of bombing and gunfire, but were kept out of the village by Syrian troops.
Yet with much unclear about the precise events at Tremseh – where activists put the death toll anywhere between over 100 and more than twice that number – and with world powers as divided as ever, there was little response beyond the rhetorical.
"I condemn, in the strongest possible terms, the indiscriminate use of heavy artillery and shelling of populated areas, including by firing from helicopters," United Nations Secretary-General Ban Ki-moon said, adding that it cast "serious doubt" on Assad's recent commitment to Ban's envoy's peace plan.
The U.N. special envoy, Kofi Annan, condemned "atrocities", as video evidence of casualties from Thursday's attack on the village in rebellious Hama province emerged on the Web.
The White House said such violence cost Assad the legitimacy to remain as leader. Clinton said: "Those who committed these atrocities will be identified and held accountable."
Annan was "shocked and appalled" at "intense fighting, significant casualties, and the confirmed use of heavy weaponry such as artillery, tanks and helicopters" in the village.
Calling it a "grim reminder" that U.N. resolutions calling for peace were being flouted, he wrote to the United Nations Security Council urging it to penalize Syria for failing to comply. But in the Council, Western powers still face objections from Russia and China to their efforts to push Assad from power.
Said Clinton: "History will judge this Council. Its members must ask themselves whether continuing to allow the Assad regime to commit unspeakable violence against its own people is the legacy they want to leave."
BATTLE REPORTS
A local activist named Ahmed told Reuters there were 60 bodies at the mosque, of whom 20 were identified: "There are more bodies in the fields, bodies in the rivers and in houses."
There was no independent account of the battle, which the government described as a massacre by "terrorist groups".
Some opposition activists said over 220 people died when Tremseh was bombarded by helicopter gunships and tanks, then stormed by men from neighboring villages in what they portrayed as a sectarian attack on Sunnis by Assad's fellow Alawites.
Others said the death toll in Thursday's attack may have been less but was certainly over 100, which would make Tremseh one of the worst atrocities of the 17-month revolt against Assad and the 42-year-old family dynasty established by his father.
Syrian state television said there was fighting in Tremseh and accused "armed terrorist groups" of committing a massacre there, but gave no death toll. The rebel forces also said there was a battle and the U.N. military representative confirmed it.
U.N. monitors, who have been frustrated in overseeing a truce brokered by Annan in April but much abused since then, tried to reach the scene on Thursday. But they said in a report to their Geneva headquarters that they were stopped by Syrian officers who cited "military operations".
From various points around Tremseh, over eight hours, they logged more than 100 explosions and rifle and heavy machinegun fire. They also saw a helicopter firing air-to-ground rockets.
Opposition video segments posted on YouTube provided evidence that dozens had met a violent death.
One piece of film to appear on the Internet showed the corpses of 15 young men with faces or shirts drenched in blood. Most wore T-shirts and jeans. There were no women or children.
Other videos showed rows of bodies wrapped in blankets, sheets and makeshift shrouds, some leaking blood. One man pulled aside a blanket to display a carbonized corpse. Men placed wrapped bodies in a breeze-block trench for burial.
In a mosque packed with grieving women and distraught men, bodies were collected, identified and prepared. Children stepped gingerly among the corpses covering the floor.

ATROCITIES CONDEMNED
"A regime has decided to use force to crush its own people," said French President Francois Hollande. He said he was "telling the Russians and the Chinese" that by refusing tougher sanctions they would let "chaos and war take hold in Syria" in way that ran counter to the interests of Moscow and Beijing themselves.
British Foreign Secretary William Hague said reports of the massacre were credible and required an international response.
UN monitors must get into Tremseh urgently to find out what happened, Hague said, and the United Nations Security Council must agree to a Chapter VII resolution with teeth that can impose sanctions if Assad fails to fulfill commitments made under Annan's peace plan, to withdraw troops from residential areas.
Chapter VII allows the world body to take action ranging from sanctions to military intervention. But Russia and China have used veto powers so far to block such a resolution.
"Tragically, we now have another grim reminder that the Council's resolutions continue to be flouted," Annan wrote to the Council. Recalling his request for Syria to suffer consequences for non-compliance, he said: "This is imperative and could not be more urgent in light of unfolding events."
Russia, which will host Annan for talks next week, called for an inquiry into events at Tremseh: "This wrongdoing serves the interests of those powers that are not seeking peace but persistently seek to sow the seeds of interconfessional and civilian conflict on Syrian soil," the foreign ministry said.
"ETHNIC CLEANSING"
Hama's revolutionary movement said what happened to Tremseh was a case of ethnic cleansing.
The Sunni Muslim village lies in flat farmland. Access had been cut off for six months by army roadblocks. Tremseh is ringed by six hilltop villages of the Alawite minority which has dominated Syria for four decades under the Assads. They provided the militia who carried out the lethal purge, the movement said.
In a report, it said 200 buses, army trucks, tanks and other armored vehicles besieged the town in the morning and five helicopters were counted when the bombardment began.
Rebels from nearby rushed to defend the village and the ensuing battle went on for seven hours. After the dust settled, at least 150 bodies were collected from under the rubble and from surrounding farmland and from the Orontes river.
Forty were summarily executed, 30 burnt beyond recognition, it said. Three families were hacked to death.
"We can verify continuous fighting yesterday in the area of Tremseh," said United Nations monitoring mission chief General Robert Mood. "This involved mechanized units, indirect fire, as well as helicopters."
U.N. monitors were ready to "go in and seek verification of facts if and when there is a credible ceasefire", he added.
The Tremseh battle took place as the U.N. Security Council began negotiating a potentially crucial new resolution on Syria. Washington wants tougher action, but Russia again ruled out such a step. Further meetings were held in New York on Friday.
The anti-Assad Syrian Observatory for Human Rights estimated that over 150 people had been killed on Thursday in Tremseh and across Hama province, most of them in the village massacre.
The Observatory listed 100 victims by name, among them dozens of rebel fighters. Over 30 of the dead were completely burned, it said, and some were killed with clubs and knives.
On Friday, activists said at least two Palestinian men were killed on Friday when Syrian security forces opened fire on an anti-Assad protests in the Yarmouk refugee camp in Damascus.
Additional by Stephanie Nebehay in Geneva and John Irish in Paris; Writing by Douglas Hamilton; Editing by Alastair Macdonald
http://jewishjournal.com/world/106127/
Cartoon depicts haredi Orthodox Jews praying to Wall Street
106084
http://jewishjournal.com/world/106084/
Senators chide Clinton on Israel's exclusion from counterterrorism forum
U.S. Sens. Joseph Lieberman and Mark Kirk have written a letter to Secretary of State Hillary Clinton expressing their disappointment with Israel's exclusion from the inaugural meeting of the Global Counterterrorism Forum.
In the letter, Sens. Joseph Lieberman (I-Conn.) and Mark Kirk (R-Ill.) told Clinton that "there are few countries in the world that have suffered more from terrorism than Israel, and few governments that have more experience combating this threat than that of Israel."
"One of the stated missions of the GCTF is to 'provide a needed venue for national [counterterrorism] officials and practitioners to meet with their counterparts from key countries in different regions to share [counterterrorism] experiences, expertise, strategies, capacity needs and capability-building programs.' We strongly believe that Israel would both benefit from, and contribute enormously to, this kind of exchange," Lieberman and Kirk wrote.
Israel had not been invited to the forum allegedly due to objections by Turkey, which also blocked Israel's participation in the recent NATO summit in Chicago.
Israeli Foreign Ministry spokesman Yigal Palmor told the Times of Israel that the Israeli government will participate in working groups formed by the forum, and said that Israel had not been planning on attending the meeting.
The rift between Israel and Turkey has been ongoing since the Mavi Marmara incident in May 2010. Israeli commandos killed nine Turkish citizens during a hostile exchange after the ship tried to run Israel's Gaza maritime blockade.
Kirk, who suffered a stroke in January, is still recovering in Chicago, while Lieberman is completing his final term as a U.S. senator.
http://jewishjournal.com/nation/105103/
Out of Israel, back to Africa
105055
http://jewishjournal.com/israel/105055/
Clinton: Russia shipping attack choppers to Syria
The United States charged Russia with delivering attack helicopters to Syria.
"We have confronted the Russians about stopping their continued arms shipments to Syria," Secretary of State Hillary Clinton said Tuesday at an appearance with Israeli President Shimon Peres. "We are concerned about the latest information we have that there are attack helicopters on the way from Russia to Syria."
Clinton suggested that Russia was showing bad faith in the international effort to oust the Bashar Assad regime in the 15th month of its crackdown on opponents by claiming that its arms transfers were not used in the crackdown.
"That is patently untrue," she said. Syria has used helicopter gunships in attacks on civilians, according to reports.
israel is furious at the arms transfers; its leaders are concerned that the Assad regime may attempt to draw Israel into a conflict as a distraction.
"What happens in Syria matters greatly to the U.S. but matters drastically to Israel," Clinton said.
She said the United States would give an effort led by former U.N. Secretary-General Kofi Annan to achieve a peaceful transition until mid-July to see results, adding that she had made clear to Annan that Iran could not be involved.
Peres, in remarks at a lunch hosted by the Brookings Institution's Saban Center, said the Arab League should take the lead in assuming responsibility for the Syrian transition.
Clinton gave the Russians higher marks for their role among the major powers seeking greater nuclear transparency in Iran.
Moscow is due to host the next round of talks with Iran on June 18-19, and Clinton suggested that the Russians share the Western perception that the Iranians are stalling.
"The Russians have made it clear they want the Iranians to advance the discussion in Moscow, not just to come, listen and leave," she said.
http://jewishjournal.com/world/105076/
Orthodox Jewish woman who claims abuse ostracized by own community
105028
http://jewishjournal.com/religion/105028/
Clinton says Gingrich remarks on 'invented people' not helpful
Secretary of State Hillary Rodham Clinton said Newt Gingrich's remarks about the Palestinians being an "invented" nation were not helpful.
Clinton was asked at a forum Wednesday on trade innovation whether she thought Gingrich's comments, made last week during a Republican presidential debate, were helpful.
"No, no," she said. "And I think he recognized that from what I read. I think he realized that was one of those innovative moments that happens in politics."
Gingrich, in fact, has since said that he stands by the remarks, but news media have quoted campaign officials as saying that he does not intend on making his claim an issue going forward.
Other candidates for the GOP presidential nod have attacked the remarks as incendiary.
Polls show Gingrich, a former speaker of the U.S. House of Representatives, as the front-runner in the Republican race.
http://jewishjournal.com/nation/99251/
Five arrested in Rome for plotting against Jewish community
99195
http://jewishjournal.com/world/99195/
Clinton: Israeli settlement move counter-productive
Israel's decision to build 1,100 settlement homes on West Bank land is counter-productive to reviving peace talks with the Palestinians, Secretary of State Hillary Clinton said on Tuesday.
The decision appears to make it even less likely that the two sides will answer a call on Friday by the European Union, Russia, the United Nations and the United States, collectively know as the Quartet, to resume peace talks within a month.
"We believe that this morning's announcement by the government of Israel approving the construction of (1,100) housing units in East Jerusalem is counter-productive to our efforts to resume direct negotiations between the parties," Clinton told reporters at a news conference.
"As you know, we have long urged both sides to avoid any kind of action which could undermine trust, including, and perhaps most particularly, in Jerusalem, any action that could be viewed as provocative by either side," she added.
http://jewishjournal.com/nation/96567/
N.Y. JCC unveils memorial to murdered Israeli Olympians
96515
http://jewishjournal.com/nation/96515/
Israel will not apologize to Turkey, despite Clinton request
Israel will hold fast to its decision not to apologize to Turkey for its raid on a Gaza-bound flotilla ship, despite a direct request from the United States, Israeli officials reportedly said.
Israeli media are citing unnamed Israeli officials as saying that Prime Minister Benjamin Netanyahu turned down an Obama administration request to apologize to Turkey for the deaths of nine Turkish citizens, including one Turkish-American citizen, in a Navy commando raid on the Mavi Marmara in May 2010, during a telephone conversation with U.S. Secretary of State Hillary Clinton.
The findings of a United Nations inquiry into the incident are expected to be made public early next week. The Palmer report, whose publication was delayed by several weeks in order to give Turkey and Israel more time to reconcile, is reported – according to advance copies given to the two countries – to vindicate Israel for blockading the Gaza Strip.
Turkey has said it will not reconcile with Israel until Israel offers a formal apology and compensates the families of the victims. Israel so far has offered its "regret."Meanwhile, Ynet reported that Jerusalem is concerned that Turkey will not approve Israel's new ambassador to the country, who is scheduled to arrive in Ankara shortly after the release of the Palmer report. Current Ambassador Gabby Levy's term is scheduled to end in two weeks. Levy had been asked to extend his term for a second time, which does not require Turkey's approval, according to Ynet, but he refused.
Turkey withdrew its ambassador shortly after the flotilla incident.
Relations between Israel and Turkey had begun to deteriorate even before the flotilla incident, beginning with the one-month Gaza war that began in December 2008.
http://jewishjournal.com/israel/95133/
Glenn Beck calls Israel social protesters 'communists'
95091
http://jewishjournal.com/israel/95091/
Reps urge Clinton to protect U.S. citizens on Gaza flotilla
Six Democratic lawmakers urged U.S. Secretary of State Hillary Clinton to ensure the safety of the American citizens who join the Gaza flotilla.
U.S. Reps. Dennis Kucinich (D-Ohio), Eleanor Holmes Norton (D-D.C.), William Clay (D-Mo.), Sam Farr (D-Calif.), Bob Filner (D-Calif.) and Barbara Lee (D-Calif.) signed a letter to Clinton last Friday expressing their concern for the safety of the passengers who will be aboard the U.S. ship The Audacity of Hope. Filner is Jewish.
"We request that you do everything in your power to work with the Israeli government to ensure the safety of the U.S. citizens on board," they wrote.
At least 36 Americans are set to travel with the flotilla.
Their concern, the letter said, stems from Israeli actions taken against the Gaza flotilla in May 2010, in which nine civilians, including one American, were killed and others injured during a confrontation.
"We wholeheartedly support Israel's right, and indeed its duty, to protect its citizens from security threats," the letter said. "The measures it uses to do so, as in the case with any other nation, must conform to international humanitarian and human rights law. We are encouraged that The Audacity of Hope organizers have stated that their cargo 'is open to international inspection' and that they 'are fully committed to nonviolence and the tenets of international law.' "
http://jewishjournal.com/nation/93605/
Schechter Institute employees return to work
93587
http://jewishjournal.com/nation/93587/
U.S. condemns Syria's 'brutal repression' of protesters
U.S. Secretary of State Hillary Clinton condemned the Syrian government on Tuesday for the harsh way it had responded to pro-democracy protests, while the State Department spokesman said Syria must make more progress on reforms.
"In a series of side meetings I also had the chance to discuss a number of issues, including Syria," Clinton said after a London meeting of international powers on Libya.
"I expressed our strong condemnation of the Syrian government's brutal repression of demonstrators, in particular the violence and killing of civilians in the hands of security forces," she added.
Read more at Haaretz.com.
http://jewishjournal.com/nation/90625/
Jewish leaders fast against budget cuts
90589
http://jewishjournal.com/nation/90589/
Clinton: U.S. not ready to intervene in Syria
The United States is not ready to send troops to Syria, U.S. Secretary of State Hillary Rodham Clinton said.
"Certainly we deplore the violence in Syria," Clinton said during an interview on the "Face the Nation" program on CBS Television that aired Sunday. "We call—as we have on all of these governments during this period of the Arab awakening, as some have called it—to be responding to their people's needs, not to engage in violence, permit peaceful protests and begin a process of economic and political reform."
Thousands of demonstrators marched in southern Syria over the weekend. On Sunday, protesters called for a nationwide general strike in a country that borders Israel.
Dozens of protesters have been killed in the violence, according to reports. Amnesty International has reported that at least 55 people have been killed in the southern Syria city of Daraa.
Clinton said the situations in Libya, where U.S. troops have joined other allies in protecting a no-fly zone, and in Syria are "unique" and that Syria's circumstances do not yet warrant a U.S. military operation.
She said the U.S. would require significant international support in order to intervene militarily on Syria.
http://jewishjournal.com/world/90560/
UNHRC draws Jewish praise for Iran position
90524
http://jewishjournal.com/world/90524/
Clinton: Egypt will keep the peace with Israel
Egypt's foreign policy will change, but it has an interest in sustaining its peace accords with Israel, Hillary Rodham Clinton said.
"I think there will be different decisions" on foreign policy, the U.S. secretary of state told NPR on Wednesday after she toured Egypt. It was Clinton's first visit there since the revolution that ousted longtime dictator Hosni Mubarak, who had maintained the Camp David accords with Israel.
"But I think that there is such an interest in keeping the peace in the region," she continued. "Egypt has got a lot on its plate. It's going to have to politically reform, economically reform. It's got a big agenda ahead of it. I think the last thing it wants is to see any kind of problem between itself and its neighbors."
Clinton said she expected Egypt to maintain controls keeping terrorists and guns from entering the Gaza Strip.
"I think there's also an argument that Egypt's got security interests in not permitting the import and export of arms and possible ingress and egress of terrorists," she said. "So it's not only what Egypt will or won't do with respect to Israel, it's what Egypt will decide is in its interest to do. And that will be up to the Egyptian government to determine."
http://jewishjournal.com/world/90248/
Egyptian gas supply to Israel again fails to start up
90153
http://jewishjournal.com/israel/90153/
Wikileaks cable: Netanyahu's patience with Abbas has 'run out'
Prime Minister Benjamin Netanyahu's patience with Palestinian President Mahmoud Abbas has "run out," a WikiLeaks cable leaked on Monday revealed.
In a "secret" December 2009 cable dispatched to Washington from the embassy in Tel Aviv, Netanyahu's senior policy aide Ron Dermer is also quoted as telling two U.S. senators that Israel has no partner to peace.
Dermer, who is considered once of Netanyahu's closest confidantes in the Prime Minister's Bureau, met with Michael Kuiken, of the Senate Armed Services Committee, and Perry Cammack, of the Senate Committee on Foreign Relations, in Jerusalem on December 14, 2009. The moments of that meeting were included in a cable sent by Acting Deputy Chief of Mission Marc Sievers.
Read more at HAARETZ.com.
http://jewishjournal.com/israel/86169/
Bolivia recognizes Palestine
86109
http://jewishjournal.com/israel/86109/
Ehud Barak: Final status talks within months
After meeting with U.S. leaders, Israeli Defense Minister Ehud Barak predicted that comprehensive talks with the Palestinians on all final status issues would begin within months.
"We will have a serious discussion in coming months on security, borders, Jerusalem and refugees," Barak told reporters Monday, ending a visit in which he met with Vice President Joe Biden, Defense Secretary Robert Gates and Secretary of State Hillary Rodham Clinton, among others.
Clinton, in an address Dec. 10 at the Saban Forum, urged the sides to address those core issues, just days after the United States abandoned its efforts to renew direct peace talks between Israel and the Palestinians. The Palestinians walked out of the talks in October after Israeli Prime Minister Benjamin Netanyahu refused to extend a 10-month partial settlement freeze.
Barak did not say how the talks would proceed, if not directly.
"The mechanics will be resolved in the coming weeks," he said. Netanyahu has insisted on direct talks, and has preferred to focus only on borders and security for now.
Barak also dismissed the controversy subsequent to his remarks at the Saban Forum following Clinton's address in which he said a final status plan would include a Jerusalem shared with the Palestinians.
Israeli officials within hours said that Barak's position was not that of the government's.
Speaking to reporters, Barak acknowledged as such, saying it was his personal view that Jerusalem is necessarily a topic to be considered in talks.
http://jewishjournal.com/israel/85967/
Yad Vashem pays tribute to Aboriginal activist William Cooper
85947
http://jewishjournal.com/israel/85947/
U.S. trying to help Israel fight fire
The Obama administration is seeking ways to assist Israel in combating its forest fires, while New York sent Israel a shipment of fire retardant.
A 747 loaded with Fire Troll 931, a fire retardant chemical, left New York Thursday night bound for Israel. The shipment was arranged by the Fire Dept. of New York and the office of New York City Mayor Michael Bloomberg.
"I want to begin by offering our deepest condolences to the families and loved ones of all of those who've died as a result of the terrible forest fire in northern Israel," President Obama said Thursday evening, launching the annual White House Chanukah party. "As rescuers and firefighters continue in their work, the United States is acting to help our Israeli friends respond to the disaster."
A number of countries, including Turkey, Greece, Cyprus, Egypt and Jordan are assisting in attempts to squelch the blaze in the Carmel Mountains near Haifa, which has led to the deaths of 40 people and the evacuation of 15,000. The Palestinian Authority also has offered assistance.
"A short while ago, our ambassador in Tel Aviv, Jim Cunningham, issued a disaster declaration, which has launched an effort across the U.S. government to identify the firefighting assistance we have available and provide it to Israel as quickly as possible," Obama said. "Of course, that's what friends do for each other."
Separately, Secretary of State Hillary Rodham Clinton said: "We are moving as quickly as we can to provide this assistance, and are heartened by similar efforts to contribute resources from Israel's other friends around the world."
http://jewishjournal.com/nation/85702/
Northern Israel brush fire kills at least 40
85671
http://jewishjournal.com/israel/85671/
Gross marks year in Cuban jail
Alan Gross, a contractor that the U.S. State Department says was assisting Cuban Jews, marked a year in a Cuban jail.
Cuban authorities detained Gross on Dec, 3 2009 on his way out of the country.
Gross' family and State Department officials says he was in the country on a U.S. Agency for International Development contract to help the country's Jewish community, numbering about 1,500, to communicate with other Jewish communities through the Internet.
Cuban leaders say Gross is a spy.
The country's main Jewish groups have denied any contact with or knowledge of Gross or the program.
Hillary Rodham Clinton, the U.S. Secretary of State, has rallied U.S. Jewish groups to press Cuba for Gross' release.
Gross, who has gout, has lot 90 pounds in prison, his lawyer says, and has yet to be charged.
"Alan's incarceration for a year without clarity of the legal process he will face or its timing is a travesty," Peter Kahn said in a statement. "It violates every international standard of justice and due process. We continue to urge the Cuban authorities to release Alan immediately based on humanitarian grounds, as well as the fact that he has already served one year in a Cuban prison."
Gross' wife, Judy, in October wrote Cuban President Raul Castro expressing regret, saying she recognized "the Cuban government may not like the type of work that Alan was doing in Cuba," but that he did not intend harm.
She urged Castro to release Gross, noting that their 26-year-old daughter was diagnosed recently with breast cancer.
http://jewishjournal.com/nation/85704/
Shabbat services held in Australian outback synagogue
85646
http://jewishjournal.com/religion/85646/
Poll: Most Palestinians support direct negotiations with Israel
A poll of Palestinians in the West Bank and Gaza conducted last month by a research firm for the Israel Project, a nonprofit education organization, found that a majority of Palestinians support direct peace negotiations with Israel and a two-state solution to the conflict.
Only 30 percent of those surveyed believe that the two-state solution should be permanent. Sixty percent said that establishing Jewish and Palestinian states side by side should be temporary, with the ultimate goal being the establishment of a single Palestinian state. Only one-fifth accepted that Israel has "a permanent right to exist as a homeland for the Jewish people."
The survey, conducted in early October by Greenberg Quinlan Rosner Research, a firm based in Washington, D.C., interviewed 854 people face-to-face in the West Bank and Gaza. Questions were asked in Arabic, and different formulations of similar questions often led to seemingly contradictory results. Sixty-one percent of respondents said they favored direct negotiations between Palestinian Authority President Mahmoud Abbas and Israeli Prime Minister Benjamin Netanyahu. Yet 58 percent agreed with the statement "this is a time for armed struggle," with only 36 percent choosing the other alternative, "this is the time for engagement with Israel."
The mixed results present a nuanced picture of Palestinian public opinion. "It offers a special window into Palestinian thinking at this critical juncture. There are some things to applaud, some to note and some things that are concerning," Stan Greenberg, the research firm's chairman and CEO, said in a press release.
When pollsters described what a peaceful resolution might entail—including land swaps and the division of Jerusalem as laid out by President Bill Clinton at Camp David in 2000—respondents were less enthusiastic about the prospects of an agreement, with only 29 percent supporting such a solution.
But Palestinian support for "recognizing Israel as Jewish state" went up significantly—to 50 percent—when pollsters added in two preconditions: building up Palestinian institutions and moving toward an agreement on borders.
"The hostility and misconception towards Israel and Jews among our neighbors shows the urgent need of direct communication between Israelis and Palestinians," said Marcus Sheff, Israel director of The Israel Project, the non-profit educational organization that sponsored the survey. "In order to change the perceptions we must work with the Palestinian and Arabic media."
http://jewishjournal.com/israel/84761/
U.S. report highlights Israel's religious freedoms violations
84703
http://jewishjournal.com/israel/84703/
Netanyahu's office: Clinton talks did not include E. Jerusalem
Prime Minister Benjamin Netanyahu's discussions with the Obama administration for a new freeze on settlement building did not include extending the freeze to eastern Jerusalem, his office said.
The Obama administration reportedly also is unwilling to commit to a promise not to seek another freeze after 90 days.
Netanyahu on Sunday told his Security Cabinet that he had been assured by U.S. Secretary of State Hillary Rodham Clinton that eastern Jerusalem would not be part of a new moratorium on building in West Bank settlements. The Palestinians have said they will not return to peace negotiations unless all construction is halted, including Jerusalem.
The Israeli Cabinet reportedly will not vote on the deal until the administration clarifies its package of incentives, as well as the issues of Jerusalem and a freeze extension, in writing.
The U.S. offer of incentives to freeze Jewish settlement construction in the West Bank for an additional 90 days is said to include a gift of an additional 20 F-35 stealth fighter jets in addition to the 20 Israel already has committed to buy at a cost of $3 billion, a promise to veto anti-Israel motions in international bodies and security guarantees.
http://jewishjournal.com/israel/84686/
West Bank's Ariel theater opening pits left and right in fight over who is hurting Israel
84660
http://jewishjournal.com/culture/arts/84660/
U.S.: One year may not be enough to achieve Mideast peace
Mideast peace talks may not reach fruition before their initial September 2011 deadline, a U.S. State Department official said on Monday, citing recent negotiations deadlock over Israel's refusal to extend its moratorium on settlement building as one reason for the delay.
Speaking prior to September's relaunch of direct peace talks between Israel and the Palestinian Authority, State Department spokesman P. J. Crowley said that the administration thought it could negotiate an agreement "within a one-year time frame."
The sentiment was also echoed at the time by U.S. Special Mideast Envoy George Mitchell as well as by Prime Minister Benjamin Netanyahu, who said he did not return to the post of prime minister in order to do nothing and that he was willing to make unprecedented concessions.
Read more at HAARETZ.com.
http://jewishjournal.com/israel/84637/
Netanyahu updates Cabinet on U.S. settlement freeze proposal
84600
http://jewishjournal.com/israel/84600/
Netanyahu updates Cabinet on U.S. settlement freeze proposal
Israeli Prime Minister Benjamin Netanyahu will present to his Cabinet an American proposal to convince Israel to again freeze settlement construction in an effort to resume peace talks with the Palestinians.
Netanyahu updated the Cabinet on the American offer Sunday during its regular meeting. Netanyahu met with U.S. Secretary of State Hillary Rodham Clinton on Thursday in New York for seven hours.
"This proposal was raised during my talks with Secretary of State Clinton. It is still not final; it is still being formulated by Israeli and the American teams. If and when it is complete, I will bring this proposal to the appropriate Government forum, which in this case is the Cabinet. In any case, I insist that any proposal meet the State of Israel's security needs, both in the immediate term and vis-à-vis the threats that we will face in the coming decade," Netanyahu told the Cabinet at the beginning of Sunday's meeting.
The U.S. reportedly has offered to supply 20 F-35 stealth fighter jets in a deal worth $3 billion; to veto all United Nations Security Council and international resolutions that criticize or delegitimize Israel; and to provide Israel with additional security guarantees once a peace deal is reached. The U.S. deal requires Israel to halt all construction in the West Bank for 90 days, including on building work in process, and says that the U.S. will not ask for an extension of the new freeze.
A 10-month Israeli freeze on construction in the West Bank ended on Sept. 26. President Obama has said he believes that he can help Israel and the Palestinians to agree on final borders for Israel and a Palestinian state during a three-month settlement construction freeze.
At a meeting of Netanyahu's Likud Party ministers before the Cabinet meeting, at least four ministers, including two vice premieres, reportedly expressed vehement opposition to a second West Bank construction freeze.
Palestinians leaders also reportedly are against the deal, because it does not include a freeze on construction in eastern Jerusalem. The United States reportedly has not consulted with the Palestinians on the deal it offered to Netanyahu.
"Jerusalem is not a settlement. Jerusalem is the capital of Israel," said a statement issued by the Prime Minister's Office last week.
http://jewishjournal.com/israel/84600/
Ariel Sharon moved to ranch first time since coma
84561
http://jewishjournal.com/israel/84561/