The Siblings We'll Risk for Food – A poem for Parsha Vayigash (Aliyah 1) by Rick Lupert
let not your wrath be kindled against your servant,
for you are like Pharaoh.
Joseph has come so far since Egypt jail
since his arrogance with the coat
since the pit.
His brothers see him as Pharaoh.
They bow down before him.
His dreams have come true.
Joseph's brothers want food like
it's food. They're almost willing to
trade their little brother for it.
The boy cannot leave his father, for if he
leaves his father, he will die.
It sounds like a codependent nightmare.
But you have to remember where Jacob
is coming from.
The other brother from the same mother,
as far as he knows, is decades ago
in pieces.
Only threads of a fine woolen coat
live in the house where he once
dreamed the future.
our father said, 'Go back,
buy us a little food.'
In the end the stomach wins.
They say, even our kittens would eat us
if they had no kibble.
It doesn't matter, your giant pyramids
your divine promise, your fantastical
number of camels.
It doesn't matter, how many colors
you can afford to sew in your coat.
If your plate is empty
if your stomach rumbles
if sustenance is only a dream
you won't make it out the front door.
---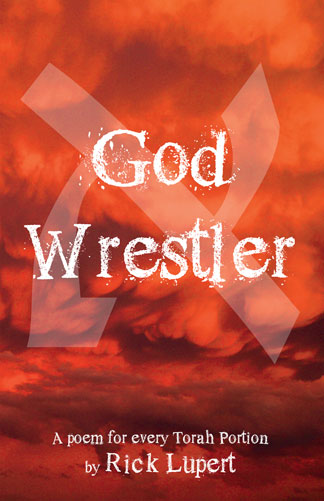 Los Angeles poet Rick Lupert created the Poetry Super Highway (an online publication and resource for poets), and hosted the Cobalt Cafe weekly poetry reading for almost 21 years. He's authored 21 collections of poetry, including "God Wrestler: A Poem for Every Torah Portion", "I'm a Jew, Are You" (Jewish themed poems) and "Feeding Holy Cats" (Poetry written while a staff member on the first Birthright Israel trip), and most recently "Donut Famine" (Rothco Press, December 2016) and edited the anthologies "Ekphrastia Gone Wild", "A Poet's Haggadah", and "The Night Goes on All Night." He writes the daily web comic "Cat and Banana" with fellow Los Angeles poet Brendan Constantine. He's widely published and reads his poetry wherever they let him.
https://jewishjournal.com/blogs/from-the-lupertverse/249679/the-siblings-well-risk-for-food-a-poem-for-parsha-vayigash-aliyah-1-by-rick-lupert/
Up Next
No Shave, No Shoes, No Pharaoh – A poem for Parsha Miketz
243283
https://jewishjournal.com/blogs/from-the-lupertverse/243283/no-shave-no-shoes-no-pharaoh-poem-parsha-miketz/