Stones for Pillows – A poem for Parsha Vayetzei (Aliyah 1) by Rick Lupert
and he took some of the stones of the place and placed [them]
at his head, and he lay down in that place.
This could be where Jewish mothers got the idea.
It's okay, I'll sit in the dark. It's okay, you take the pillow
and I'll just lay down on these stones.
It's okay you dream of ladders and how your
seed shall be as the dust of the earth, and how your
strength will spread in every direction.
I'll be here when you need me, with the lights out
knitting you and all your descendants
the sweaters they're entitled to.
And he dreamed, and behold! angels of God were
ascending and descending upon [the ladder].
I used to dream of knowing what to do
with a ladder. I used to dream of being in
same space as angels.
I think this is what Led Zeppelin was
talking about. I think this ladder to heaven
requires no contracting skill to use
just belief. I used to believe or maybe
I never believed in anything but words.
I used to believe in stepping up.
And Jacob awakened from his sleep, and he said,
"Indeed, the Lord is in this place, and I did not know."
This is what it must be like when
children lose their teeth and discover
money under their stone pillows.
This is what it must be like when
the stuff of your dreams stays with you
after you open your eyes.
This is what it must be like when
you've taken a mundane, stone filled place
and made it holy.
---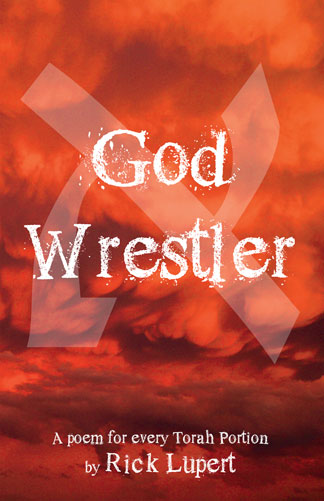 Los Angeles poet Rick Lupert created the Poetry Super Highway (an online publication and resource for poets), and hosted the Cobalt Cafe weekly poetry reading for almost 21 years. He's authored 21 collections of poetry, including "God Wrestler: A Poem for Every Torah Portion", "I'm a Jew, Are You" (Jewish themed poems) and "Feeding Holy Cats" (Poetry written while a staff member on the first Birthright Israel trip), and most recently "Donut Famine" (Rothco Press, December 2016) and edited the anthologies "Ekphrastia Gone Wild", "A Poet's Haggadah", and "The Night Goes on All Night." He writes the daily web comic "Cat and Banana" with fellow Los Angeles poet Brendan Constantine. He's widely published and reads his poetry wherever they let him.
https://jewishjournal.com/blogs/from-the-lupertverse/242101/stones-for-pillows-a-poem-for-parsha-vayetzei-aliyah-1-by-rick-lupert/
Up Next
A Tale of Beards and Stars – A poem for Parsha Toldot (Aliyah 1) by Rick Lupert
241706
https://jewishjournal.com/blogs/from-the-lupertverse/241706/tale-beards-stars-poem-parsha-toldot-aliyah-1-rick-lupert/