Sparking Joy and Asking for Directions in the Dessert – A poem for Parsha Beshalach (Aliyah 1)
Moses took Joseph's utsureones with him
With so little time to grab the essentials
one had to wonder if Joseph's bones
sparked joy for Moses.
We didn't even have time to
let the dough rise, but sure enough
the insides of our ancestor
were on the short list, along with
the photo albums, a good pair of
walking sandals and
all the Egyptian gold we could carry.
We haven't forgotten you Joseph.
We're bringing you home.
And the Lord went before them by day in a pillar of cloud…and at night
in a pillar of fire to give them light [so they could] travel day and night.
This is why we never ask for directions.
We keep expecting to see the cloud and
fire pillars. We actually think we
do see them as we miss the turns we were
supposed to take. Of course since GPS
and three different maps on our phones
the idea of stopping and asking for directions
is as quaint as putting rotary dial telephones
in front of teenagers just to see what happens.
God is in my telephone and he/she takes me
where I need to go, day or night. Sometimes
to the edge of a sea, just to see what I'll do.
And I will harden Pharaoh's heart, and he will pursue them,
and I will be glorified through Pharaoh and through his entire force
We're getting a glimpse of the storyboard
that not even the actors are privy to.
If they had seen the script
they would have all walked into the sea
without the benefit of a believer
leading the way.
But I'm skipping ahead.
The dead first born would have
been enough to make me a
person of faith. Get with the program,
Pharaoh. Not everything has to be
a teachable moment.
---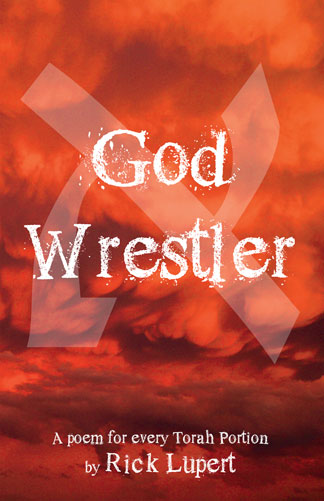 Los Angeles poet Rick Lupert created the Poetry Super Highway (an online publication and resource for poets), and hosted the Cobalt Cafe weekly poetry reading for almost 21 years. He's authored 21 collections of poetry, including "God Wrestler: A Poem for Every Torah Portion", "I'm a Jew, Are You" (Jewish themed poems) and "Feeding Holy Cats" (Poetry written while a staff member on the first Birthright Israel trip), and most recently "Donut Famine" (Rothco Press, December 2016) and edited the anthologies "Ekphrastia Gone Wild", "A Poet's Haggadah", and "The Night Goes on All Night." He writes the daily web comic "Cat and Banana" with fellow Los Angeles poet Brendan Constantine. He's widely published and reads his poetry wherever they let him.
https://jewishjournal.com/blogs/from-the-lupertverse/292503/sparking-joy-and-asking-for-directions-in-the-dessert-a-poem-for-parsha-beshalach-aliyah-1/
Up Next
The Only Walls I Need Keep Out the Weather – A poem for Parsha Bo (Aliyah 1)
292195
https://jewishjournal.com/blogs/292195/the-only-walls-i-need-keep-out-the-weather-a-poem-for-parsha-bo-aliyah-1/