When Bulls Collide – A Poem for Haftarah Ki Tisa by Rick Lupert
Let barbecue decide your faith –
On one side, Baal, four hundred and
fifty men, the type who might melt
down jewelry and worship anything,
Their bull – cut into pieces and
laid on altar.
On the other, the Prophet Elijah,
famous from all the songs, repping
the Lord, a similar cut-up bull on display,
only wetted down to make it tougher,
his inevitable victory, all the more
impressive.
The challenger's up first –
praying to Baal for smoked meat
They get nothing. They hop on
their altar in response to the nothing.
It's uncomfortably close to Easter to
not mention the hopping.
Elijah, after a bit of unbecoming
tauntery – does his thing in the manner
which it should be done. God takes
notice and rains fire from the sky.
Who's up for steak? I mean, not me.
I'm a vegetarian but
the victory is clear. The Kingdom
in the north has been worshipping
a bunch of Baal. Meanwhile in the south
Elijah hasn't forgotten the lesson of
the Golden Calf. It's his name we
call for when the sun sets
on Saturday nights, and the pain of
six days of temptation begins. It's his name
we call for after the last taste of Matzah
closes our celebration of Freedom
It is the Lord who cooks my tofu.
I look for fire from the sky.
---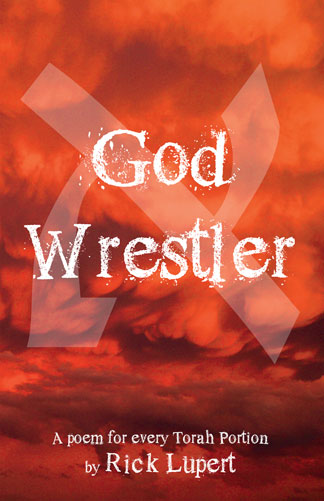 Los Angeles poet Rick Lupert created the Poetry Super Highway (an online publication and resource for poets), and hosted the Cobalt Cafe weekly poetry reading for almost 21 years. He's authored 21 collections of poetry, including "God Wrestler: A Poem for Every Torah Portion", "I'm a Jew, Are You" (Jewish themed poems) and "Feeding Holy Cats" (Poetry written while a staff member on the first Birthright Israel trip), and most recently "Donut Famine" (Rothco Press, December 2016) and edited the anthologies "A Poet's Siddur: Shabbat Evening",  "Ekphrastia Gone Wild", "A Poet's Haggadah", and "The Night Goes on All Night." He writes the daily web comic "Cat and Banana" with fellow Los Angeles poet Brendan Constantine. He's widely published and reads his poetry wherever they let him.
https://jewishjournal.com/blogs/from-the-lupertverse/231473/bulls-collide-poem-haftarah-ki-tisa-rick-lupert/ Up Next