The Old New Math – A poem for Parsha Chayei Sarah
And the life of Sarah was one hundred years
and twenty years and seven years;
The Torah is no place for a new math joke
but I understand this almost as well as I do
my ten year old's homework.
I'm sometimes asked to check it and
the best I can do is verify that it does indeed exist
and that things are written where
there were formerly blank spaces.
But ask me if it is correct and I'll refer
you to his teacher.
The new math is like the ancient math.
Somehow my generation got away with
just saying one hundred and twenty seven.
I see the holiness in the work my
son brings home from school
and I understand it just as well.
Give me burial property with you, so that
I may bury my dead from before me.
There's no Jewish publication that doesn't
include advertisements for the final plot of earth –
Often highlighting lovely hills, and
spots beneath trees, and views of the city –
None of which (I think) I'll need when I eventually
find my home in the dirt.
I get suspicious about the idea of paying for this
in advance. What would they do with me if I simply
refused to make an arrangement while still taking breaths?
Probably stick me in the back with the other death-beats.
It's hard enough to save for retirement without adding in
a cost for the hereafter.
I guess I need a place to hang my bald spot.
Something nice that people can visit when they
miss everything silly I had to say.
Yes, underneath a tree, and on a hill and
with a view. You can only stare at a headstone
for so long.
---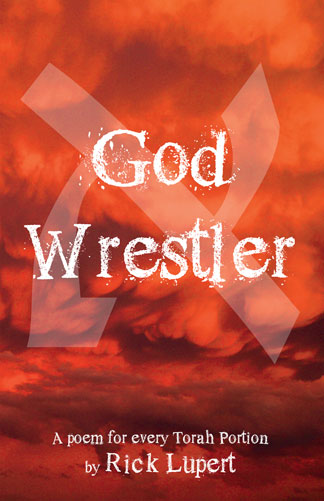 Los Angeles poet Rick Lupert created the Poetry Super Highway (an online publication and resource for poets), and hosted the Cobalt Cafe weekly poetry reading for almost 21 years. He's authored 21 collections of poetry, including "God Wrestler: A Poem for Every Torah Portion", "I'm a Jew, Are You" (Jewish themed poems) and "Feeding Holy Cats" (Poetry written while a staff member on the first Birthright Israel trip), and most recently "Donut Famine" (Rothco Press, December 2016) and edited the anthologies "Ekphrastia Gone Wild", "A Poet's Haggadah", and "The Night Goes on All Night." He writes the daily web comic "Cat and Banana" with fellow Los Angeles poet Brendan Constantine. He's widely published and reads his poetry wherever they let him.
https://jewishjournal.com/blogs/from-the-lupertverse/241295/old-new-math-oh-reminder-going-die-poem-parsha-chayei-sarah-aliyah-1-rick-lupert/ Up Next