This Poem Would Cost You Money at Ancestry Dot Com – A Poem for Torah Portion Va'era
These are the heads of the fathers' houses
The Torah takes a brief interlude and traces
the lineage of Moses and Aaron…
says the Chabad website.
I guess this is where you would get up
to get popcorn, if you were reading the Torah
and couldn't wait any longer.
Ancestry dot com can't believe they're giving
all of this information away for free.
Who fathered who? Who mothered who
for that matter. You'll find out who married
his own aunt, and what children they had.
Speaking of children, if you missed all the
begetting from the earlier chapters
you're in luck. It's a beget-fest up in this parsha.
It's beget-a-palooza. It's link after link
in this chain which connects us to
the people who came before and
the ones yet to come.
And the sons of Torah were Assir, Elkanah
and Abiasaph, in case you needed that
for a future game of Jewpardy.
None of this is trivia.
This is who we are and were.
This is the final roster of people
who took us out of the narrow place
who could describe it from physical memory.
Let's see the rest of this through their eyes.
---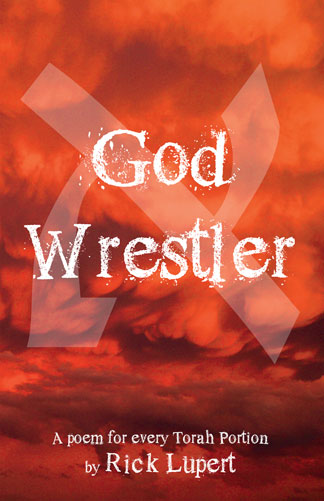 Los Angeles poet Rick Lupert created the Poetry Super Highway (an online publication and resource for poets), and hosted the Cobalt Cafe weekly poetry reading for almost 21 years. He's authored 23 collections of poetry, including "God Wrestler: A Poem for Every Torah Portion", "I'm a Jew, Are You" (Jewish themed poems) and "Feeding Holy Cats" (Poetry written while a staff member on the first Birthright Israel trip), and most recently "Hunka Hunka Howdee!" (Poems written in Memphis, Nashville, and Louisville – Ain't Got No Press, May 2019) and edited the anthologies "Ekphrastia Gone Wild", "A Poet's Haggadah", and "The Night Goes on All Night." He writes the daily web comic "Cat and Banana" with fellow Los Angeles poet Brendan Constantine. He's widely published and reads his poetry wherever they let him.
"Please note that the posts on The Blogs are contributed by third parties. The opinions, facts and any media content in them are presented solely by the authors, and neither The Jewish Journal nor its partners assume any responsibility for them. Please contact us in case of abuse."