Does Anyone Still Use the Word 'Comely' – A poem for Parsha Toldot
Lest the men of the place kill me because of Rebecca,
for she is of comely appearance.
I couldn't be happier we don't
still use the word comely as a compliment
for someone's appearance.
It's as old fashioned as
worrying about someone's appearance.
I wish the seeds of this objectivity
weren't sowed in our most ancient text.
The one we revolve our whole
everything around.
Yeah but what does it have to
do with you today is the question
I try to answer every week.
I'd like to say, this week,
nothing, but that would ignore
all the time I spend at the mirror
or picking the right sweater colors or trimming
my eastern European hirsutiveness
(a word I had to make up) away.
I'd like to say I don't care what
anyone looks like, but I'm bound by
the laws of chemistry like
any other human. It's times like this
I'm not sure I want to say amen
after hearing God thanked for
giving sight to the blind. You're all
as comely as hell as far as I'm concerned.
That's the way the kids would
say it today, if they had to
rewrite this book from scratch.
Let's rewrite this book from scratch.
---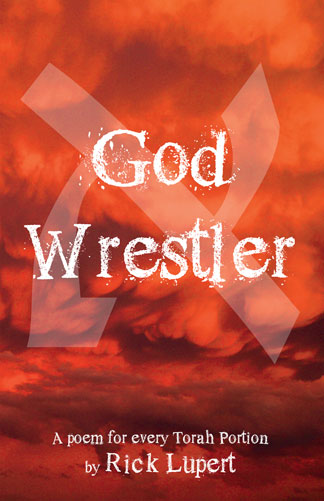 Los Angeles poet Rick Lupert created the Poetry Super Highway (an online publication and resource for poets), and hosted the Cobalt Cafe weekly poetry reading for almost 21 years. He's authored 23 collections of poetry, including "God Wrestler: A Poem for Every Torah Portion", "I'm a Jew, Are You" (Jewish themed poems) and "Feeding Holy Cats" (Poetry written while a staff member on the first Birthright Israel trip), and most recently "Hunka Hunka Howdee!" (Poems written in Memphis, Nashville, and Louisville – Ain't Got No Press, May 2019) and edited the anthologies "Ekphrastia Gone Wild", "A Poet's Haggadah", and "The Night Goes on All Night." He writes the daily web comic "Cat and Banana" with fellow Los Angeles poet Brendan Constantine. He's widely published and reads his poetry wherever they let him.
"Please note that the posts on The Blogs are contributed by third parties. The opinions, facts and any media content in them are presented solely by the authors, and neither The Jewish Journal nor its partners assume any responsibility for them. Please contact us in case of abuse."