You Can't Always Get What You Want – A poem for parsha V'etchanan
let me cross over and see the good land
that is on the other side of the Jordan
Oh the things we plead for which we can't have.
My ten year old is an expert at this
Can I have extra time on the Xbox?
Can I have ice cream?
Can we go to Souplantation?
Invariably the answer is no.
We, like God, who knows what Moses did
know what he did, or at least, we think
we know what's best for him.
Because he hit the rock once
we're not giving him extra time.
Because we care about his health.
we limit the ice cream intake.
Because our funds are limited
we will not cross the Jordan
(better known here as the 405 Freeway)
to the promised land where
salads are unlimited and he really
just wants plain pasta anyway.
We can't always get what we want.
An advertisement came today
for a car I'll never be able to afford.
(but would look so good in.)
It's a life goal to have the means
to visit the French Laundry one day.
But I keep being sent to the
top of the nearby mountain and told
to look across the river at all the
nice things that are just a river away.
Someone knows better for me.
That's Someone with a capital S.
And who am I to complain about
the view from the top of a mountain?
Sometimes I forget that this
is what I need.
---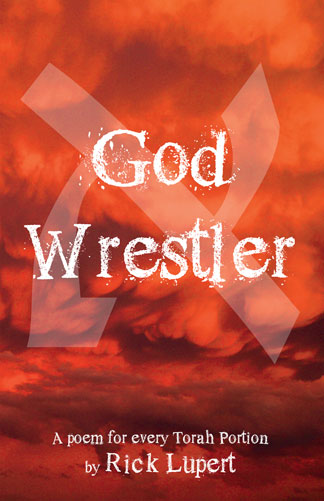 Los Angeles poet Rick Lupert created the Poetry Super Highway (an online publication and resource for poets), and hosted the Cobalt Cafe weekly poetry reading for almost 21 years. He's authored 23 collections of poetry, including "God Wrestler: A Poem for Every Torah Portion", "I'm a Jew, Are You" (Jewish themed poems) and "Feeding Holy Cats" (Poetry written while a staff member on the first Birthright Israel trip), and most recently "Hunka Hunka Howdee!" (Poems written in Memphis, Nashville, and Louisville – Ain't Got No Press, May 2019) and edited the anthologies "Ekphrastia Gone Wild", "A Poet's Haggadah", and "The Night Goes on All Night." He writes the daily web comic "Cat and Banana" with fellow Los Angeles poet Brendan Constantine. He's widely published and reads his poetry wherever they let him.
"Please note that the posts on The Blogs are contributed by third parties. The opinions, facts and any media content in them are presented solely by the authors, and neither The Jewish Journal nor its partners assume any responsibility for them. Please contact us in case of abuse."