So many laws…so little time – A poem for parsha Kedoshim
You shall be Holy, for I…the Lord, am Holy
This is the ultimate exception to the adage
about whether you would jump off a bridge
just because all your friends are.
Every person shall fear their mother and their father
I don't need my son to fear me
as long as he cleans his room and
washes the dirt out from under his nails
whenever I say.
You shall not turn to the worthless idols
This was written long before TV came along
and they couldn't have possible had in mind
the golden age of programming we're
currently experiencing.
And if it would be eaten on the third day, it is abominable…
God weighs in on leftovers and
I couldn't agree more!
you shall not fully reap the corner of your field
I need to keep this in mind when
they come to steal my lemons. The tree
hardly gives any, but ancient precedent says
they can have them.
You shall not oppress your fellow
This is the one that so many people
seem to have forgotten.
You shall not steal
Except in the case of italicized quotes
used in poetry to provide context.
The hired worker's wage shall not remain with you
overnight until morning.
They spoke of fair pay back before
W2 forms were a thing. Let's get rid of
the forms and give people what they need
to live their lives.
You shall not curse a deaf person
They wouldn't hear you anyway.
You shall fear your God. I am the Lord.
I fear I should fear something.
Something that would temper this irreverence
Something to believe in that puts
love before fear.
---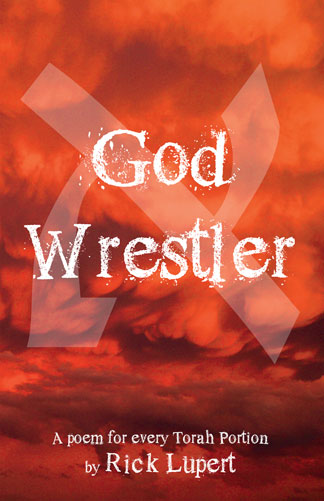 Los Angeles poet Rick Lupert created the Poetry Super Highway (an online publication and resource for poets), and hosted the Cobalt Cafe weekly poetry reading for almost 21 years. He's authored 23 collections of poetry, including "God Wrestler: A Poem for Every Torah Portion", "I'm a Jew, Are You" (Jewish themed poems) and "Feeding Holy Cats" (Poetry written while a staff member on the first Birthright Israel trip), and most recently "Hunka Hunka Howdee!" (Poems written in Memphis, Nashville, and Louisville – Ain't Got No Press, May 2019) and edited the anthologies "Ekphrastia Gone Wild", "A Poet's Haggadah", and "The Night Goes on All Night." He writes the daily web comic "Cat and Banana" with fellow Los Angeles poet Brendan Constantine. He's widely published and reads his poetry wherever they let him.
"Please note that the posts on The Blogs are contributed by third parties. The opinions, facts and any media content in them are presented solely by the authors, and neither The Jewish Journal nor its partners assume any responsibility for them. Please contact us in case of abuse."