Equal Rights and My Bris: Good Times! – A poem for parsha Tazria
If a woman conceives and gives birth to a male,
she shall be unclean for seven days…
Have you ever read something so offensive in a book
you wanted to toss it across the room?
It's taken thousands of years for us to have any sign
the patriarchy will fall apart and our ancient texts haven't caught up yet.
They didn't have the Equal Rights Amendment at Mt. Sinai
and come to think of it, we still don't have it today.
When you are the only one who can bring children into the world
we need to redefine our holy standards for cleanliness.
Oh sweet mothers, and those who just have the potential,
even if you choose not to, you are the cleanest people
I have the privilege to know.

And on the eighth day, the flesh of his foreskin
shall be circumcised.
Have you ever read something so disturbing in a book
you wanted to toss it across the room?
What they did to me when I was eight days old
may have been hygienic and holy
but I have no memory of it and I'd like to keep it that way.
But in the weeks before Passover Tazria comes along
and the non-existent home movies flash in my head.
Who was there for this? Did they applaud at the end?
I remember having it done to my son, and my wife,
still emotionally emptying herself of him,
wanted nothing to do with it. Everyone who was anyone,
which at the time seemed like everyone, filled our living room.
We sung songs and put out a little nosh.
The mohel had a comforting accent.
Like me, our boy has no memory of this and
we're loathe to bring it up. There will be other
signs of the convent. His Bar Mitzvah is in two years
which feels like tomorrow. Though, what do I know
about time? His eighth day in our living room
feels like yesterday.
---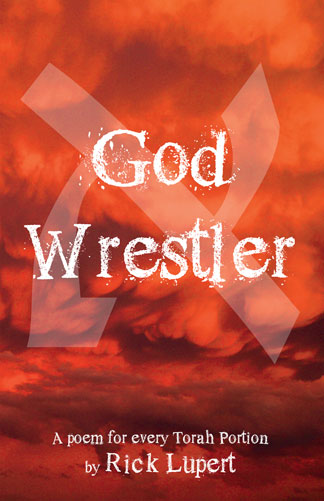 Los Angeles poet Rick Lupert created the Poetry Super Highway (an online publication and resource for poets), and hosted the Cobalt Cafe weekly poetry reading for almost 21 years. He's authored 22 collections of poetry, including "God Wrestler: A Poem for Every Torah Portion", "I'm a Jew, Are You" (Jewish themed poems) and "Feeding Holy Cats" (Poetry written while a staff member on the first Birthright Israel trip), and most recently "Beautiful Mistakes" (Rothco Press, May 2018) and edited the anthologies "Ekphrastia Gone Wild", "A Poet's Haggadah", and "The Night Goes on All Night." He writes the daily web comic "Cat and Banana" with fellow Los Angeles poet Brendan Constantine. He's widely published and reads his poetry wherever they let him.
"Please note that the posts on The Blogs are contributed by third parties. The opinions, facts and any media content in them are presented solely by the authors, and neither The Jewish Journal nor its partners assume any responsibility for them. Please contact us in case of abuse."