The Torah's Sequel Begins Now — A Poem for Haftarah V'Zot HaBerachah by Rick Lupert
I've always wondered what it's like
on the other side of the river.
All of creation, plus generations enslaved
plus forty years led to this moment.
Joshua, entrusted with the the mantle of his
life-long friend Moses who disappeared
forever up a mountain. Joshua whose spirit
took on a capital S. Joshua who tells everyone
get ready to cross. It's his book now
and we can almost prove it happened.
Put on your river crossing shoes.
Bring this whole story with you.
Let the events spill out of your mouths
every weekend. On Mondays and Thursdays too.
Every piece of dirt your feet touch is a gift.
Joshua – the last man who knew Moses.
Ready to conquer our inheritance.
And here we are, 3500 years later
(It's a rough number) still trying to
get to the other side of the river
Taking free plane rides to the other
side of the river – Still conquering
the inhabitants of the other side of the river.
My feet have touched that ground.
I floated down the Jordyn on more
than one occasion. I've eaten the
Kosher french fries of our freedom.
I'm still looking for anyone with a beard
to tell me what to do. Joshua, Moses
and any other name written in
an ancient tongue. Please, tell me
how to be free.
---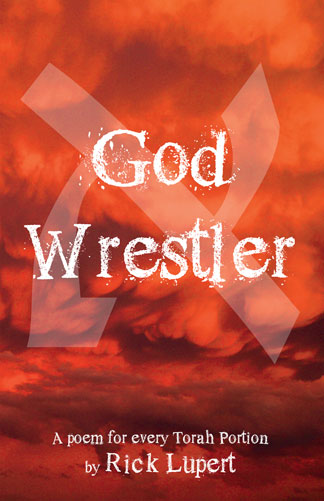 Los Angeles poet Rick Lupert created the Poetry Super Highway (an online publication and resource for poets), and hosted the Cobalt Cafe weekly poetry reading for almost 21 years. He's authored 21 collections of poetry, including "God Wrestler: A Poem for Every Torah Portion", "I'm a Jew, Are You" (Jewish themed poems) and "Feeding Holy Cats" (Poetry written while a staff member on the first Birthright Israel trip), and most recently "Donut Famine" (Rothco Press, December 2016) and edited the anthologies "Ekphrastia Gone Wild", "A Poet's Haggadah", and "The Night Goes on All Night." He writes the daily web comic "Cat and Banana" with fellow Los Angeles poet Brendan Constantine. He's widely published and reads his poetry wherever they let him.