Everything's Alright, Yes, Everything's Fine – A Poem for Haftarah Re'eh by Rick Lupert
the earth is My footstool
This explains the smell in my neighborhood.
I don't mind doing double duty as comfort
for the Almighty, but, please, Isaiah,
what's the holy sock situation?
he who slaughters a lamb is
as though he beheads a dog
I couldn't agree more. Enough slaughtering
of anyone with any amount of legs. That's
personification, if you know what I mean.
Will I bring to the birth stool and
not cause to give birth?
I don't want to put actions into Your mouth.
The truth is, You might do anything other
than what I'd like You to do. This is Your show.
We're merely the ones You, sometimes,
see fit to console.
and your bones shall bloom like grass
This feels like something I'll need to involve
my doctor and landscape maintainer in.
Those two have never collaborated,
to my knowledge, but I expect they'll
blend it together like music and poetry.
I sense an elevation coming on.
For behold, the Lord shall come with fire
This explains what's happening in California.
I'm not sure this is the kind of consoling we've
been looking for. When you look at our map,
it's all orange and then the ocean. You're
going to have to do more to convince me
this is a sign of the impending okay-ness
of everything.
…for their worm shall not die…
Finally! Something
for the worms!
---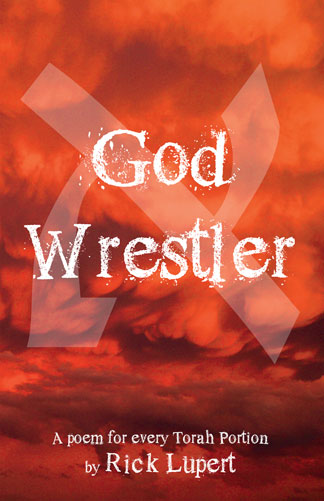 Los Angeles poet Rick Lupert created the Poetry Super Highway (an online publication and resource for poets), and hosted the Cobalt Cafe weekly poetry reading for almost 21 years. He's authored 22 collections of poetry, including "God Wrestler: A Poem for Every Torah Portion", "I'm a Jew, Are You" (Jewish themed poems) and "Feeding Holy Cats" (Poetry written while a staff member on the first Birthright Israel trip), and most recently "Beautiful Mistakes" (Rothco Press, May 2018) and edited the anthologies "A Poet's Siddur: Shabbat Evening",  "Ekphrastia Gone Wild", "A Poet's Haggadah", and "The Night Goes on All Night." He writes the daily web comic "Cat and Banana" with fellow Los Angeles poet Brendan Constantine. He's widely published and reads his poetry wherever they let him.