No-one's Out of Order When the Lord is Your Lawyer – A Poem for Haftarah Behaalotecha by Rick Lupert
This is the Holy mashup between
Law and Order, and Project Runway
we've all been waiting for.
The Lord God, Adonai, Holiest of holies
doing time as a trial lawyer, argues
in favor of the laws that
wouldn't exist without Her, Him, It,
They, Them, Spirit, One, Guru, Fire,
Trial Lawyer in the sky.
Joshua on trial for failing to
dress up for the occasion. Covered
in filthy garments. Accused of
breaches of decorum, visual civility,
lack of respect via no-time to do
the laundry. Might smell too.
The Solicitor on High waves a
magic finger and Joshua is like
a newborn who the nurses
have taken away and polished.
A headdress to rival a Pope's
laid on his head. (Maybe this
is where those who dress the Popes
got the idea?) It's divine trickery,
changing the accused's situation
in the middle of the trial. But if
You're the One who makes the rules
surely you can bend them too.
There are bigger fish to fry.
And by fish we mean Jerusalem and
maintaining the eternal favor.
A strange candelabra to build
with seven tubes and seven lights.
You may not know what it is
but if you ask, the angels will ask
if you are asking what you are asking.
Be humble about it.
They just want to make sure
you've asked the right question.
So you have the information you need.
---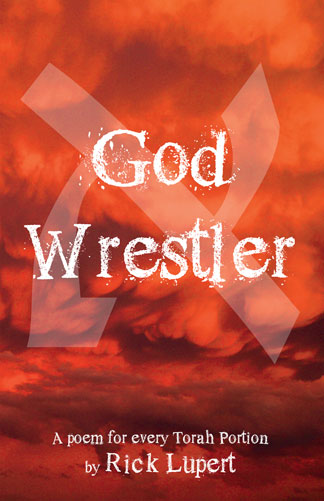 Los Angeles poet Rick Lupert created the Poetry Super Highway (an online publication and resource for poets), and hosted the Cobalt Cafe weekly poetry reading for almost 21 years. He's authored 22 collections of poetry, including "God Wrestler: A Poem for Every Torah Portion", "I'm a Jew, Are You" (Jewish themed poems) and "Feeding Holy Cats" (Poetry written while a staff member on the first Birthright Israel trip), and most recently "Beautiful Mistakes" (Rothco Press, May 2018) and edited the anthologies "A Poet's Siddur: Shabbat Evening",  "Ekphrastia Gone Wild", "A Poet's Haggadah", and "The Night Goes on All Night." He writes the daily web comic "Cat and Banana" with fellow Los Angeles poet Brendan Constantine. He's widely published and reads his poetry wherever they let him.