Let's Rest Before It Even Starts – a poem for Haftorah Breishit by Rick Lupert
Sela
Eight hundred years before
the common era and we
pick up this beginning in the
middle of a conversation.
Isaiah, talking the talk of
the Prize Fighter. Reminding us
who's had our backs
(and our fronts) this whole time,
since the first blade of grass
touched the first human foot.
Sela
Let's sing a new song.
Let's remember when the Earth
still had that new planet smell,
long before enemies were
vanquished on our behalf
by the One who exchanged
ribs like Legos.
Sela
Babylonia may be lovely this
time of year, but for some reason
this vacation makes us fill the river
with our tears.
It's a long way home and
the turnpike is on fire.
It's okay – We've got the
double capitalized triple A.
Roadside Service Deluxe.
Available twenty four hours day.
Sela
It's almost three thousand years later
All I can see is gold.
---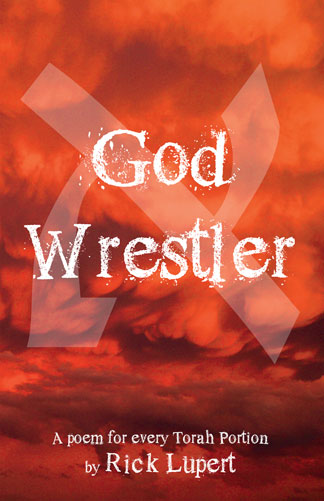 Los Angeles poet Rick Lupert created the Poetry Super Highway (an online publication and resource for poets), and hosted the Cobalt Cafe weekly poetry reading for almost 21 years. He's authored 21 collections of poetry, including "God Wrestler: A Poem for Every Torah Portion", "I'm a Jew, Are You" (Jewish themed poems) and "Feeding Holy Cats" (Poetry written while a staff member on the first Birthright Israel trip), and most recently "Donut Famine" (Rothco Press, December 2016) and edited the anthologies "Ekphrastia Gone Wild", "A Poet's Haggadah", and "The Night Goes on All Night." He writes the daily web comic "Cat and Banana" with fellow Los Angeles poet Brendan Constantine. He's widely published and reads his poetry wherever they let him.