The Great Geneticist in the Sky – A Poem for Parsha Ha'azinu
My lesson will drip like rain;
my word will flow like dew
The sky is talking
the earth is listening
Let's get wet with education,
Let words cover us like moss.
Shout out the Best Name you know!
The rocks were here long before us
and we have to assume they
know what they're doing.
Our backs are gotten.
No One is cheating on us
with another people.
If something breaks
rest assured it ain't His fault.
Look in the mirror and
you'll get a sense of
who blew this whole thing.
You and all the other boomers
and x'ers and y-ers and z-ers.
We're running out of cocktail ice.
The air is burning away.
This wasn't part of the plan.
This DNA didn't have phracking
in mind when the great
geneticist in the sky pulled
the earth away from the waters
and built us a garden which
we hardly remember.
---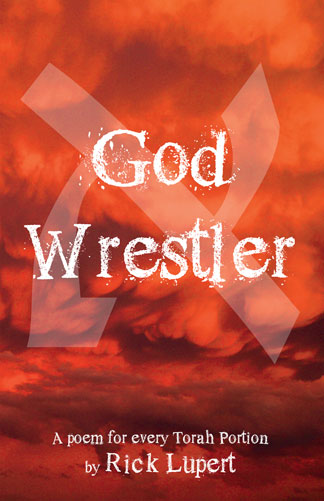 Los Angeles poet Rick Lupert created the Poetry Super Highway (an online publication and resource for poets), and hosted the Cobalt Cafe weekly poetry reading for almost 21 years. He's authored 23 collections of poetry, including "God Wrestler: A Poem for Every Torah Portion", "I'm a Jew, Are You" (Jewish themed poems) and "Feeding Holy Cats" (Poetry written while a staff member on the first Birthright Israel trip), and most recently "Hunka Hunka Howdee!" (Poems written in Memphis, Nashville, and Louisville – Ain't Got No Press, May 2019) and edited the anthologies "Ekphrastia Gone Wild", "A Poet's Haggadah", and "The Night Goes on All Night." He writes the daily web comic "Cat and Banana" with fellow Los Angeles poet Brendan Constantine. He's widely published and reads his poetry wherever they let him.