I Dream of Setting My Pants on Fire – A poem for parsha Tzav
He shall then take off his garments
and put on other garments
This happens a lot in our house.
I only have one pair of jeans I have
any confidence in and, invariably,
I'm wearing them when my wife
comes along singing her weekly
laundry song. Are you going to
take those off so I can wash them
she'll say. And I have no choice but
to take off my pants, and put on
other pants, lest the ones I'm wearing
begin to develop a consciousness.
Why don't you buy a second pair
of pants she'll say. She is the
high priestess of all the clothing
in our house. She knows when
one pair of pants, or any symbolic
garment should be burned at the altar.
As for me, I dream of setting my pants
on fire as an offering to the Lord.
Who am I kidding? I would never do that.
But I sure like to talk the talk.
A continuous fire shall burn upon the altar;
it shall not go out.
I mentioned in another poem, once,
about this same topic, that Morrissey
was obviously not the first person
who said there is a light and it never goes out.
So, obviously, there's no need to say that again.
Feel free to skip to the third stanza.
Welcome to the third stanza where
we are still trying to keep our flame lit.
Walk into any house of holiness and
there is a light we're hoping will
never go out. This is despite the
ongoing resurgence of other forces
we'll call the opposite of light, that
keep trying to extinguish our flame.
But we resist, and persevere, and survive
and all the other words that keep us going
even though the custodian sometimes forgets
and turns off the switch that's powering
the eternal flame. It's okay, we're a people
who always have a book of matches ready.
Not a single week goes by that we don't
light a candle. Sometimes it's to remember
someone else's long gone light. Sometimes
it's to greet the whole new world that comes
every time the sun sets on a Friday.
Welcome to the last stanza of this poem.
Watch it light up all the poems yet to come.
---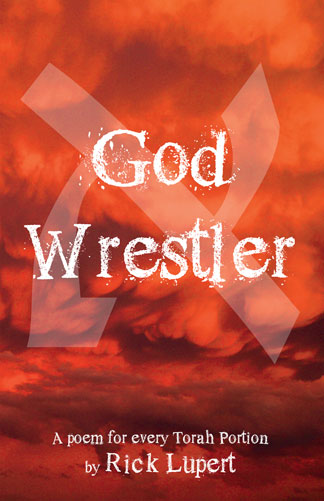 Los Angeles poet Rick Lupert created the Poetry Super Highway (an online publication and resource for poets), and hosted the Cobalt Cafe weekly poetry reading for almost 21 years. He's authored 22 collections of poetry, including "God Wrestler: A Poem for Every Torah Portion", "I'm a Jew, Are You" (Jewish themed poems) and "Feeding Holy Cats" (Poetry written while a staff member on the first Birthright Israel trip), and most recently "Beautiful Mistakes" (Rothco Press, May 2018) and edited the anthologies "Ekphrastia Gone Wild", "A Poet's Haggadah", and "The Night Goes on All Night." He writes the daily web comic "Cat and Banana" with fellow Los Angeles poet Brendan Constantine. He's widely published and reads his poetry wherever they let him.
"Please note that the posts on The Blogs are contributed by third parties. The opinions, facts and any media content in them are presented solely by the authors, and neither The Jewish Journal nor its partners assume any responsibility for them. Please contact us in case of abuse."