Thou Shalt Not Flip Switches on the Sabbath – A Poem for Parsha Vayakhel
but on the seventh day…a day of complete rest to the Lord;
whoever performs work thereon [on this day] shall be put to death.
This is the reminder you have seen before
and you will see again.
Specifically refrain from making fire on
this seventh day.
That will lead to your death and
you'll want to avoid that.
There shall be no screen-time on
the seventh day.
Thou shalt spend the whole day
being holy.
Do not build, do not make, do not
flip thy switches.
The Lord, God will flip thy switches
on and off, and on and off.
Spend no money, take no names,
kick no ass.
Every seventh day, from then, through
now, until this whole thing is flipped off.
Every generous hearted person shall bring
[an offering]
We use the word generous here
but we're hoping everyone in the cabal
will assume we're referring to you.
So gather anything you have that's
gold or silver or copper or blue or
purple or crimson or made of wool
or cut from your goat, or your ram
and don't skimp on the acacia wood
and the oil and the spices and the
stones. Everything from your heart
is needed to build this thing the wise hearted
among you are commanded to make.
the wise hearted among you are
commanded to make.
And every wise hearted person among you
shall come and make everything…
We're hoping some of you who were generous
also consider yourselves wise.
There are poles to be positioned,
breads to show, lamps to be lit,
and it will take your experience to
follow the many pages of instructions.
Some of you, we hope, have a strong fashion sense.
There are priests to be dressed.
Surprise! Some of you will be priests.
More on that later.
For now just take the materials from the generous
and find the right holes to put the pegs in.
---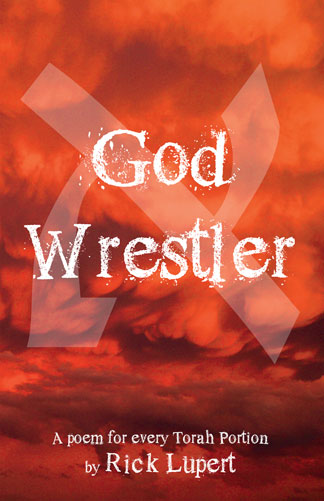 Los Angeles poet Rick Lupert created the Poetry Super Highway (an online publication and resource for poets), and hosted the Cobalt Cafe weekly poetry reading for almost 21 years. He's authored 22 collections of poetry, including "God Wrestler: A Poem for Every Torah Portion", "I'm a Jew, Are You" (Jewish themed poems) and "Feeding Holy Cats" (Poetry written while a staff member on the first Birthright Israel trip), and most recently "Beautiful Mistakes" (Rothco Press, May 2018) and edited the anthologies "Ekphrastia Gone Wild", "A Poet's Haggadah", and "The Night Goes on All Night." He writes the daily web comic "Cat and Banana" with fellow Los Angeles poet Brendan Constantine. He's widely published and reads his poetry wherever they let him.
"Please note that the posts on The Blogs are contributed by third parties. The opinions, facts and any media content in them are presented solely by the authors, and neither The Jewish Journal nor its partners assume any responsibility for them. Please contact us in case of abuse."