Careful Not to Get Smote When Using Essential Oils – A Poem for Parsha Ki Tisa (Aliyah 1)
The rich shall give no more, and the poor

shall give no less than half a shekel
One man's half shekel
is another man's dinner
One man's dinner
is another man's garbage
One man's garbage
is another man's treasure
One man's treasure
is another man's desire
One man's desire is
another man's half shekel
they shall wash with water
so that they will not die;
I finally know what to
tell my son to convince him
washing his hands is
a good idea.
You don't want to die
the second you
walk into the tent of
meeting, do you?
It says to wash your
feet too, so let's just say
taking a bath every day
is a good idea.
Any person who compounds [any oil] like it or puts
any of it on an alien shall be cut off from his people.
This has tremendous implications
for the essential oils industry.
I'm glancing at the phrase like it
and brain-smelling the oils
in the living room, in the box
where they're kept.
I'm pretty sure they're like it.
Have I already been separated
from my people? And what's with
the word alien? That can't be right.
Six days work may be done, but on the seventh day
is a Sabbath of complete rest
I'm getting the holy oils ready
before the sun sets.
I'm telling the aliens I won't
see them 'til Sunday.
I'm pre-tuning the guitar and
turning the switches to
the right positions.
I'm one half of a covenant.
I'm two candles on a
Friday night.
I'm the space between
the heaven and Earth
the darkness and light
the fins and wings.
I'm a napping firmament.
I'm yes, I will do nothing
on the seventh day, like
You did, in the beginning.
---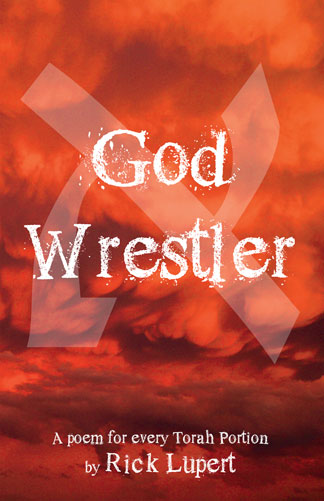 Los Angeles poet Rick Lupert created the Poetry Super Highway (an online publication and resource for poets), and hosted the Cobalt Cafe weekly poetry reading for almost 21 years. He's authored 22 collections of poetry, including "God Wrestler: A Poem for Every Torah Portion", "I'm a Jew, Are You" (Jewish themed poems) and "Feeding Holy Cats" (Poetry written while a staff member on the first Birthright Israel trip), and most recently "Beautiful Mistakes" (Rothco Press, May 2018) and edited the anthologies "Ekphrastia Gone Wild", "A Poet's Haggadah", and "The Night Goes on All Night." He writes the daily web comic "Cat and Banana" with fellow Los Angeles poet Brendan Constantine. He's widely published and reads his poetry wherever they let him.
"Please note that the posts on The Blogs are contributed by third parties. The opinions, facts and any media content in them are presented solely by the authors, and neither The Jewish Journal nor its partners assume any responsibility for them. Please contact us in case of abuse."