Strange Lands – A Poem for Parsha Yitro (Aliyah 1)
one of [Moses and Tzipporah's sons] was named Gershom,
because he [Moses] said, "I was a stranger in a foreign land"
Gershom was the first-born son of
Moses and Tzipporah, and his name means
sojourner, which, if you're like me and
needed to also know what that means,
means to live temporarily in a place –
a stranger in a strange land.
How strange Egypt must have been
when all we remembered of Joseph,
who practically built the place, was
his bones.
How strange it is to cross any invisible line
on this one planet we're all occupying
to find that the dirt we've just stepped on
is foreign.
We lived temporarily in that narrow place
and somehow our feet knew
it wasn't home.
I, Jethro, your father in law, am coming to you
Is this one of those situations where
extra facts are disguised as dialogue
in the event someone missed the previous
episode? Or had Moses, with all of the,
I would imagine extensive, details of
negotiating Hebrexit, from Egypt
simply forgotten who his father-in-law was?
Or does Jethro (Moses' father-in-law
in case you're joining the poem late)
the type to want to restate his position
every now and then, lest the people
around him forget all that he was?
So Moses went out toward Jethro, prostrated himself
and kissed him, and they greeted one another
This is the kind of
respect for our in-laws we
should take notice of.
---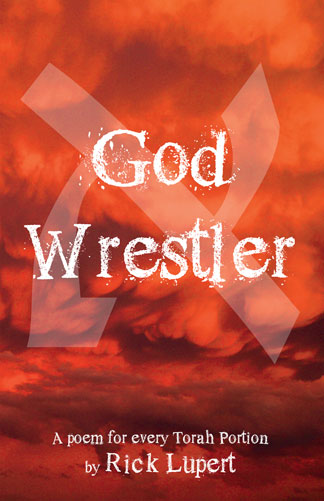 Los Angeles poet Rick Lupert created the Poetry Super Highway (an online publication and resource for poets), and hosted the Cobalt Cafe weekly poetry reading for almost 21 years. He's authored 21 collections of poetry, including "God Wrestler: A Poem for Every Torah Portion", "I'm a Jew, Are You" (Jewish themed poems) and "Feeding Holy Cats" (Poetry written while a staff member on the first Birthright Israel trip), and most recently "Beautiful Mistakes" (Rothco Press, May 2017) and edited the anthologies "Ekphrastia Gone Wild", "A Poet's Haggadah", and "The Night Goes on All Night." He writes the daily web comic "Cat and Banana" with fellow Los Angeles poet Brendan Constantine. He's widely published and reads his poetry wherever they let him.
"Please note that the posts on The Blogs are contributed by third parties. The opinions, facts and any media content in them are presented solely by the authors, and neither The Jewish Journal nor its partners assume any responsibility for them. Please contact us in case of abuse."