The Only Walls I Need Keep Out the Weather – A poem for Parsha Bo (Aliyah 1)
And [the locusts] will obscure the view of the earth,
and no one will be able to see the earth
In terms of the amount of locusts I am okay with,
this feels like too many. I don't mean to get political
but I'm against walls, in general, except for the
ones in my house which keep out the temperatures.
I'm also, to be honest, not conceptually against
insects, but prefer them to be on the other side
of these walls. (It seems I'm more fond of walls
than I'm willing to let on.) What I really don't want
is a wall of insects.
I've heard the songs of the locust when driving
through the mid-west and, if I'm still being honest
I'm for anything that makes music, but I may be
overly generous calling the sound they make songs.
So I'm for no walls, except for the walls I like,
which are meant to keep out the weather and
not people. I like people, and I'm for all songs
even if I don't download the latest tracks from
the locusts, I may stream them every now and then
just to remind myself.
But never a wall of insects, obscuring my view
of anything. That's how I'd think if I were put
in charge of Egypt. Though, as a native
New Jerseyan the odds of that happening aren't
even worth mentioning.
Don't you yet know that Egypt is lost?
I'm still thinking about what would happen if
I was in charge of Egypt. I wouldn't want it to
be lost on my watch. I'd hate for the history
hieroglyphics to have images of me, refusing
to let the unpaid help go because of ego-
based decisions and a preference for my
many, many Gods, one of which, I'd been
brought up to believe, is me.
Didn't he know his country was lost the
historians would ask. He should have paid
attention to the signs. When the great Contractor
in the Sky has built a wall of locusts. When
the river had already turned to blood, When the
cows had simply dropped dead – it was long
past time to let the people go.
…for it is a festival of the Lord to us.
Like Godstock
Like God-apalooza
Like God-achella
Like Burning God
Like the New Orleans God Festival
Like Godaroo
Like the Godonbury Festival
Like the Electric God Carnival
I could go on, but so many of you
stopped reading at God-apolooza.
But for those of you still here
that's what we wanted it to be like
every day, before the need for darkness
or the slaying of the first-born anyone.
---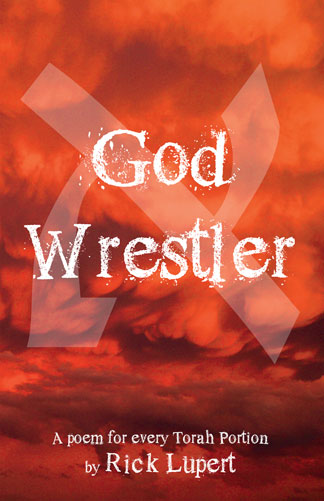 Los Angeles poet Rick Lupert created the Poetry Super Highway (an online publication and resource for poets), and hosted the Cobalt Cafe weekly poetry reading for almost 21 years. He's authored 21 collections of poetry, including "God Wrestler: A Poem for Every Torah Portion", "I'm a Jew, Are You" (Jewish themed poems) and "Feeding Holy Cats" (Poetry written while a staff member on the first Birthright Israel trip), and most recently "Donut Famine" (Rothco Press, December 2016) and edited the anthologies "Ekphrastia Gone Wild", "A Poet's Haggadah", and "The Night Goes on All Night." He writes the daily web comic "Cat and Banana" with fellow Los Angeles poet Brendan Constantine. He's widely published and reads his poetry wherever they let him.