Seeking Holocaust reconciliation in Lithuania, from Los Angeles
The Museum of Genocide Victims in Vilnius, the capital of Lithuania, occupies a stately stone building on a large, forested park in the city's center. It is notably not a Holocaust museum. To find the Holocaust Exposition, look for a small, clapboard wooden building on a narrow side street.
Instead, the museum commemorates atrocities more often spoken of in Lithuania: the lethal brutality of the Soviet regime against citizens of the Baltic country, with Lithuanians as victims rather than perpetrators.
Half a world away, Grant Gochin, a wealth manager in Woodland Hills, has spent the better part of a quarter-century trying to bring about greater recognition for the genocide carried out largely by ethnic Lithuanians against their Jewish neighbors during the Holocaust.
On Aug. 26, he filed a legal action in Vilnius petitioning the city's mayor, Remigijus Simasius, to order the removal of a monument to a man who ordered the murder of Gochin's relatives.
"I can't fix the whole world," Gochin said. "But I can choose my battles, and this guy murdered my family, so I choose him."
The country of his grandfather's birth may be far away, but it's never far from Gochin's mind. He would be a lot wealthier, he said, if he spent less time advocating for Litvak (Lithuanian-Jewish) causes. He operates a blog largely dedicated to Litvak history, and he has argued a lawsuit up to the Lithuanian Supreme Court, advocating for citizenship rights for Jews who fled Nazi persecution, which he won.
For a while, Gochin tried to convince the Vilnius government on ideological grounds to remove the plaque outside the Wroblewski Library of the Lithuanian Academy of Sciences commemorating Jonas Noreika, a wartime commander of the Siauliai region for the Nazi-collaborating Lithuanian Activist Front. When that effort failed, he resorted to technical grounds: His research uncovered that the plaque had been put up without official government permits.
By filing a motion in court, he hopes to force a choice by the city's administration. "They can either make a public statement that they choose murderers as national heroes, or they can set the record right and select better heroes," he said.
The monument seems to date to a chaotic period during the late 1980s when the Soviet Union began to collapse, leading, in 1991, to Lithuania's becoming an independent nation.
Darius Gaidys, consul general of Lithuania in Los Angeles, is old enough to remember those years well. At the time, he was a law student at Vilnius University. The toppling of the Soviet Union resulted in what Gaidys called "a flood of information" as the repression of the Soviet years eased.
"Growing up during Soviet times, it was taboo to talk about the Holocaust," Gaidys told the Journal during an interview in his Westwood office. "It was not mentioned."
Prior to independence, monuments erected at the sites of mass murder tended to commemorate the killing of "Soviet citizens" without making specific reference to Jews, he said.
After gaining independence, Lithuanians were more apt to remember Soviet atrocities than Nazi ones. Gaidys said that nearly every family in Lithuania has a relative who was deported to Siberia during the Stalin era to languish in a Soviet gulag. Many never came home. It made sense, then, to adopt as national heroes the men and women who fought against Soviet rule, regardless of the more ominous elements of their biographies.
"If you're a nation that's been oppressed for a long time and then you win independence, then instantly you're looking for your new heroes," Vilnius City Councilmember Mark Adam Harold said in an interview via Skype.
Harold, who is British, moved to Lithuania 12 years ago and won election to the council in April 2015; he is among Gochin's allies in the fight to commemorate Jewish martyrs and force Lithuanians to terms with their country's complicity in the Holocaust.
Harold expressed some sympathy for post-independence Lithuanians who chose to commemorate people they saw as freedom fighters. However, he said, "You fast-forward to post-European Union times, and it starts to look very inappropriate to have a commemoration to a person who, although he fought the Russians, basically also sent Jews to their deaths."
On Aug. 22, 1941, Noreika ordered local authorities to transport all Jews in the Siauliai region to the town of Zagare, on the modern-day border with Latvia, according to the Holocaust Atlas of Lithuania, a Vilnius-based effort to document mass murders in Lithuania. Included in that number were members of Gochin's family from the town of Papile. Less than two months after Noreika signed the order to ghettoize the Jews, they were summarily shot.
http://jewishjournal.com/los_angeles/community/189982/
UK Jewish audience challenges Jeremy Corbyn on anti-Semitism charges
189924
http://jewishjournal.com/world/189924/
Lithuanian city defends recreational events at former Nazi concentration camp
The city of Kaunas in Lithuania defended the operator of a former concentration camp where recreational events are held near the graves of thousands of Jews killed by Nazis and local collaborators.
Deputy Mayor Povilas Maciulis made his defense of the Seventh Fort this week following an article published last month by JTA about summer camps, barbecue parties, treasure hunts and camping activities there. In 2009 the city privatized the site, which is run by a nongovernmental organization, the Military Heritage Center, headed by 37-year-old amateur historian, Vladimir Orlov.
"Yes, there are activities carried out in the museum, however, they are exclusively educational and pertaining to the museum's purpose," Maciulis wrote in a statement that he sent to several people a few days after the Israel director of the Simon Wiesenthal Center, Efraim Zuroff, asked the mayor to intervene to have festivities banned from the Seventh Fort – a former military complex that was turned into a camp in 1941.
During a July 12 visit to the Seventh Fort, JTA documented children playing and dancing near the barbecue corner at the entrance to the camp. Asked whether one could have a wedding reception at the site, Orlov told a JTA reporter: "This is not a problem, it sometimes happens here," and said he would send a price quote in an email, which never arrived.
Zuroff and the Lithuanian novelist Ruta Vanagaite independently confirmed the holding of recreational activities at the Seventh Fort in a Lithuanian-language book they coauthored and published earlier this year. Following the JTA expose, the news portal Lrytas published photos of a camping activity on the grounds.
On Friday, the city posted on its website an interview with Orlov in an unsigned article titled "Journalistic provocation didn't work out: Kaunas respects and cherishes the memory of Jewish people."
In it, Orlov is quoted as saying: "No wedding party has even been hosted in the territory of the Fort," though "on several occasions newlyweds applied … with a request to arrange photo shoots at the Fort, in the museum, surrounded by historic items."
Orlov said a mass grave for those who died at the camp – which is commemorated only by a pole — accounts for only 2 percent of the camp and that no festivities are held there. According to the book by Zuroff and Vanagaite, Orlov exhumed bones found on the premises that had been reburied there in 2014 with help from the Jewish Community of Lithuania.
The community said in a statement that it has complained to authorities in the past about the absence of commemoration and the festivities.
According to a 2011 report by the Delfi news agency, Orlov has received European Union subsidies that make up part of a $160,000 budget for maintaining the Seventh Fort.
In the interview with Orlov, the city said it had "made a resolution to put in order the place of the Jewish massacre at the Seventh Fort" and that "this autumn the stairs will be arranged close to the mass grave, a place to have a seat and rest." A "memorial stone will be erected in the location," it added.
Zuroff told JTA he hoped the city would follow through but that the official reaction so far "is a cop-out."
The failure to reply to his letter, he said, is indicative of a larger lack of motivation on the part of authorities in Lithuania to commemorate Holocaust victims seriously.
"Instead of treating the problem," Zuroff said, "the municipality denies its existence."
http://jewishjournal.com/world/188327/
Canada's Green Party votes to support BDS movement
188271
http://jewishjournal.com/world/188271/
This Lithuanian concentration camp is now a wedding venue
In this drab city 55 miles west of Vilnius, there are few heritage sites as mysterious and lovely looking as the Seventh Fort.
This 18-acre red-brick bunker complex, which dates to 1882, features massive underground passages that connect its halls and chambers. Above ground, the hilltop fortress is carpeted with lush grass and flowers whose yellow blooms attract bees and songbirds along with families who come here to frolic in the brief Baltic summer.
It's also a popular venue for graduation parties and wedding receptions, complete with buffets and barbecues, as well as summer camps for children who enjoy the elaborate treasure hunts around the premises.
Most of the visitors are unaware that they are playing, dining and celebrating at a former concentration camp.
In 1941, thousands of Jews were imprisoned, starved and finally massacred by Lithuanian Nazi collaborators at the Seventh Fort in what was then the largest mass killing in the country's history. The complex is believed to be the first concentration camp located on territory that Nazi Germany conquered following its eastward invasion.
Even by the unfortunate commemorative standards in Eastern Europe — where many Jewish cemeteries and Holocaust sites have been damaged or neglected — the Seventh Fort is unusual for its erasure of the recent past. It was privatized in 2009 and is now owned by the Military Heritage Center — a nongovernmental association run by a 37-year-old Lithuanian informatics specialist, Vladimir Orlov — which charges admission fees of approximately $4 to some parts of the compound and organizes parties at the venue.
Critics say this reality is a byproduct of the Lithuanian state's alleged failures in confronting the country's dark history during the genocide.
"It just says a lot of bad things about my country," said Ruta Vanagaite, a Lithuanian novelist who drew international attention to the site in a book she co-authored last year with Efraim Zuroff, the Israel director of the Simon Wiesenthal Center. The apparent amnesia surrounding the fort, she added, is also indicative of "the attitude to the people who were killed."
The remains of 5,000 murdered Jews are buried at the fort in mass graves that are marked by a few poles and rocks. Relatives sometimes light candles in memory of the dead.
The Military Heritage Center's website tells of the area's Holocaust-era significance and offers, for a fee, tours of the former killing site alongside a general tour about the fort's military history. It also has a military history museum but does not have a permanent exhibit about the Holocaust.
A boy playing soccer at the entrance to the former concentration camp known as the Seventh Fort in Kaunas, Lithuania, July 12, 2016. Photo by Cnaan Liphshiz
The Seventh Fort is one of several controversial issues featured in Vanagaite's best-selling book "Our People," which is currently being translated from Lithuanian to English. A groundbreaking treatise on Lithuanians' complicity in the Holocaust, the book flies in the face of the government-promoted narrative that speaks of Lithuanians merely as victims of the Russian occupation that replaced the German one.
This sentiment is prevalent across Eastern Europe but is particularly strong in Lithuania, the only country in the world that formally considers Russia's domination of its territory a genocide. The perception of victimhood, according to Zuroff, for decades has precluded an open debate on the prominent role of thousands of Lithuanian collaborators — some of them honored as patriotic heroes for their anti-communist credentials — in the murder of 95 percent of the country's Jews.
Jonny Daniels, founder of From the Depths, a Holocaust commemoration group in Poland, said he was "shocked and disgusted" during his visit to the Seventh Fort earlier this month. The site is below "any level of decency and respect," he said, adding that Lithuania's government "should hold their heads in shame and be condemned internationally that such an important and holy site be privatized."
In Poland, Daniels said, "one could be prosecuted for much less."
The criticism notwithstanding, Lithuania recently made gestures that drew praise from local and international Jewish groups. Last month, the country's parliament passed naturalization laws that facilitate the acquisition of Lithuanian nationality for descendants of Litvak Jews. The city of Vilnius, which opened a Yiddish institute in 2001, is planning to build $10 million Jewish museum and is carrying an archaeological excavation of its former great synagogue.
But Lithuania also has faced harsh criticism for honoring collaborators, including Jonas Noreika, who is believed to have helped murder Jews, and Juozas Ambrazevicius-Brazaitis, the leader of a local pro-Nazi government. The latter was reburied in Lithuania in a state funeral in 2012, while the former is commemorated with a memorial plaque on a park near the home of Vilnius' mayor.
Lithuania has laws against displaying Nazi and communist symbols, but it is one of a handful EU countries where one can display a swastika with impunity as per a 2010 court ruling that defines a Baltic variant of the symbol as an ancient part of Lithuanian tradition predating its use by the Nazis. Nonetheless, "classic" swastikas, identical to the ones featured on Nazi Germany's flag, are sometimes featured in ultranationalist marches that are held annually across Lithuania.
In a country where many again feel threatened by an expansionist Russia, the veneration of such figures as Noreika and Ambrazevicius-Brazaitis "goes hand in hand with cases of disrespect toward the victims" at the Seventh Fort, Zuroff said.
"There's also an element of concealment — if it's not commemorated, then it didn't happen," he added.
Orlov, the operator of the fort, insisted events are not held on the area where the Holocaust victims are buried, which he said accounts for 2 percent of the entire compound.
"Every place you see in Lithuania has some tragic story. This place is no different," he told a JTA reporter who inquired about costs for a wedding reception.
Assuring his interlocutor a reception would not be a problem, Orlov promised to send a quote indicating cost. The email was never received — though perhaps it was snared in the interviewer's spam filter.
Orlov said the financial reports of his organization were "confidential information," but added it had a growing income of approximately $35,000 annually. All revenues go toward maintenance and educational work on the Seventh Fort, he said, and to paying a staff of 11 an average monthly salary of $11o — about a third of the minimum wage in Lithuania.
Jonny Daniels, founder of the Poland-based Holocaust commemoration group From the Depths, at the entrance to the Seventh Fort in Kaunas, Lithuania, July 12, 2016. Photo by Cnaan Liphshiz
In their book, Vanagaite and Zuroff revealed that in 2012, Orlov discovered human remains in the area he had purchased. When authorities did not answer his request for resolving issues that arose with his discovery, he had the remains of thousands of Holocaust victims exhumed and placed in trash bags.
"In the pit we discovered a layer of lime, through which what looked like sticks were sticking up. They were the bones of the people shot," the book quoted Orlov as saying. "After pumping the water out of the ditch and sticking a hand down there, I felt an endless number of bones. Their depth might be several meters."
He went to the police, the Cultural Heritage Protection Department and the Jewish community to report his discovery, according to the book. But failing to achieve any result, the book said, Orlov "packed the bones into three garbage bags and left them in a storage space." Following reports on the situation by the local media, the Kaunas city administration had the bones reburied in 2014 where they had been discovered.
Despite these problems, Lithuanian society is for the first time on the path to dealing with its Holocaust record, Zuroff said.
The book he wrote with Vanagaite triggered the first major public debate in mass media on the subject, leading to initiatives to revoke state honors for collaborators and a pledge by state historians to "try to publish" this year a list of about 1,000 known Holocaust perpetrators.
http://jewishjournal.com/world/187659/
Pokemon Go played at German Holocaust sites, UK Jewish cemetery
187611
http://jewishjournal.com/world/187611/
Tunnel used by Jews in Lithuania to escape Nazis uncovered
A tunnel in Lithuania used by Jewish prisoners to escape the Nazis has been uncovered by an international research team near Vilnius.
The Israel Antiquities Authority in a statement Wednesday announced the discovery of the 100-foot-long tunnel at the Ponar Forest massacre site.
Ponar prisoners used the tunnel, which was located with a new technology called electrical resistivity tomography, an imaging technique used to find underground structures.
Along with the Israel Antiquities Authority, the tunnel was found through the efforts of the University of Hartford, Advisian, the Vilna Gaon State Jewish Museum and the PBS series "Nova."
Some 100,000 people, of whom 70,000 were Jews from Vilnius and the surrounding area, were massacred and thrown into pits in the Ponar forest near the Lithuanian capital during World War II. With the retreat of the German forces on the eastern front and the advance of the Red Army, a special unit formed in 1943 was tasked with covering up the tracks of the genocide. In Ponar, the assignment was given to a group of 80 inmates from the Stutthof concentration camp.
At night the prisoners, whose legs were shackled, were held in a deep pit previously used for the execution of Vilnius Jews. During the day they worked to hide the mass graves and burn the corpses.
Some of the workers decided to escape by digging a tunnel from the pit that was their prison. For three months they dug using only spoons and their hands.
On the night of April, 15, 1944, the prisoners cut their leg shackles with a nail file, and 40 of them crawled through the narrow tunnel. They were quickly discovered by the guards and many were shot. Some 15 managed to cut the fence of the camp and escape into the forest. Eleven reached the partisan forces and survived the war.
After World War II the location of the tunnel was lost; several attempts to find it were unsuccessful.
"Nova" is planning to screen a documentary next year on the history of the Jews of Vilnius and the discovery of the tunnel. The partners in the discovery plan to expose the tunnel for public viewing as part of the memorial for the victims of Vilnius and the surrounding area, according to the Israel Antiquities Authority.
"As an Israeli whose family originated in Lithuania, I was reduced to tears on the discovery of the escape tunnel at Ponar," Jon Seligman of the Israel Antiquities Authority said in the statement. "This discovery is a heartwarming witness to the victory of hope over desperation. The exposure of the tunnel enables us to present not only the horrors of the Holocaust, but also the yearning for life."
http://jewishjournal.com/world/186911/
About
187692
http://jewishjournal.com/world/187692/
Lithuanian mayor dismantles building made from Jewish headstones
The municipality of Vilnius in Lithuania began dismantling a Soviet-era structure made from Jewish headstones.
On Wednesday, Mayor Remigijus Šimašius removed the first stone from the structure housing an electricity and heating generator on Olandų Street, his office said in a statement.
The generator was built by the Soviet authorities of Lithuania between 1965 and 1968, when it was part of the Soviet Union. The headstones had been removed from a Jewish cemetery.
"After 26 years as an independent country it is now the time to remove these stones, which are a clear mark of disrespect to our Jewish community," Šimašius said. "The stones will be removed from the generator and moved to a memorial, which will be built on Olandų Street with the cooperation of Vilnius' Jewish community."
The Vilnius municipality also confirmed that the smaller fragments of the gravestones will be reburied in the cemetery. The headstones are to be moved to a memorial made from marble stones that is to be finished this fall.
Last year, Šimašius met with Faina Kulansky, the head of the city's Jewish community, and Cultural Heritage director Diana Varnaite to discuss dismantling structures built from Jewish gravestones in Vilnius during the Soviet period as a mark of respect to the city's Jewish history.
The municipality is also consulting with the owner of the generator, energy supplier Vilniaus Energija, in order to find a solution on how to replace it.
The building is expected to be fully dismantled by August.
Last year, Lithuania's then-chief rabbi urged the country's Evangelical Reformed Church to remove Jewish headstones being used as stairs to a Vilnius church.
Rabbi Chaim Burshtein's call concerned a 30-foot-long staircase made out of Jewish headstones that leads to the main entrance of the church's largest building in the Lithuanian capital, on Pylimo Street. The headstones also were installed when Lithuania was part of the Soviet Union.
"We regret the deplorable state and destruction of the last remnants of the memory of Lithuanian Jewry," Burshtein told JTA.
Lithuania, he added, "has many places built out of Jewish headstones. I think the authorities and the Jewish community need to perform thorough research and correct at least this historic wrong."
http://jewishjournal.com/world/186731/
Egyptian peace plan looks to engage 'most extreme elements in Israel'
186674
http://jewishjournal.com/world/186674/
Lithuania lifts major obstruction to citizenship applications by Jews
Lithuania's parliament passed legislation that is expected to simplify the naturalization of Litvak Jews abroad and their descendants.
Under amendments passed Thursday by the Seimas in Vilnius, Lithuanians who left before 1990 and their direct descendants may be naturalized without renouncing their other nationalities.
The legislation passed with 96 its 141 lawmakers voting in favor, the Baltic News Service reported. President Dalia Grybauskaite must ratify the amendments for them to go into effect.
They lift a stipulation based on case law that voided such eligibility for many Jews whose ancestors left Lithuania during its brief pre-Soviet period of independence, from 1919 to 1940. The courts had ruled that those who left during those years are not considered political refugees and therefore cannot benefit from a naturalization policy that aimed to restore Lithuanian nationality for dissidents who fled communism.
Critics of the policy argued that because 95 percent of Litvak Jewry was murdered in the Holocaust, those who left in the two decades leading up to the genocide should be considered political refugees because they were fleeing a dangerous environment.
Under the policy, "today's Litvaks must be punished because their ancestors did not voluntarily throw themselves into the hell of the Holocaust, waiting to see if they make it into the 5% who came out of the death pits alive," Daniel Lutrin, a South Africa-born Jewish accountant who lives in London, wrote earlier this month in an op-ed published on the News24 site.
Tens of thousands of Litvak Jews immigrated to South Africa. A Lithuanian passport is desirable to many of their descendants because Lithuania is a member of the European Union, making it possible for its citizens to work and live anywhere in the bloc.
Out of Lithuania's 168,000 Jews who remained in the country when the Germans invaded, 141,000 were murdered in the Holocaust. Many of those who had left previously did so amid fears of the rise of fascism in Germany and its more Eastern allies.
Many Lithuanian nationals welcomed the German occupiers, seeing them as liberators from Soviet occupation. In the days prior to the German occupation of Lithuania, local paramilitary groups initiated pogroms against the Jews, according to the Yad Vashem Holocaust museum in Jerusalem.
http://jewishjournal.com/world/186760/
Egyptian peace plan looks to engage 'most extreme elements in Israel'
186674
http://jewishjournal.com/world/186674/
NATO weighs four battalions in Eastern states to deter Russia
The NATO alliance is weighing rotating four battalions of troops through Eastern member states, U.S. Defense Secretary Ash Carter said on Monday, in the latest proposal by allies to guard against aggressive behavior by Russia.
The Baltic states – Estonia, Latvia and Lithuania – which joined NATO in 2004, have requested greater presence of the alliance, fearing a threat from Russia after it annexed the Crimea peninsula from Ukraine in 2014.
Carter acknowledged NATO deliberations included the deployment of the four battalions to the Baltic states and Poland. The Wall Street Journal said this would likely total about 4,000 troops split between the United States and its allies.
"That's one of the options that's being discussed," Carter told reporters traveling with him at the start of a three-day trip to Germany, declining to enter into details about the deliberations by the North Atlantic Treaty Organization.
"We're obviously involved in those discussions. I just don't want to get out in front of where that goes."
U.S. officials say the goal in Europe is to move increasingly from efforts to reassure allies to broader activity to deter any aggressive moves by Russia.
The United States has already budgeted to sharply boost military training and exercises and last month announced it would deploy continuous rotations of U.S.-based armored brigade combat teams to Europe.
Carter's trip to Germany will include meetings with Army General Curtis Scaparrotti as he takes over as the next NATO Supreme Allied Commander Europe, succeeding U.S. Air Force General Philip Breedlove.
Scaparrotti told a Senate hearing last month that a resurgent Russia was displaying "increasingly aggressive behavior that challenges the international norms, often in violation of international law."
http://jewishjournal.com/world/184951/
Russian fighter did barrel roll over U.S. reconnaissance plane
184876
http://jewishjournal.com/world/184876/
How my grandmother's chutzpah helped Sugihara rescue thousands of Jews
The story of Chiune Sugihara – the Japanese consul in Kovno, Lithuania, who disobeyed his government's orders in 1940 and issued transit visas through Japan to thousands of Jews seeking to flee war-torn Europe — wasn't widely known until 1985, when Yad Vashem, Israel's Holocaust memorial authority, honored him as one of the Righteous Among the Nations.
But I grew up hearing Sugihara's story because he saved my father's life. My father, the attorney Nathan Lewin, is a Sugihara survivor.
I also have a family connection to something that few others have known until very recently — the answer to a long unsolved mystery surrounding Sugihara's rescue of an estimated 6,000 Jews.
Why did the Dutch consul in Kovno, Jan Zwartendijk, begin issuing the "Curaçao visas" – the Dutch endorsements that appeared to permit travel to the island of Curacao, Holland's territory off South America upon which Sugihara relied when issuing visas? Why did Zwartendijk begin writing in Jewish passports that a visa was not needed to travel to Curaçao?
The answer: my late grandmother. Peppy Sternheim Lewin, the recipient of the first Curacao visa, is the "missing link" in the story.
My grandmother was a Dutch citizen, raised and educated in Amsterdam. After she married my grandfather, Dr. Isaac Lewin, she moved to his home country, Poland. When the Nazi army invaded Poland in September 1939, my grandmother's parents and her brother were visiting her in Lodz, my father's birthplace. My great-grandfather promptly flew back to Amsterdam to take care of his business. He later perished at Auschwitz.
My grandmother's mother, Rachel Sternheim, and her brother, Leo Sternheim, were smuggled with my grandparents and my father, who was then 3 years old, over the border into Lithuania.
In Lithuania, my grandmother sought help from the Dutch diplomats because her mother and brother were Dutch citizens and because she had been a Dutch citizen prior to marrying my grandfather. She initially asked Zwartendijk, who was in Kovno, if he could issue her a visa to the Dutch East Indies, which included Java and Sumatra. He refused. So she wrote to the Dutch ambassador in Riga, L.P.J. de Decker. He also turned down her request for a visa to Java or Sumatra.
Refusing to be discouraged, my grandmother, who was then in Vilna – a short trip from Kovno — wrote to de Decker again and asked him whether there was any way he could possibly help her family because it included Dutch citizens. The ambassador replied that the Dutch West Indies, including Curacao and Surinam, were available destinations where no visa was needed. The governor of Curacao could authorize entry to anyone arriving there.
My grandmother again wrote to de Decker asking whether he could note the Curacao or Surinam exception in her still-valid Polish passport. She asked the envoy to omit the additional note that permission of the governor of Curacao was required. After all, she pointed out, she really did not plan to go to Curacao or Surinam.
"Send me your passport,"de Decker replied. So she did.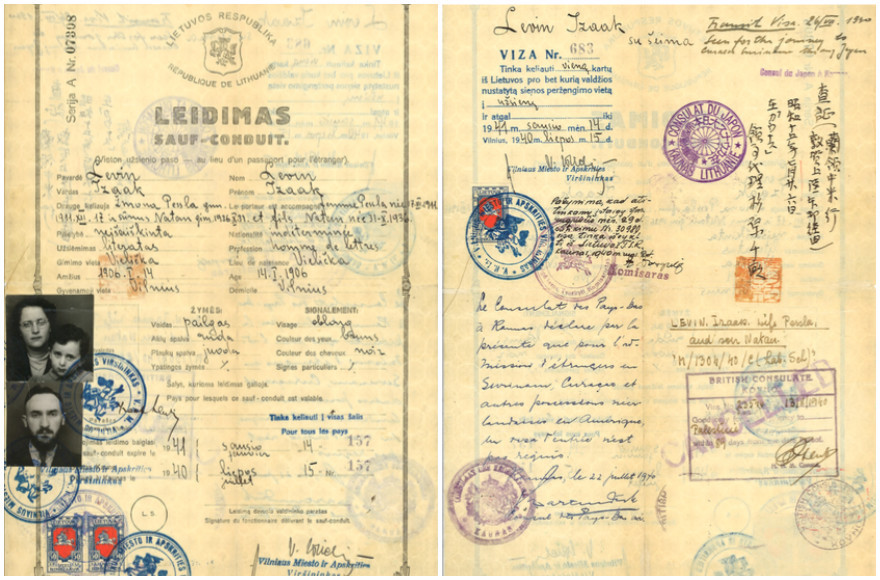 The endorsements of Chiune Sugihara and Jan Zwartendijk, the Japanese and Dutch consuls, respectively, in Kovno, Lithuania, appear on the Leidimas, or travel document, that allowed Isaac Lewin and his family to escape Lithuania in 1940. Nathan Lewin, now a prominent attorney, is the 4-year-old boy in the arms of his mother, Peppy Sternheim Lewin. Photo courtesy of Alyza D. Lewin
On July 11, 1940, de Decker wrote in her passport in French, "The Consulate of the Netherlands, Riga, hereby declares that for the admission into Surinam, Curacao, and other possessions of the Netherlands in the Americas, no entry visa is required."
My grandmother then showed Zwartendijk what the Dutch ambassador had written in her passport and asked him to copy it onto my grandparents' Leidimas – the temporary travel document they had been issued by the Latvian government after the existence of Poland was officially nullified by the Nazi invasion. On July 22, 1940, Zwartendijk agreed and wrote de Decker's notation on my grandparents' travel papers. That is how my grandparents and my father received the very first Curacao visa.
Relying on Zwartendijk's notation, Sugihara agreed to give my grandparents (and my grandmother's mother and brother, who were still Dutch citizens) transit visas through Japan on their purported trip to Curacao. Sugihara issued their visas on July 26, 1940. The Japanese consul kept a list of the names of the individuals to whom he issued visas. My great-grandmother, Rachel Sternheim, is No. 16 on the list; my grandfather, whose Leidimas included my grandmother and my father, is No. 17, and my great-uncle, Levi (Leo) Sternheim, received Sugihara's 18th visa.
The number of visas Sugihara issued jumped exponentially on July 29, 1940, when hundreds of Jews who had escaped to Vilna learned of my grandmother's successful effort. They crowded outside the Japanese consulate in Kovno (Kaunas in Lithuanian) hoping Sugihara would issue them a visa. Sugihara worked around the clock for a month, issuing 2,139 visas, including to whole families. These enabled the refugees to take the trans-Siberian railroad from Moscow to Vladivostok, and then travel by boat from Russia to Japan, supposedly en route to Curacao.
The story of Sugihara and his rescue is told in a feature film, "Persona Non Grata," that had its premiere in October and is now making the rounds at Jewish film festivals across the country. It screened recently at the Washington Jewish Film Festival and was shown again in Washington, D.C., last month as part of CineMatsuri, the Japanese Film Festival in the Nation's Capital. Although my grandmother's role is one of the unsolved mysteries in the film, my father was asked to share his mother's tale after a CineMatsuri screening.
There are perhaps 100,000 descendants of Sugihara survivors alive today. It is humbling to think that it was my grandmother's initiative and perseverance that opened up this travel route to safety for so many.
Alyza D. Lewin is a partner at the Washington, D.C., firm of Lewin & Lewin, LLP, where she practices law together with her father.
http://jewishjournal.com/lifestyle/184720/
Review: HiFiman HE400S open headphones
184481
http://jewishjournal.com/lifestyle/184481/
New book prompts soul-searching in Lithuania about Holocaust-era complicity
As the author of a best-seller that deals with female sexuality after 50, the Lithuanian novelist Ruta Vanagaite is used to embarrassing questions from journalists about her private life.
But even she was astonished when a reporter for a popular television station demanded to see her birth certificate to ascertain the veracity of claims that she is Jewish.
The question came during an interview about Vanagaite's latest book, "Musiskiai" ("Our People"), a travelogue about the Holocaust consisting of interviews with witnesses to the atrocities perpetrated by Lithuanians against their Jewish neighbors.
The book's publication last month has triggered the first major public debate in Lithuania about local Lithuanians' complicity in the genocide of the Jews. It currently tops the best-seller list of the Pegasas chain of bookstores and has prompted officials to promise to publish this year the names of 1,000 Holocaust perpetrators they have been keeping under wraps for years.
Vanagaite, who is 61 and not Jewish, visited killing fields in Lithuania and Belarus to research the book, which she co-authored with Efraim Zuroff, the renowned Nazi hunter and director of the Simon Wiesenthal Center's Israel office. Though she found the journalist's request to see her birth certificate unsettling, she complied anyway.
"I know where it's coming from," Vanagaite told JTA. "Lithuanian involvement in the Holocaust is such a taboo that being a Jew or a Russian spy are the only explanations for wanting to talk about it."
But that is beginning to change thanks to Vanagaite's book.
"In one fell swoop, the book has brought a wave of truth telling about the Holocaust to the mainstream of society who follow the large media outlets," said Dovid Katz, a Yiddish scholar in Vilnius who has campaigned for historical accuracy on the Lithuanians' Holocaust-era role in the near annihilation of the Lithuanian Jewish community of 220,000. "It is of notable importance that a born and bred Lithuanian author tells the simple truth as it has never been told in a trade book not intended for scholars and specialists."
Geoff Vasil, a spokesman for the Jewish Community of Lithuania, said "the turning of the tide within Lithuanian society" on this issue "now appears to be taking place like never before."
The 304-page volume has prompted not just the official Jewish Community of Lithuania but also local media outlets to demand the government publish its list of suspected war criminals. The government received the names in 2012 from its own Genocide and Resistance Research Center but failed to publish them or issue any indictments. The center's director now has promised to publish the names by 2017.
Vanagaite's book also has highlighted the fact that despite ample evidence and testimonies of widespread complicity, not a single person has been imprisoned in Lithuania for killing Jews during the Holocaust.
"Germany, Austria, even Hungary and Poland have had this reckoning a decade ago, but there's a strong resistance in Lithuanian society to follow suit and confront this stain in our history," Vanagaite said. Yet failing to do so, she said, "will mean we will be branded as a whole nation of murderers, and rightly so, because we refuse to acknowledge and condemn a murderous fringe."
Vanagaite experienced this reluctance personally last year when she made an unwelcome discovery that served as her motivation to write the book in the first place.
In researching the life story of her grandfather — a well-known activist against communist Russia's occupation of Lithuania until 1991 — she found documents that showed he helped German authorities compile a list of 10 Jewish communists during World War II. The German authorities then gave him some Jews to work on his farm as slave laborers before they were murdered.
"It was devastating," Vanagaite recalls. "This was a man who was a hero to me and my family."
In Lithuania, locals who fought with the Germans against the Red Army are widely revered as patriotic freedom fighters — including Juozas Ambrazevicius, the leader of the Nazi collaborationist government. In a funeral organized by the central government, Ambrazevicius was reburied in 2012 with full national honors in the city of Kaunas. Four years earlier, Lithuanian prosecutors investigated for alleged war crimes four Jews who fought against the Nazis with the Russians. The investigation was dropped amid an international outcry.
Lithuania is the only country whose government officially branded Soviet occupation as a form of genocide. That "Soviet-sponsored genocide" is commemorated in Lithuania far more prominently than the Holocaust. And even any mention of the Jewish genocide had been absent from Vilnius' state Museum of Genocide Victims until 2011.
"Exposing that some Lithuanians who are considered patriotic heroes are really war criminals would undermine the good-versus-evil narrative," Katz noted.
It is precisely Vanagaite's credentials as a good Lithuanian from a good Lithuanian family that has made her message so piercing to fellow Lithuanians, said Zuroff, the co-author of "Our People" and longtime critic of Lithuanian governments.
"My voice [about Lithuania] was loud in international media, but I was not getting heard inside Lithuania, where I was pretty much portrayed as an enemy of the people," Zuroff told JTA. "It took someone like Ruta to achieve that."
The second part of Vanagaite's book is about her travels with Zuroff, where they spoke to octogenarians who witnessed mass executions. Referencing Zuroff – a reviled figure by many Lithuanians, including well-known cartoonists and nationalist columnists – Vanagaite titled that part of the book "Journey with an Enemy."
But Vanagaite and Zuroff are not in full accord. She believes that in lieu of Lithuanian introspection, the extent and cruelty of Lithuanian complicity has been vastly exaggerated – including in survivors' testimonies. She cast doubt on testimonies about a man who was boiled alive in Panevezys and an account that locals, after slaughtering dozens of Jews in Kaunas, sang the Lithuanian anthem. Zuroff says he has no reason to doubt these accounts.
"But these details are less significant in light of the movement that this book started," he said.
Meanwhile, Vanagaite is experiencing the public denunciation that for years has been directed at Zuroff, Katz and other critics of Lithuania's refusal to prosecute Holocaust perpetrators.
Cast as a Kremlin agent in some publications and as a closeted Jew in others, Vanagaite says some of her friends no longer wish to speak to her.
At a book fair next month, Vanagaite says she will hand out stones to visitors of her booth with the following instruction: "Any Lithuanian who's certain that their family wasn't involved in the Holocaust should throw one right at me."
http://jewishjournal.com/culture/182613/
Debut German film on Anne Frank premiering at Berlin festival
182539
http://jewishjournal.com/culture/182539/
Lithuanian Jewish leader seeks delay on naming alleged Nazi collaborators
The leader of Lithuania's Jewish community supported a proposal to delay publishing the names of suspected Holocaust perpetrators out of concern for their families' reputation and privacy.
Faina Kukliansky, a former prosecutor and president of the Jewish Community of Lithuania, made this assertion following discussions in Lithuania on publishing a list of 1,000 names that historians from the state-owned Genocide and Resistance Research Center of Lithuania have spent years compiling.
The center's director, Terese Birute Burauskaite, said on Tuesday that her institution would publish the list this year in a book, but later said it would transfer the list to state prosecutors instead. "I have it complete," she said of the list, "but how will the families [of those named] react if this violates their rights, if their guilt is not proven? I will convey it to the prosecutors."
Burauskaite said she transferred a list with 2,055 names to the government in 2012, but it was neither published nor used in criminal investigations. The center then eliminated more than 1,000 names from that list.
According to the Baltic News Service, Kukliansky supported Burauskaite's suggestion, explaining the degree of guilt of those named is not sufficiently clear. "It can lead to confusion," she said.
The issue of local complicity during the Holocaust is divisive in Lithuania, where many consider nationalists who fought along Nazis heroes because of their actions against Russia. The discussion on the list came following the publication last week of a book on this subject by Efraim Zuroff, a Nazi-hunter and director of the Simon Wiesenthal Center's Israel office, and the best-selling author Ruta Vanagaite.
Zuroff has long accused the Lithuanian government of harboring war criminals and failing to confront wartime complicity.
Following Kukliansky's statement, Zuroff accused her of "selling out" and "switching over to the side of the government." Contacted by JTA, Kukliansky declined to answer questions, lest her words "be presented in another way" than intended.
http://jewishjournal.com/world/182214/
UK anti-Semitic incidents down 22% from record number, security monitor says
182128
http://jewishjournal.com/world/182128/
Lithuanian chief rabbi protests excavation of WWII mass grave
The chief rabbi of Lithuania appealed to authorities to prevent the excavation of a mass grave of Holocaust victims in the country's north.
Rabbi Chaim Burshtein issued the statement Tuesday about the mass grave discovered this week during road construction work in Siauliai, a city located 120 miles northwest of Vilnius, Lithuania's capital.
"Please halt all disturbance and moving of these human remains," Burshtein wrote in reference to the work, which he called "the humiliation of the excavation of the human remains of hundreds of people from the Holocaust-era mass-murder grave uncovered this week."
Originally written in Russian, the statement was translated to English and reproduced by Dovid Katz, an American scholar of Yiddish who runs the defendinghistory.com website on Jewish issues in Lithuania.
Though some human remains were unearthed during construction, a forensic excavation has not yet begun, though a local government commission gave its approval for one on Monday, the Delfi news agency reported.
"It's been decided to excavate the remains, do anthropological tests and then rebury them and also mark this place," archaeologist Audrone Sapaite, who is in charge of the investigation, told the BNS news agency. She said that the remains of 40 people were found at the burial site. In all, approximately 700 people shot dead by the Nazis were buried there. The reports by BNS and Delfi did not mention Jews.
According to halachah, or traditional Jewish law, Jewish burial sites are not to be disturbed unless there is danger to the dignity of the dead or other special reasons. For this reason, archaeologists' desire to conduct forensic tests on mass graves has prompted fierce opposition by rabbinical groups throughout Eastern Europe.
Before World War II, Siauliai was home to some 6,600 Jews, according to the Yad Vashem Holocaust museum. Many escaped to the Soviet Union, but the Nazis and Lithuanian collaborators murdered hundreds of those who stayed in 1941 and in later mass killings. Some Jews from the city were conscripted to forced labor.
According to Sapaite, the bodies found in the mass grave belonged to "prisoners of various nationalities."
http://jewishjournal.com/lifestyle/175912/
Israeli bumblebees sent to Japan following mass death of local hives
175849
http://jewishjournal.com/lifestyle/175849/
Passing an art legacy on to the next generation
During the lengthy visits she would have with her great-uncle and great-aunt, David and Rivka Labkovski, at their home in South Africa, Leora Raikin — who was a young girl at the time — recalls these relatives being a bit eccentric.
David owned one pair of shoes, and Rivka — the sister of Raikin's grandmother Zlata Spektor — had but two dresses. Husband and wife wanted herring with every meal, a carryover from the frugal ways they lived during the years they spent in a Siberian prison camp during the Holocaust.
"He used to take my face in his hands and say, 'Do you want to be smart or do you want to be pretty?' and I would say, 'Can't I be both?' " Raikin said. "With Rivka, it was all about knowledge, intellectual ability and learning something new every day. She always wanted to know, 'What have you learned today?' "
David Labkovski had been an artist in his native Vilna, Lithuania, and during eight years in a Siberian prison camp, where he served as a sketch and tattoo artist. After the war, he resumed his artistic career in Israel, where he lived in the artist colony of Safed from 1958 until his death in 1991.
Labkovski would sometimes give Raikin a painting or a sketch as a present. She always hoped the gift would be "one of the happy ones," such as a picture of flowers.
Not all of Labkovski's work was so upbeat.
His imagery covers a spectrum, from images of his homeland, including scenes of everyday life in Vilna and its Nazi occupation during the war and its destruction during the Holocaust. Labkovski returned to Vilna in 1946 and met with survivors, capturing their memories on canvas. He also produced a series of works portraying the characters of Sholem Aleichem.
Works spanning Labkovski's career are represented in the exhibition "The Art and Life of David Labkovski," on display at the Los Angeles Museum of the Holocaust (LAMOTH) through June 14. The LAMOTH exhibition marks the first time a comprehensive collection of Labkovski's work will be seen in the United States. His family regained possession of the collection nearly three years ago, after a lengthy court dispute in Israel over ownership of the works.
During his lifetime, Labkovski's views on the placement of his art were as complex and conflicted as the man himself. He wanted the work seen in the Diaspora, but only when the viewers — particularly the next generation — were ready for it. He refused to sell his work, and, after a 1959 exhibition of his work in Israel, he and Rivka concluded that the time was not right, according to Raikin.
"The audiences in Israel were not ready to confront the horrors of the Holocaust. It was an Old World thing — they wanted to move forward," Raikin said. "David and Rivka had this absolute belief that one day a generation will come along that will appreciate this life that was lost, the enormity of it."
According to Raikin, after the deaths of her great-aunt and great-uncle, the artwork was left to the city of Safed. A small museum was badly maintained and eventually fell into disarray, and the art eventually fell under court conservatorship, Raikin said. By the time the court case was settled and the art came to Raikin's mother and her siblings, more than 20 years had passed.
An artist herself, Raikin wanted the work to be seen, and she found people of like minds in Connie Marco and Lisa Lainer-Fagan, both of whom are parents of students at New Community Jewish High School (NCJHS) in West Hills. Marco, the daughter of Holocaust survivors, also volunteered at LAMOTH and worked closely with the museum's executive director, Samara Hutman.
Hutman studied the Labkovski collection — the haunting self-portraits, the vibrant depictions of market scenes and shtetl life — and immediately knew that she would put the paintings on display.
"There was something incredibly prescient in the mind of the artist," Hutman said, "to sort of hold his body of work together to keep the integrity of the collection and of the vision and to save it for when the time is right.
"The work is magnificent, and I think there's something in really incredible alignment for us to exhibit this work," she added. "It has a lot of symmetry with the narrative of the museum. It is all about finding these little shards and remnants of a world that was blown apart by the Holocaust, and now we're all in this work of recovery and excavation and redignification."
The more people who saw Labkovski's work and heard Raikin's story, the more his great-niece was encouraged to get the art displayed, and the more the circle of support grew. A smaller version of the exhibition had an initial stop at the school, where a group of art students co-curated the exhibition under the guidance of art instructor Benny Ferdman.
Labkovski's work resonated not only with the art students, but with a spectrum of departments across the NCJHS campus. In addition to the eight co-curators — who argued and debated which works should be included — two film students are assembling a documentary about the Labkovski experience. Students have written poetry that accompanies the work at the school and at LAMOTH, and a student sang a song in Yiddish about Vilna at the openings.
This was the first time such a cross-department art display had come together at the school, said Ferdman, arts director and artist-in-residence at NCJHS.
"When you look at an artist's work over time and place, that kind of turns the work into an artifact as well," Ferdman said. "Beyond its aesthetic value, it becomes the witness to a time and place. It was like a little time machine from the past coming to us now."
Wherever the journey next takes Labkovski's art after LAMOTH, Raikin feels that by passing through young hands, the work has found its place again.
"I think we all feel it's our responsibility to make sure this next generation cares," Raikin said. "That the [NCJHS] students were so involved and vested, that superseded any dream I possibly could have had. It would have made David and Rivka so, so happy to have seen these students so interested. I can walk away and say I feel safe. I feel that these kids get it. They can pass it on."
For more information on "The Art and Life of David Labkovski," visit lamoth.org.
http://jewishjournal.com/is_featured_20110628/170558/
Obituaries: Week of April 17
170551
http://jewishjournal.com/obituaries/170551/
Israel opens embassy in Lithuania
Israel opened its first embassy in Lithuania.
The event was celebrated during a ceremony Thursday, the Baltic News Service reported, in the capital city of Vilnius, where one in four residents was Jewish before the Holocaust.
Lithuania used to have 250,000 Jews but the vast majority were killed by German Nazis and their local collaborators.
Israel's first ambassador to the Baltic nation is Amir Maimon.
Lithuania opened its embassy in Israel shortly after the two countries established diplomatic relations, in 1992 — a year after Lithuania regained its independence from Russia following the fall of the Soviet Union. In 2012, Lithuania, which has been a member of the European Union since 2003, appointed a commercial attache to serve in Israel.
Israel, however, refrained from opening an embassy in Lithuania. The Jewish state was represented in Lithuania by Israel's embassy in the capital of neighboring Riga.
"Flying a flag here in Vilnius carries a special significance. This is a country which is a cornerstone in Jewish heritage, where some of the great Jewish thinkers came from," Dan Ushpizin, a senior Israeli diplomat who attended the ceremony Thursday, said during the event.
During the opening ceremony, a rabbi affixed a mezuzah to the doorframe of the newly-opened embassy, BNS reported.
In recent years, the Lithuanian state's equating of Nazism and Communism — Lithuania is the only country claiming that its people were the victims of a genocide that it said was perpetrated by the Soviet Union – have damaged the country's reputation internationally and in Israel, where many perceived the claim as a means to exculpate Lithuania from its wartime government's deep complicity in the Holocaust.
In 2008, Lithuanian prosecutors began probing three Holocaust survivors who were declared suspects of war crimes allegedly committed during World War II. The investigation was abandoned amid an international outcry.
http://jewishjournal.com/israel/164497/
Israel imports Gaza produce for first time in nearly eight years
164373
http://jewishjournal.com/israel/164373/
In Lithuania, Yiddish teacher becomes unlikely bulwark against far right
Dovid Katz isn't typically a hard man to miss. With his bushy charcoal beard, heavy physique and trademark all-black outfits, Katz, a New York-born scholar of Yiddish, resembles a character from a Harry Potter film.
But at one of Europe's more unusual neo-Nazi marches, complete with ultranationalists clad in medieval armor and smoke blowing in the colors of the Lithuanian flag, even he could blend in temporarily with the crowd.
But halfway through the Feb. 16 procession traversing Lithuania's second largest city, Katz was spotted. One marcher walked up to him and blew a horn in his direction as others began chanting "Out with Katz." Undeterred, he continued to flank the procession.
For Katz, 58, who moved to Lithuania in 1999 to take a professorship at Vilnius University, the incident was just the latest expression of hate he has endured since 2008, when he began to speak out against the country's creeping legitimization of fascism.
"I came here in the euphoric post-independence years, when world peace was around the corner," Katz said. "My own euphoria diminished with every neo-Nazi march after 2008 and attempt to justify and explain away the Holocaust, events that are becoming even more common and acceptable responses to Russian aggression."
Lithuania has a long history of conflict with its Russian neighbor. The Museum of Genocide Victims in Vilnius, which until 2011 did not even mention the more than 200,000 Lithuanian Jews who died in the Nazi Holocaust, was established in 1992 to memorialize Lithuanians killed by the Nazi, but mostly Soviet, occupiers.
Lithuania is also one of the few countries where neo-Nazis are free to brandish swastikas on the street. Its northern neighbor, Latvia, is the only European country where veterans of the Waffen SS are allowed each year to march on main streets and commemorate their comrades, who are venerated as freedom fighters against Russia.
Since 2008, Latvia and Lithuania have played host to three neo-Nazi marches annually. A fourth event began last year in the third Baltic nation, Estonia.
The Baltic nations, which have clashed frequently with Slavic peoples, share bitter memories from Soviet domination that have made them natural allies of Germany, according to Efraim Zuroff, a Nazi hunter and director of the Simon Wiesenthal Center's Israel office. The historic conflict led thousands of Lithuanians and Latvians to volunteer for armed Nazi groups.
"Now, Russian expansionism under Vladimir Putin is serving as the perfect pretext to push forward a false historical account that accuses the Russians of genocide, and at the same time conveniently portrays the local Baltic populations as victims instead of perpetrators," said Zuroff, who shadowed the Kaunas march with Katz.
Those tendencies were in plain sight at the Kaunas march, where dozens carried banners of Ukrainian nationalists alongside Nazi symbols. Tomas Skorupskis, a march organizer from the Lithuanian Nationalist Youth Union, said Russia's invasion of Ukraine last year has helped swell the ranks of Lithuanian nationalists.
"Many Lithuanians find it hard to forgive Jews who, during communism, killed nationalist freedom fighters," Skorupsis said. "But I think we should leave it in the past and look ahead."
Since he began denouncing these phenomena, Katz, the author of numerous books in the field of Yiddish, lost his position at the Yiddish institute he founded at Vilnius University. He says it was political retribution, but his former bosses deny the claim.
Far-right activists often denounce Katz as a Russian agent. Some have published insulting caricatures of him and posted photographs of Katz at a cafe with a woman to the Facebook page of a far-right activist. Katz understands the latter move to be a reminder that he is being watched.
"I found out that anyone who will speak out against the legitimization of Nazism will be marginalized or threatened, or both," said Katz, who now makes a living by lecturing internationally and from seminars in Vilnius for visiting groups from around the world. "Especially if they are single, a bit eccentric and of a certain weight and appearance."
Katz is not the only anti-fascist activist complaining about persecution in the Baltics. In Latvia, authorities last year refused to renew the residency permit of Valery Engel, a Russian Jew with dual Israeli citizenship who lives in Riga with his Latvian wife and child. Earlier this month, Latvian officials considering his appeal to remain in the country demanded Engel prove that he informed Russian authorities of his Israeli citizenship.
"Since when does Latvia enforce Russia's laws on nationality?" asked Joseph Koren, a Latvia-born Jew who with Engel runs the Latvian branch of the World Without Nazism group. "It's an attempt to harass and to silence our opposition to the far right and the government's support of it."
Both Koren and Engel are mentioned several times in a 2013 report by the Latvia Security Police as having "played a great role in the discrediting campaign against Latvia" through actions "carried out in accordance with Russian foreign policy."
To Koren, a businessmen who says he is routinely detained at Riga's airport and lives under constant surveillance, this shows that Baltic nations "may have ended Soviet rule, but the Soviet techniques and mindset remain." Katz's case, Koren says, "is classic silencing in academia, just like in Soviet times."
The Latvian Foreign Ministry did not respond to questions about Engel and Koren.
For his first nine years in Lithuania, Katz largely avoided speaking out about politics. That changed in 2008, when Lithuanian prosecutors began probing three Jews who were declared suspects of war crimes allegedly committed during World War II. The investigation was abandoned amid an international outcry that Katz helped generate by lobbying Western embassies and founding his website DefendingHistory.com. But it came at a price.
"I was thrust into the spotlight of political activism at the expense of my reputation as a scholar," Katz said in an interview in his Vilnius apartment, which he shares with thousands of 19th-century Yiddish books that he rescued from across Eastern Europe. "I could no longer remain silent."
Katz says he was warned by his bosses at the Yiddish institute to cease lobbying in defense of the three Jews — Yitzhak Arad, Fania Brantsovsky and Rachel Margolis — who had fought as partisans against the Nazis.
But the institute's director, Sarunas Liekis, a member of the state's commission on Nazi and Soviet crimes, denies Katz's politics factored into the decision not to renew his contract.
"Mr. Katz is prone to conspiracy theories," Liekis said. "The truth is he hardly showed up for work from 2007 to 2010."
Katz says he never missed a class during his time at the institute.
http://jewishjournal.com/world/163816/
Copenhagen police forbid 'peace ring' at attacked synagogue
163785
http://jewishjournal.com/world/163785/
19th-century synagogue complex restored in Lithuania
After seven years of renovations, a unique complex made up of two 19th-century synagogues opened to the public in the Lithuanian town of Joniskis.
The Joniskis Synagogue Complex made its official debut earlier this month, the Russian Jewish news agency AEN reported Wednesday.
The complex in northern Lithuania comprises the Red Synagogue, which dates to 1865, and the White Synagogue, from 1823, according to the World Monuments Fund, which participated in the restoration.
"The unique complex of Joniskis synagogues is an important cultural, historic, architectural, and social landmark, not only in the district of Joniskis, but within Lithuania and Eastern Europe as a whole," the fund wrote on its website.
It noted that in1970, the complex was declared a Cultural Heritage Object by the Ministry of Cultural Heritage in Lithuania.
Countless Lithuanian synagogues were destroyed by the Nazis and later by the Soviet government. The Joniskis complex, with the Star of David decorating one of its facades, escaped a similar fate because it is surrounded by residential buildings, meaning that "would-be vandals passed right by them without realizing they were there," the fund wrote.
After the war, the buildings were abandoned and reused for various purposes, according to the fund.
The synagogues were in a "serious state of serious disrepair" when restoration efforts began in 2007, it said.
The roof of the White Synagogue was replaced and the false upper-level facades on the sides of the building have been restored to their original configuration, the fund reported. In addition, the Red Synagogue's foundations were repaired and made waterproof.
http://jewishjournal.com/world/133946/
Woolworths of South Africa threatens to sue BDS over protests
133861
http://jewishjournal.com/world/133861/
Lessons in Vilnius
Robin Solomon stood in the Ponary Forest in Lithuania, surrounded by fellow educators who wore white and sang Yiddish songs, accompanied by a violinist.
It was a captivating and stunning experience this summer, a stark contrast to the fact that Nazis viciously executed tens of thousands of Jews, Poles and Russians there during World War II.
The forest is a fitting metaphor for the Jews of Lithuania and the surrounding Baltic states today. Despite the pain and suffering people there have gone through, they've flourished into a vibrant and growing community, said Solomon, a teacher at Adat Ari El Day School in Valley Village.
"Jewish life exists there. People survived, and now the Baltic state has a desire for Jewish life and an attachment to the history and Israel. We saw evidence of this."
Solomon learned about this as part of "From Memory to Identity: Reclaiming Jewish History in Vilnius," a program that took her and 47 other teachers from Los Angeles and Tel Aviv to Lithuania and Latvia from July 2 to 9.
Participants learned about what the area was like before World War II and took a walking tour of the ghettos, visited the elderly and helped to restore a Jewish cemetery. They also went to the Ponary Memorial and Forest, traveled to a Jewish children's summer camp and school, and toured the Latvian capital of Riga.
The trip was part of The Jewish Federation of Greater Los Angeles' school twinning program, an initiative that connects teachers and students in Tel Aviv with those in Los Angeles. It has been active for 12 years and sends middle- and high-schoolers from one country to the other, according to the Federation's Web site. There are 19 schools from each country that participate.
Two years ago, Shalom Aleichem, a school in the Lithuanian capital of Vilnius, joined the initiative. It led to a three-way partnership with Kehillat Israel in Los Angeles and a school in Tel Aviv. In 2013, Kehillat Israel left the program, and Stephen S. Wise Temple took its place.
The three-way partnership is what led Federation officials to take educators from throughout the broader program to the Baltics as part of the Twinning Seminar's annual joint teachers' seminar trip, according to Ahuva Ron, Federation's senior education director.
Ron said that one goal is for teachers to focus on the revival of that particular Jewish community with their students, who may deepen their Jewish identity through it.
Andrew Cushnir, executive vice president and chief program officer at Federation, added, "We hope that as a result of the experience, the educators have a fresh eye view of the way Judaism is flourishing and facing challenges in the rest of the world."
The L.A. Federation has been financially supporting the Jewish communities in the Baltics region for years, and, according to Cushnir, it has encouraged the exchange of students in summer camps, found families in Los Angeles to sponsor children and expanded medical care at Jewish community centers.
Shari Davis, Los Angeles representative from the twinning program, and Tel Aviv director Lior Sibony led the eight-day seminar. The Joint Distribution Committee, a worldwide Jewish humanitarian organization, played a big part in putting together the trip, Ron said.
Rabbi Bruce Raff, head of the religious school at Wilshire Boulevard Temple, said he had anticipated a completely different view of Jewish life in the Baltics than what he actually saw.
"While I went on the trip expecting to see the skeletal remains of Lithuanian Jewry and what was left of the Holocaust, what I saw was a group of Jews who are striving to live Jewish lives there," he said. "Latvia was very contemporary and modern. They weren't living in the past, but trying to create a future."
One of the most poignant aspects of the trip, Raff said, was when the group ventured to a camp called Olameinu, which hosts summer sessions for Jewish children (ages 7 to 12) and teenagers (ages 12 to 18) from Latvia, Lithuania and Estonia. The group participated in the younger children's session.
"If you'd change the language … to English, it was very much an American summer camp," Raff said. "It was full of life, Jewish learning, and Israeli song and dance."
Solomon said, "To hear the children singing Hebrew and chanting a mantra, 'I am Jewish and I know it,' you could close your eyes and think you're in Ojai, Calif., at Camp Ramah. It was really unbelievable."
Participant Andrea Gardenhour, Center for Youth Engagement director at Stephen S. Wise, wrote in an e-mail that at Olameinu, the counselors "were so inspirational and dedicated, it filled me with a beautiful sense of Jewish hope for the future of the Baltics."
The rebuilding of Jewish life in these countries, which was thriving before the war, is occurring against all odds, according to those on the trip.
Prior to World War II, there were more than 100 synagogues in Vilnius and 200,000 Jews, accounting for 45 percent of the city's population, Ron said. Ninety percent of them were murdered in the Holocaust.
Despite this, Raff said, the community there now, which is composed of 3,500 Jews, is determined to find itself.
"They say, 'We are going to live meaningful Jewish lives here in Lithuania.' I thought it was amazing."
Each educator brought back his or her own lessons from the visit. When school begins again this fall, Solomon is going to share the details of her trip with her students and talk about Jewish memories. Gardenhour said that because her school is involved with Shalom Aleichem, she hopes to raise funds to send children to Olameinu and perhaps "send our students over to work in the camp as counselors."
And that's just the beginning. Roles will be reversed later this year when, from Nov. 21 to Dec. 2, students from Tel Aviv and Vilnius come to Los Angeles. They will go to the Center for Youth Engagement, stay with local families, learn about the Los Angeles community and visit the Museum of Tolerance and Federation. Cushnir stated that his overall vision is to incorporate the Baltic states from here on out in the twinning program.
Raff said that the whole experience proved once again that Jews, no matter where they are located, have to look out for one another.
"The Los Angeles community recognizes their responsibility to world Jewry," he said. "To say that we care about Jews but only in Los Angeles is not really indicative of what we want to do or be as a Jewish community. We need to recognize the needs of Jewish kids all over the world. Each Jew is responsible for one another in the world. It gave us a firsthand look into that."
http://jewishjournal.com/lifestyle/education/120300/
VIDEO: Israelis, get out or you're dead
120227
http://jewishjournal.com/world/120227/
Resurrecting Lithuania's Jewish past
During the course of one month in 1941, most of the thousands of Jewish residents of Utena, Lithuania, were rounded up by the Nazis, taken into the forest and murdered. Only a few dozen managed to escape.
That episode nearly buried the entire history of the centuries-old town, but through the efforts of the nonprofit MACEVA and volunteers like students at Abraham Joshua Heschel Day School in Northridge, this history is finally being unearthed. On Jan. 23, the entire eighth-grade class at Heschel filled the gym to translate the Hebrew inscribed on recently uncovered gravestones from Utena.
MACEVA, from the Hebrew word for "gravestone" (matseyva), is an organization that aims to preserve evidence of old Jewish cemeteries in Lithuania. Grant Gochin, a member of MACEVA's international advisory board, came upon the idea of restoring these burial grounds when he visited Lithuania a few years ago, interested in his own family's history.
"I realized that these cemeteries had fallen into complete disrepair, and that if we could read the gravestones, we could gain a small look into the lives of these people and help us honor their memory," said Gochin, 49, a wealth adviser from Chatsworth.
It quickly became a multinational effort as Gochin got kids here and in Lithuania involved in the restoration and translation project.
"I wanted the students to learn that the Jewish people didn't just arrive here randomly or disappear abroad without so much as a footprint, but that they came from an immense, majestic history that needs to be understood," he said.
Efrat Yakobi-Gafni, the middle school Hebrew coordinator at Heschel, saw the project as a way for students to not only use their Hebrew, but to understand Jewish history in a much more personal way.
"They are learning this history in a very real sense, not just from a textbook," she said. "It imparts an understanding of the destruction of Jewish communities that they cannot fathom just by reading."
One of the gravestones. Photo by Julie Bien
In Lithuania, students went into the forests, located the gravestones, cleaned them, photographed them and uploaded the images onto MACEVA's Web site. Heschel students then accessed the photos online and used their Hebrew skills to translate the names, dates and descriptions on the stones, which were then posted at litvak-cemetery.info.
Romy Dolgin, a student at Heschel, found that the ability to work hand-in-hand with eighth-graders across the globe was one of the most exciting things about this project.
"Just knowing that right now, kids on the other side of the world are looking at these tombstones, and it's connecting us to them, is very thrilling," she said.
"Obviously," Romy added, "the most important part of this project is to remember and understand that these people whose names are on these gravestones lived there and had real lives, and their families want to be able to trace back to these villages to find out where they came from."
Gochin said that while the Heschel event was just for one day, their involvement with the project doesn't need to end.
"The students can remain involved after doing this here. And their parents can as well," he said. "There are thousands of untranslated gravestones that need to be translated. Hopefully, this will help the next generation understand and appreciate the history."
http://jewishjournal.com/los_angeles/112702/
'Ace of Cakes' goes West
112673
http://jewishjournal.com/food/112673/
Leading haredi rabbi in Israel: Say no to national service
The senior rabbi of the Lithuanian haredi Orthodox, Rabbi Aharon Leib Shteinman, said yeshiva students should not agree to enlist in National Service.
The rabbi's decision, quoted Monday in the haredi daily newspaper Yated Ne'eman, comes a day after Israel's Cabinet approved a temporary law that would allow yeshiva students to perform national service in place of the military.
"We must warn publicly against this serious and dangerous phenomenon, which only aims to destroy the foundations of our existence, against the essence and mission of a yeshiva student to devote his life to studying Torah," the newspaper quoted Shteinman as saying.
The Cabinet's decisions and similar actions are "harming the foundations of Judaism," he reportedly said.
Steinman's statements appeared in an article inside the newspaper as opposed to a signed statement on the front page, where his pronouncements are typically placed, The Jerusalem Post reported, showing that the rabbi may be trying to walk a fine line between his own convictions and those of rabbis who have taken an even more hard-line stance.
Shteinman has previously backed the formation of an all-haredi army brigade and the Tal Law that exempted yeshiva students from army service, according to The Jerusalem Post. The Tal Law was found to be unconstitutional.
Shteinman's predecessor as leader of the Lithuanian haredi Orthodox movement, the late Rabbi Yosef Shalom Elyashiv, also rejected national service and other programs geared to the haredi community.
http://jewishjournal.com/israel/111072/
Israeli troops again filmed fleeing Palestinian mob
111035
http://jewishjournal.com/israel/111035/
On restitution, a rundown of where they stand in Eastern Europe
The following is a rundown of some Eastern European countries and where they stand on restitution:
Poland: Has not enacted any form of private restitution or compensation for an estimated $30.5 billion worth of property confiscated by the Nazis, then the communists. The Jewish share of claims on the properties is estimated at 20 percent to 27 percent. Poland has a burdensome process for restitution of Jewish communal property. As of Aug. 31, of the total of 5,504 authorized claims filed by Jewish communities, the pertinent Regulatory Commission had adjudicated (entirely
or partially) only 2,289 claims. Most properties returned are the least valuable and require a considerable amount of investment for maintenance to comply with Polish preservation law.
Romania: More than 200,000 private property claims were submitted pursuant to the 2003 deadline set under Romania's private restitution law. As of 2010, only some 119,000 of the claims had been adjudicated; of the adjudicated claims, in fewer than half was some sort of remedy proposed. As of 2010, only 5 percent (or about 10,300) of the more than 200,000 claims were determined to be eligible for compensation (but compensation has not yet necessarily been received). The fund created to provide compensation has been suspended and critics have called the restitution process corrupt.
Latvia: Three hundred communal properties have never been returned or compensated. Since the failure of a 2006 bill at an estimated value of 32 million LVL, or $60 million, nothing has been accomplised despite many new attempts and prime ministerial commissions to study the issue.
Some of the most improved countries on the issue are Lithuania, the Czech Republic and Serbia.
Lithuania: After considering several versions of restitution legislation, in 2009, the government proposed a compensation law based on what it claimed was 30 percent of the official value of those 152 properties. In June 2011, Lithuania's parliament approved the Law on Good Will Compensation for the Real Estate of Jewish Religious Communities authorizing the payment of 128 million litas (approximately $53 million) from 2013 to 2023 to compensate the Jewish community for communal property seized by the Nazi and Soviet occupation regimes. The law provides that the compensation is to be used for religious, cultural, health, sports and educational needs of Jews in Lithuania. Under the law, compensation funds will be transferred to a foundation designated by the government that will be administered by a governing body representing the Jewish Community in Lithuania, the Religious Jewish Community of Lithuania and other Jewish religious, health, cultural and education organizations. The law also provides that 3 million litas (approximately $1.25 million) will be made in one-time payments in 2012 "to support people of Jewish nationality who lived in Lithuania and suffered from totalitarian regimes during the period of occupation."
Czech Republic: In November, the lower house of Parliament approved a plan to return billions of dollars worth of communal property that was confiscated from Jews and Christians by previous communist governments. According to the bill, the Czech Federation of Jewish Communities is set to receive $500,000 a year over 30 years.
Serbia: Serbia passed a private property restitution law in 2011. Although it excludes property seized during the Holocaust — a condition the Jewish community leaders expect to be modified — the law also notes that heirless property of Holocaust victims will be addressed in separate legislation.
http://jewishjournal.com/world/110833/
The Myth of Jewish Addiction
110803
http://jewishjournal.com/lifestyle/110803/
Memorial service honors Lithuanian Charedi leader
Several hundred men and women attended a memorial service at Congregation Shaarei Tefila on July 23 to honor Rabbi Yosef Shalom Elyashiv, head of the Lithuanian Charedi communities in Israel. Attendees packed into Kanner Hall on Beverly Boulevard to hear eulogies and pay respects to the late leader, who died in Jerusalem at 102 on July 18.
The service began with introductions from Yeshivat Yavneh's Rabbi Shlomo Einhorn. Rabbi Gershon Bess of Congregation Kehilas Yaakov delivered the main eulogy, which focused on the late rabbi's dedication to learning.
"The clarity and detail of the texts that he achieved was world renowned," Bess said. "He was a light sleeper and a heavy learner."
Remarks by Rabbi Baruch Yehuda Gradon of Merkaz Hatorah and Rabbi Avrohom Ausband of Yeshiva of Telshe Alumni Riverdale followed.
Throughout his life, Elyashiv was considered a leading authority on a variety of issues and made rulings on issues ranging from elevator use on Shabbat to the permissibility of eating foie gras. He also advised the Israeli political party Degel HaTorah.
Elyashiv's health had been in decline in recent years. In February, he was admitted to a hospital for lung and heart problems.
An estimated 250,000 people turned out at Elyashiv's late-night funeral in Jerusalem.
Rabbi Elyashiv is survived by nearly 1,000 descendants, stemming from his 10 surviving children.
The July 23 memorial service was organized through Yeshivat Yavneh in conjunction with local synagogues and organizations. Einhorn, who recently became dean and rav of the school, was at one time a regular at Elyashiv's lectures.
"[Elyashiv] had an incredible and unparalleled commitment to Torah study," he said. "What really made him great was his consistency in his approach to learning."
http://jewishjournal.com/los_angeles/106509/
Israel: Syria Government Still in Control of Chemical Weapons
106415
http://jewishjournal.com/world/106415/
B'nai B'rith blasts Lithuania for honors for Nazi-allied PM
B'nai B'rith International condemned the Lithuanian government's posthumous honor of Juozas Ambrazeviciu, the wartime prime minister who was a Nazi collaborator.
The Jewish organization has sent a letter to Lithuanian President Dalia Grybauskaite in response to the Lithuanian government's plans to honor Ambrazeviciu, who was the prime minister of the 1941 Nazi-backed regime in Lithuania.
The Lithuania government is planning four days of events this month to honor the former prime minister, culminating in the reburial of his remains in Lithuania. Ambrazeviciu is buried in the United States, where he died in 1974.
B'nai B'rith President Allan J. Jacobs and Executive Vice President Daniel S. Mariaschin wrote Grybauskaite that the organization "deplores the glorification and reinterment—with full honors—of a man who headed Lithuania's Nazi-backed regime during the Holocaust."
"We call on you to cancel all public tributes to Ambrazevicius and to unequivocally condemn the role that he and his puppet government played in orchestrating the mass murder of Lithuanian Jewry," Jacobs and Mariaschin wrote. "Madam President, any ideology or movement that glorifies Nazism and minimizes the tragedy of the Holocaust must be forcefully opposed."
http://jewishjournal.com/world/104218/
Israel becomes target in Egypt's presidential vote
104175
http://jewishjournal.com/world/104175/
Yad Vashem takes back invitations to Lithuanian officials
Yad Vashem rescinded invitations to two Lithuanian officials to an annual commemoration of Lithuanian victims of the Holocaust.
The Israeli Holocaust museum asked Lithuanian Ambassador to Israel Darius Degutis and Minister of Culture Arunas Gelunas not to attend Monday's event after Yosef Melamed, chairman of the Association of Lithuanian Jews in Israel, pulled out. Melamed said he did not feel comfortable attending in light of the Lithuanian government's recent decision to attempt to prosecute him for investigating the actions of anti-Soviet partisans during the Holocaust.
The partisans, alleged by many to have contributed to the deaths of Jews, are being celebrated this year in Lithuania for their fight against the Soviet occupation.
The Yad Vashem commemoration honors the memory of the nearly 200,000 Lithuanians killed in the Holocaust.
Efraim Zuroff, director of the Simon Wiesenthal Center's Jerusalem office, praised the decision by the Jerusalem museum.
"Yad Vashem, which serves as the primary custodian of Shoah remembrance and the key guardian of the accuracy of the Jewish narrative of Holocaust history, is to be commended for fulfilling its historic function in a very courageous manner," he said. "Its decision is a crucial blow against the ongoing efforts of the Lithuanian government to distort the history of the Shoah in Lithuania and the role played by local Nazi collaborators in the mass murder of local and foreign Jews in Lithuania, as well as Jews in Belarus and Poland."
The Lithuanian government has dubbed 2011 the Year of the Holocaust—a distinction that has invested itself in commemoration ceremonies and funding for restoration projects.
http://jewishjournal.com/israel/96215/
Jersey Shore vs. Chaz Bono – Who is Classy? Who is Trashy?
96186
http://jewishjournal.com/newspulse/96186/
Lithuanian parliament approves compensation for confiscated property
Lithuania's parliament has agreed to pay $52 million over 10 years in compensation for properties confiscated from the country's Jewish community by the Nazis and by Soviet authorities.
The bill was passed by the parliament on Tuesday and still must be signed into law by the president.
Lithuanian Prime Minister Andrius Kubilius praised the action in a radio interview, calling it a demonstration of goodwill and of "understanding of the tragedy the Jewish community suffered during the Holocaust," Reuters reported.
The properties in question are currently in the hands of the Lithuanian government.
Lithuanian Jewish organizations have been pushing for compensation since 2002; they received support from Jewish organizations abroad as well.
According to the U.S. Holocaust Memorial Museum, Lithuania's pre-war Jewish population was about 160,000, some 7 percent of the country's total population. Lithuanian Jewry was nearly wiped out during the Holocaust, and Lithuanian perpetrators as well as German killing squads were key to the genocide.
Today's bill was supported by 81 of 141 legislators; 8 abstained.
Reportedly, the government would begin paying into a special compensation fund starting next year. The funds will be used in part to restore Jewish heritage sites. In addition, $1.25 million would be paid directly to Holocaust survivors next year.
Faina Kukliansky, deputy chair of Lithuania's approximately 3,000-member Jewish community, told Reuters that the spirit of the bill was more important than the amount.
"This is what the state can afford at this stage," she said.
The American Jewish Committee, which supported the Lithuanian Jewish community in its quest for compensation, greeted the bill as "a hard fought victory."
Rabbi Andrew Baker, AJC's director of international Jewish affairs, said that delays were largely due to concerns over domestic politics and nervousness about a populist, anti-Semitic backlash.
Baker cited the efforts of U.S. Ambassador Anne Derse and her predecessors as instrumental in winning over Lithuania's legislators.
The World Jewish Restitution Organization said that the law offered "a small measure of justice."
"While the amount which will be paid over the next decade represents only a small fraction of the value of the communal and religious property which was owned by the Jewish community prior to World War II, the passage of the law is historic, reflecting the Lithuanian government's recognition of its moral obligation to return or provide compensation for stolen Jewish property," the WJRO said in a statement.
The parliament's move comes days before the visit to Vilnius of U.S. Secretary of State Hillary Rodham Clinton for the meeting for foreign ministers of the Community of Democracies, over which Lithuania is presiding.
http://jewishjournal.com/world/93431/
Two arrested in Netanya gas explosion
93245
http://jewishjournal.com/world/93245/
Briefs: North Valley JCC stages return, CSULB Senate denounces Prof. MacDonald
North Valley JCC Stages Return
Don't count the North Valley Jewish Community Center (NVJCC) out just yet. Five years after the center's Granada Hills campus was sold to an Orthodox trade school in the aftermath of the JCCs crisis, NVJCC organizers have announced plans to establish a physical presence in the North San Fernando Valley or Santa Clarita Valley.
"Nobody thinks we exist," Executive Director Jerry Wayne said.
The surviving independent North Valley Jewish Community Center Inc. board is currently scouting several possible sites and working with an architect to evaluate development potential. Organizers are also developing a business plan that would allow the center to thrive without ongoing operational support from an outside agency, like The Jewish Federation or the Jewish Community Center Development Corp.
"We need to be self-sufficient," Wayne said. "And every program we develop is going to give back to the community in some way."
Wayne, who was director of the center from 1980 to 1992, is drawing a token salary and working with a handful of unpaid former center employees to revive its programming in the meantime.
The center still boasts about 100 member units, and is currently enrolling for its fall series of programs, which include a moms social group, a teen mitzvah group, a dinner club, a Yiddish conversation club and chaverim for young families to seniors. Activities take place at Temple Beth Torah and Temple Ramat Zion in Granada Hills or the Tesoro Senior Apartments in Porter Ranch.
For more information about North Valley Jewish Community Center, call (818) 360-2211 or e-mail nvjcc@yahoo.com.
— Adam Wills, Senior Editor
Long Beach Academic Senate Denounces Professor's Views
Cal State Long Beach's Academic Senate voted this month to disassociate the university faculty from the work of Kevin MacDonald, a psychology professor whose writings have been likened to "Mein Kampf" and "The Protocols of the Elders of Zion."
"While the Academic Senate defends Dr. Kevin MacDonald's academic freedom and freedom of speech, as it does for all faculty, it firmly and unequivocally disassociates itself from the anti-Semitic and white ethnocentric views he has expressed," the senate's resolution stated.
In an e-mail, MacDonald called the statement "fairly meaningless."
"Given that such statements have not been made about other faculty, I suppose it's not fair. But that's life," MacDonald wrote. "I am hoping that the statement by the Academic Senate is the culmination of all the ethnic activism that has been directed against me for over two years and that the end of all this harassment is near."
The vote, though not necessarily its passage, was expected. Tension on campus was building last spring when The Journal profiled MacDonald, leading to a community forum at the Alpert Jewish Community Center in Long Beach; this was followed by an entry for MacDonald on the Anti-Defamation League's Web site "Extremism in America."
University President F. King Alexander had said that although MacDonald had the right to his own opinion, Alexander found those "views deplorable and reprehensible." Several departments, including history and the Jewish studies program, denounced MacDonald's work as "professionally irresponsible and morally untenable"; his own department, psychology, disassociated from his writings because of their popularity with "extremist groups." And as the year came to a close, a resolution distancing the entire faculty from MacDonald was discussed.
He is best-known for his three-volume series "The Culture of Critique," which argues that Judaism is not a religion but a group evolutionary strategy, complete with its own eugenics program — the Talmud.
MacDonald claims that Nazism "may well have been caused or at least greatly facilitated by the presence of Judaism as a very salient and successful racially exclusive antithetical group strategy within German society."
MacDonald also claims that Jewish intellectuals and influentials, from their place at major media and the social sciences, seek to "destroy Europeans" by convincing them of their moral bankruptcy and the Jews moral superiority.
Jeffrey Blutinger, director of Cal State Long Beach's Jewish studies program and a professor of Jewish cultural history and post-communist Holocaust memorialization, led the crusade against MacDonald and hailed the decision.
"The Academic Senate represents the faculty of the university; it is the premiere institution on campus representing all faculty and speaks on their behalf," Blutinger said. "When Kevin MacDonald speaks, and he has the first amendment right to speak, he speaks only for himself and not for us."
— Brad A. Greenberg, Senior Writer
Iranian Jews Released on Bail for Alleged Kidnapping
Three defendants arrested on the day before Rosh Hashanah for allegedly kidnapping and holding for ransom a man whose diamond business they invested in were released on bail on the morning of Friday, Oct. 17.
Jamshid Daniali, Parviz Daniali and Hayame Lalezarian and his wife, Zhilla Lalezarian claimed they had invited Bension Vardi, an Afghani Jew who had solicited investments from Los Angeles' Iranian Jewish community, to the Lalezarian's Tarzana home and requested their $50,000 back. Shortly after Vardi arrived, his fiancée called police and said he was being held for $4.5 million ransom.
The Danialis and Lalezarians were charged with home invasion robbery, attempted kidnapping and kidnapping for ransom. Zhilla Lalezarian was the first to be released on bond because she is undergoing chemotherapy. Last week Van Nuys Superior Court Judge Karen Nudell granted the defense's request to have bail reduced from more than $1 million to $100,000 for the other defendants.
The L.A. County District Attorney's Office also dropped the home invasion count but added two other charges: simple kidnapping and criminal threats. The preliminary hearing was continued until Oct. 29.
— BG
'Beyond 60' Helps Educators Teach About Israel
Education experts are examining just how to present the complex world of Israel to youth at an upcoming conference, specially designed for current day and religious school principals and teachers in "Beyond 60: A Summit on Israel Education," said Phil Liff-Grief, associate director of the Bureau of Jewish Education of Greater Los Angeles and moderator of the program.
"There have been changes in both arenas," Liff-Grief said. "There are so many issues that have to be taken into account today."
The program will begin with a town-hall discussion, including Liff-Grief; BJE's David Ackerman; David Leichman, founder of Pinat Shorashim — a park in Israel dedicated to peace and the environment; and Dr. Steven Windmueller, dean of Hebrew Union College-Jewish Institute of Religion in Los Angeles.
Theoretical and practical discussions involving youth groups, camps and other topics of interest to education professionals, will round out the last two parts of the program.
Ackerman said the conference is important particularly because "we no longer have the exclusive rights to the story" as young adults have access to all kinds of information about Israel — not all of it accurate — via the Web.
The conference begins at 9 a.m., Wed., Nov. 12. $18 (a continental breakfast, lunch, nature walk, and a tour of the Maria Bennett Israel Discovery Center and Garden are included in the cost).
For more information, visit http://www.shalominstitute.com.
— Lilly Fowler, Contributing Writer
Head of Lithuanian Jewish Community Visits L.A.
Simon Gurevich, right, executive director of Lithuania's Jewish community, with Jack Frydrych, chair of The Federation's World Jewish Communities Committee, and Zane Buzby, co-founder of The Survivor Mitzvah Project
"The miracle of Jewish life is taking place in our country," said Simon Gurevich, head of Lithuania's Jewish community, last month in a talk to the World Jewish Communities Committee of The Jewish Federation of Greater Los Angeles.
With an annual budget of $1.3 million, the Jewish Community of Lithuania provides social services as well as educational, religious and cultural activities for many of Lithuania's estimated 5,000 Jews. More than $300,000 of that total is donated by the World Jewish Communities Committee, chaired by Jack Frydrych, through the Los Angeles-Baltic Partnership. The money supports Jewish renewal, sending some 600 youngsters to summer camp and more than 1,300 participants to the Baltics' Limmud Conference.
But only $300,000 of the annual budget is targeted to help Lithuania's needy, including 200 at-risk children and almost 1,200 destitute seniors, many who are Holocaust survivors. These social services include $30 monthly food cards for 104 people, hot meals served daily for 100 people and about 25 hours a month of home care for 126 people.
"Unfortunately, there are more people. We need to look for more resources," said Gurevich, 27, who emphasized the Jewish community's number one priority is ensuring a dignified life for all Lithuanian Jews.
And while Gurevich is optimistic about the future of Jewish life in a country in which about 90 percent of the estimated pre-war population of 220,000 Jews were killed by Nazis and their collaborators, he spoke about four unresolved issues.
One is the question of restitution of both Jewish communal and private property, which remains unsettled. Another is the building of luxury condominiums and other developments on the centuries-old Snipiskes Cemetery, where an estimated 50,000 Jews are buried. Even the U.S. House of Representatives, on Sept. 25 of this year, passed a resolution condemning the Lithuanian government for building on cemetery property.
A third concern is the rise of "Holocaust obfuscation," a form of double symmetry in which Jews, accused of conspiring with the communists, are partly blamed for causing their own annihilation, and Lithuanians are viewed as Soviet victims rather than Nazi collaborators. And while no Lithuanian war criminal has been persecuted since Lithuania's independence in 1989, the government has accused several former Jewish partisans, including Israeli Holocaust historian Dr. Yitzhak Arad, of killing innocent Lithuanians.
Lastly, Gurevich deplored the recent rise of anti-Semitism, pointing to a neo-Nazi March last spring and the painting of swastikas on Jewish community buildings on Tisha B'Av.
Zane Buzby, co-founder of the Survivor Mitzvah Project, which raises money to assist more than 850 destitute and forgotten Holocaust survivors in Lithuania and other Eastern European countries, also addressed the committee. She stressed the direness of the survivors' needs for food, medicines and money for heating, explaining that inflation of 12.6 percent will cause heating bills to average $160 monthly this winter, while pensions remain stagnant at $50 to $80 monthly.
"This is an emergency situation," she said.
For more information, visit http://www.litjews.org and http://www.survivormitzvah.org.
— Jane Ulman, Contributing Editor

http://jewishjournal.com/los_angeles/community/66658/
Briefs: Ex-Aussie P.M. warns of appeasement, Museum of Holocaust starts construction
66568
http://jewishjournal.com/los_angeles/community/66568/
Love among many splendored things at Baltics Limmud
Inna Lapidus and Boris Kinber have been etched in the lore of Baltic Jewry.
Activists are pointing to them not only as prime examples of Jewish revival, but of efforts to unify the small ex-Soviet communities of Lithuania, Latvia and Estonia.
It was two years ago that Lapidus, from the Estonian capital of Tallinn, attended her first Limmud conference in Lithuania, to immerse herself in all things Jewish and mingle with fellow Jews. Then a friend introduced her to Kinber, from the Latvian capital of Riga.
A long-distance Limmud love story unfolded, as Kinber and Lapidus, then studying French at The Sorbonne, met each month for dates in Paris, Tallinn or Riga. Their wedding last October drew guests from across the Baltics and beyond.
"When you're surrounded by people in your community you've known for years and don't find your partner, you go searching," said Lapidus, who graduated from the lone Jewish high school in Tallinn, where most of Estonia's approximately 4,000 Jews live.
The newlyweds returned to the fourth-annual Lithuanian Limmud in early February, this time joined by Lapidus' parents, Natalja and Ilja, who journeyed 10 hours to the Lithuanian capital city with other Estonian Jews on three double-decker buses.
Sentimentality for Limmud aside, Lapidus' mother said she was there to learn.
"Being from such a small Jewish community, there aren't so many people you can learn from, and we don't have much free time," said Natalja, 57, a pathologist. "Limmud offers us a wide range of possibilities."
The Lapidus-Kinber union may embody the essence of Limmud: creating space for Jewish learning and schmoozing with peers in a comfortable Jewish environment.
If matchmaking occurs between communities, so much the better.
Limmud also is the latest step in a campaign — funded in part by the contributions of the Los Angeles Jewish community — to create a cohesive Baltic region: from summer camps for children, to weekend gatherings for teens and 20-somethings, to Limmud, which is dominated by the so-called "missing generation" — reared entirely during communism — and younger families, with countless kids romping about.
Even a segment of the ultra-Orthodox attended the event.
Yet the opportunities at Limmud don't fully explain the remarkable turnout at this four-star resort in the wooded, snow-covered outskirts of Vilnius, which drew more than 1,000 local Jews from a Baltic Jewish population estimated at no more than 25,000.
The crowd was so large, guests were divided into three hotels and shuttled around by van. During dinner they nearly filled an adjoining ballroom.
"Proportionally I think it's the biggest event in the Jewish world," said Andres Spokoiny, who handles the region for the American Jewish Joint Distribution Committee (JDC), which co-sponsors the yearly event and other community-building efforts.
"It shows the thirst and desire to reconnect with Judaism, and that this reconnection takes place in an open, pluralistic environment with all the richness and diversity of Judaism present," Spokoiny said. "And when they look around that ballroom and see 1,000 people, they feel they're taking revenge on history."
Vilnius, a city known to Jews as Vilna, was the historic heart of Yiddishkeit until the Holocaust decimated the community. All four Baltic Limmuds have been held here.
The Limmud "studyfest" manifests the vision first laid out a quarter-century ago by its British founders.
"The principle is that all Jews should learn and all Jews can teach, so we need to provide opportunities for people to learn and for people to teach," said Clive Lawton, a Limmud co-founder who was on hand in Vilnius. "What you need is three to five people who say, 'We need to do this' — and then they need to find some friends."
Recent Limmuds have been organized in Turkey, Australia, Germany, Holland and New York. In Vilnius, Jews from Bulgaria, Belarus and Argentina were investigating whether the Limmud formula could be adapted locally.
For Vilnius Jews, five decades of aggressively anti-religious, assimilationist Soviet policies after the Holocaust further separated them from their roots.
But the city's symbolism and potential attracted The Jewish Federation of Greater Los Angeles, which co-sponsors the Vilnius Limmud with the JDC.
"It just made sense for us to partner with a community that used to be a center of learning, and can be once again," said Diane Fiedotin, a Los Angeles Federation member at the event. "The community here is alive, not a remnant waiting for the last Jew to die."
The Los Angeles Jewish Federation has donated about $200,000 annually to the region through a Los Angeles-Baltic Partnership begun in 2002. Beneficiaries include a hospital, schools, summer and winter camps, sports programs, leadership training and a research center.
"Limmud Baltics couldn't have been possible without the generous support of The L.A. Jewish Federation and its leaders within the framework of the LA-Baltic Partnership," wrote Spokoiny in an e-mail.
"Certainly, Limmud is the crowning jewel and the culmination of the many projects within that partnership that help develop the basic structure of Jewish life in the region. Together — L.A., JDC and, most important, the local leaders — we are transforming lives and making history. We are providing a vibrant Jewish future for thousands of people, and for entire communities, that we considered lost forever."
Indeed, the weekend seemed like the social event of the season. Far from the image of ex-Soviet denizens dependent on the Diaspora, subsisting on food packages from the JDC and others, this Limmud attracted a confident, newly rich and burgeoning middle class willing to shell out $70 per family member — double the fee three years ago — plus more for a posh hotel room.
With its combination of dozens of lectures — ranging from Jewish history, culture and traditions to humor, ethics and sex — and evening entertainment — Yiddish-themed song and dance, Israeli folk dance and pop music, and a Russian comedienne — participants say they circle the Limmud weekend many months in advance.
"It's a family seminar, and we try to do everything together as a family," said Daniel Tsomik, 25, of Kaunas, Lithuania, who attended with his entourage of six — his wife, Margarita; his parents; his sister and her boyfriend.
http://jewishjournal.com/nation/politics/14551/
Experts explore effects of Ahmadinejad anti-Semitism
14542
http://jewishjournal.com/nation/politics/14542/
'Catch A Fire' ignites filmmaker's memories of anti-apartheid dad
Shawn Slovo remembers how her Jewish parents, African National Congress activists, left home in the middle of the night to attend secret meetings. She recalls police regularly raiding their Johannesburg house and arresting her mother and father. All the while, she said, she resented "having to share my parents with a cause much greater than myself."
Slovo grew up to become a screenwriter who honored her parents (and exorcised childhood demons) through her movies.
After her mother, Ruth First, was assassinated by a parcel bomb in the early 1980s, she wrote "A World Apart" (1988) about their volatile mother-daughter relationship.
When her father, Joe Slovo, who was chief of staff of the ANC's military wing, described the black freedom fighter Patrick Chamusso, she penned "Catch a Fire," which opens Oct. 27.
If "A World Apart" is a tribute to the writer's mother, "Fire" salutes her father — albeit indirectly — who died in 1995.The thriller recounts how Chamusso, a foreman at South Africa's Secunda oil refinery, remained apolitical until he was falsely accused of bombing a section of the refinery. After he and his wife were brutally interrogated and tortured, the African became politicized and left his home near the factory to offer his services to Joe Slovo's guerilla unit in Mozambique. Using his inside knowledge, he told the guerillas he could raze the coal-to-oil refinery and keep it burning for days. With Slovo he created his plan to sneak back over the border, with mines strapped to his body, to furtively enter the factory on a coal conveyor belt. Chamusso only partially succeeded in his mission; he was arrested six days later and spent 10 years in prison on Robben Island. But his solo act raised morale among blacks struggling to overthrow the apartheid regime.
"It sums up the spirit of Joe," Slovo's younger sister, Robyn, the film's producer, said in a telephone interview.
Although Joe Slovo was one of ANC's top leaders and a close friend of Nelson Mandela, "he was a man who more than anything was interested in ordinary people," the producer said. "And Patrick Chamusso was an ordinary working man who was completely uninterested in politics until he was terrorized into action."
The producer denies that Chamusso was a terrorist, or that "Fire" glorifies terrorism.
"There's nothing equivalent in Patrick's actions and events taking place in the world today," she said. "Our film is about the struggle of a man to achieve the right to vote, and democracy in a police state that ran on race lines. It's much more like the American War of Independence than the suicide bombings in the Middle East."
Shawn Slovo believes the movie, directed by Phillip Noyce ("Clear and Present Danger"), ties in to a filmmaking trend that would have pleased her father: The telling of an African story from the perspective of a black man rather than a white outsider (her father appears only briefly in the movie). Hollywood studios have released a number of such films this year, including Kevin MacDonald's recent "The Last King of Scotland," about Idi Amin. "Fire" has earned mostly good reviews, including one from the Canadian magazine Macleans, saying it "is certain to generate serious heat at the Oscars."
For the screenwriter, the film is much more than an African espionage drama.
"The parallel for me is the way in which the political affects the personal, and how apartheid shattered and destroyed family life," she said. "My engagement with the characters and the history has to do with my past, and my family's past."
In 1934, the 8-year-old Joe (born Yossel) Slovo immigrated to South Africa to escape pogroms in his native Lithuania. Four years later, he was forced to abandon school to help support his impoverished family, taking a factory job, which was where he first learned of the wage disparity between blacks and whites. He was further politicized while discussing Marxist politics with fellow Jewish immigrants who shared his ramshackle boarding house.
By age 16 he had joined the South African Communist Party and rejected Zionism in favor of his own country's liberation movement. Even so, he considered himself "100 percent Jewish" and linked his work to the historical Jewish struggle for social justice, Robyn Slovo said.
At law school, he met First, daughter of Russian Jewish communists, and Nelson Mandela, with whom he helped found the ANC's military wing in 1961. Slovo was abroad, two years later, when Mandela and others were arrested and sentenced to life in prison at Robben Island.Shawn was 13 that year, and she was desperate for her parents' attention as her father vanished into exile; in retaliation for his disappearance, First was arrested and placed in solitary confinement, where she attempted suicide to avoid cracking under psychological torture. With her father labeled South Africa's most wanted man and "Public Enemy No. 1," Shawn was taunted at school, where even her Jewish best friend ostracized her. (Robyn and another sister were hounded as well.)
"A 13-year-old doesn't understand politics; she just wants her parents," the screenwriter said. "But I also felt guilty, because how could I complain about their absence when they were fighting for the liberation of 28 million blacks?"
After her mother's suicide attempt, the family was allowed to immigrate to England, where Shawn Slovo insisted upon attending boarding school because she felt unsafe at home.
"It was also a rebellion, a reaction to the past turbulence," she said. She entered the film business because "it was as far away from my parents' work as I could get."
During the rest of her childhood, Joe Slovo was mostly abroad in ANC training camps, reachable only through an intermediary or a fake name and address.
In the early 1980s, when she was in her 30s, she began to confront her parents about their devotion to politics over family. Joe declined to answer her questions, in his avuncular, matter-of-fact way: "His response was always, 'This was in the past, let's put it behind us and move forward,'" the screenwriter recalled.
http://jewishjournal.com/culture/arts/13883/
Ikea Doll Bat Mitzvah video
63733
http://jewishjournal.com/lifestyle/kids_and_teens/63733/
A journey back to the Shtetl
Finding my grandparents' native town in Lithuania was not easy. "Litvinovo," as my grandmother remembered it, appears on no map of Lithuania that I could find.
I had searched large-scale maps over the years on and off but found nothing solid. It was, of course, the Internet that eventually came to my rescue. A Web site, JewishGen, "the home of Jewish genealogy," has a remarkable utility, the "shtetl seeker." When I looked there for a Litvinovo in Lithuania, it returned a set of alternate place names – Liudvinavo, Lyudvinov, Lyudvinavas, Lyudvinav, Ludwinów, Ludvinavas, Liudvinavas, in all the old languages my grandmother spoke and more – as corresponding to a village only a few miles from Marijampol. And a map. I could drive there easily.
My grandparents were not Holocaust victims — their families had left for America 100 years ago — so I wasn't after a tale of the Shoah. I just wanted to trace my roots, find what I could find. I returned with a Jewish story told by non-Jews, one that is not of my own family but rather of my people. It's also simply a story about people.
My journey took me to Vilnius, the Lithuanian capital, past a bronze bust of Frank Zappa — perhaps the most singular monument to the fall of communism — to the Vilna Gaon Jewish State museum. It's known as "the Green House," a small wooden building uphill from a big busy street, marked by an easily missed, inconspicuous arrow.
Upstairs is the office of Neringa Latvyte-Gustaitevne, a young, energetic historian paid by Lithuania to document the history of that nation's Jews. Her English is blessedly better than my clumsy Russian. Neringa knows where Liudvinavas is, and she's prepared to go there with me in my black rented Hyundai.
Neringa, from a town about 70 kilometers north of Vilnius, isn't Jewish. She studied Lithuanian history at the nation's national university. The popular options for students of history, she says, are to focus on the country's glory days, which come in long-separated historical epochs: 1,000 years ago when the Lithuanian empire reached all the way to the Black Sea; or the achievements of the Lithuanian state established between the world wars.
It was a charismatic professor, Meyeris Shubas, who guided her to a black hole in the country's narrative. Shubas, almost 90 at the time, insisted that the real history that needed to be written, the history no one was writing, was of the Jewish community. Neringa followed his advice, though her choice bewildered her friends.
"They think I'm doing it for the money," she says, adding that there isn't any.
The next day, on the drive down, Neringa fills me in. Liudvinavas was founded in 1710 and opened to Jews as a shtetl in 1780, one year before the founding of Los Angeles. Jews thrived because they had civil rights that were uncommon for Jews elsewhere. They could sue, for example, and own property. In 1856, the town had 473 Christian inhabitants and 1,055 Jews.
But prosperity and liberality took a downturn, and most Jews gradually left.
The exodus accelerated due to pogroms and political instability before and after World War I. My grandparents left for Pittsburgh, Pennsylvania, where they would meet each other and marry. By the end of the 1930s, only 19 Jewish families made the fatal mistake of remaining in the old country.
The town of 1,000 residents dips out of a wide plain onto both sides of a river, with footbridges spanning the river's wooded ravine. It's an architectural patchwork, part-19th century timber-frame structures, part-boxy Soviet housing. With a practiced eye, Neringa points out the old houses most likely to have been Jewish — the ones with two doors, one to the house, one to the adjoining shop.
The town's friendly mayor, Irene Lunskiene, knows someone who can tell us what happened to those 19 families. She leads us to the home of Teresa Vizbariene, a grandmother who has, for two years, been collecting material about these Jewish clans, using photographs and diaries.
Teresa climbs into our car and, as we drive, points out houses and tells us about their former inhabitants.
The Jews of Liudvinas were very much a part of the town. Their children attended school with Christian children. They were observant Jews, but dressed much as others did. The Ginzbergs ran the water-driven flourmill, the only one for miles around — that must be the mill where my grandfather spoke of having worked. The old mill and its waterwheel has long been replaced by a 1950s Soviet-style generic concrete factory building. But fragments of the millrace that once channeled water past the wheel is still visible.
We also pass what's left of the old dairy — my grandmother must have been a familiar visitor there. The dairy, Teresa says, was a cooperative, with Jews and Lithuanians both participating.
For some of the telling, I must rely on my imagination: There is no synagogue anymore. But I learn that the floor above the sanctuary was occupied by the Drostradanskys, a young and financially struggling couple. Teresa has a picture of a young couple, he in a suit; she in a dress.
The Simons were one of the richest families in town; it tended to be the more prosperous Jews who remained. They'd bought up the farms of some of the émigrés. The Follingers had a leather factory and also a farm. The Hodesh family baked bread. So did Yankel, though he also had a farm, where he raised his own grain for his bakery. His daughter married a Hodesh son. Yankel was, Teresa tells us, the last Jew from Liudvinavas.
The site of his completely vanished farm, far out of town, on the crest of a hill, is "where those bushes are," Teresa says. When the Russians came in after the Nazi-Soviet pact of 1939, they took over what had been an independent Lithuanian state, imposing regulations on private farmers and grain sales. Yankel was found guilty of violating these and exiled to Siberia.
His family stayed behind, including his daughter and her children. In 1941, the invading Germans reached Liudvinavas, only a few kilometers from the border, in a matter of hours. And that summer, with the help of Lithuanian partisans, the Ginzbergs, Resnicks, Hodeshes, Follingers, and others were sent to Marijampol. None ever came back.
The tight confines of the Vilna Gaon Jewish State, where Neringa works, are crowded with pictures of old Jewish Vilna, its rabbis — including the great Elijah ben Solomon Zalman (1720-1797), the Gaon who gives the museum its name — and documentation of the town's large Jewish population. But the Jews of old share more than half the space Karl Jaeger, the highly efficient leader of Einsatzkommando 3, which during 1941 killed more than 137,300 people, mostly by shooting them and throwing them into pits, each day's work meticulously documented in records reproduced on the walls.
On August 22, 1941, for example, Jaeger's men, killed three Russian commandos, five Latvians, one Russian guard, three Poles, three gypsy men, three gypsy woman, one gypsy child, one Jewish man, one Jewish woman and one Armenian. The next day they killed "the mentally sick": 269 men, 227 women, 48 children." On a more ordinary day they killed 500 or so Jewish men, women and children. Final score: Lithuania set the national record in Europe for the percentage of its Jewish population that did not survive: More than 90 percent of the more than 200,000 perished.
Jaeger hid out after the war as a farmer, was discovered in 1959 and committed suicide before trial. About 6,000 Jews survived thanks to "the Japanese Schindler," Chiune Sugihara, the Japanese consul-general who stamped as many exit visas as he could – a monument to him stands outside the green house.
Sugihara wasn't able to help the 19 families of Liudvinavas. But one person survived.
In 1957, Teresa's brother was in Stalingrad (now Volgograd), and heard someone speaking Lithuanian with a recognizable accent. It was Yankel, the baker sent into exile by the Russians. Yankel looked old and battered and would say nothing about himself or his experiences.
"He was only asking about his family," Teresa recounts. "He wanted to know if maybe someone had managed to survive."
"He was very disappointed," is how Neringa translates Teresa words.
Yankel never returned to Liudvinavas.
Teresa has her own memories of the 19 families. She remembers that the Hodesh twin girls were popular, not least because their father owned a bakery that included a candy store. And they had beautiful matching coats, blue and red, like none seen in the town, universally admired and envied. In the summer of 1941, when the time came to send Liudvinavas' Jews to Jaeger, a local partisan working for the Germans saw the 8-year-old girls, coats in hands, waiting to leave.
"You won't need the coats," he snapped at them, seizing the garments. He had four daughters, including twins the same age. His twins wore them.
"Once a classmate of the partisan's two daughters told them that it is a shame to wear these coats," Teresa says. "Because everybody knew how the girls got the coats. The girls became very angry … got their sisters. They caught the classmate and beat her up and urinated on her. The girls were savage. All the children were afraid of them."
In 1944, with the Russians in control, the partisan was arrested and executed.  The four daughters are still alive — "but they do not live in Liudvinavas."
Nor do any Jews, of course. But there was the practical matter of the homes they left behind.
In 1941, these houses went to Lithuanian collaborators. Some, but by no means all, were turned over to the local government after the war. It resold them, including the Hodesh house, one of Teresa's daughters now lives there. But some houses, Neringa said, remain in the hands of families who got them from the Nazis.
My hosts couldn't be friendlier. When we return to Teresa's apartment, she serves tea and homemade jam. She gives me a jar of her cranberry jam.
Liudvinavas Mayor Lunskiene proudly points out that the former Jewish cemetery is now a city park. The park itself — a lovely spot, on a wooded ravine — shows no evidence of having ever been a cemetery except for a very few gravestone fragments with Yiddish inscriptions that are almost entirely concealed in the undergrowth among the trees. The Christian cemeteries are immaculately tended.
A barn occupies the site of the old synagogue.
The Vilnius "genocide museum," in a sizeable old KGB headquarters, isn't about Jews, but a testament to what the Russians did to Lithuanians. But there is the Jewish Gaon museum, crowded into about 2,200 square feet, including Neringa's upstairs office.
The Lithuanian government supports the museum — pays all the salaries and for building maintenance, says museum director Rachel Kusturian. The facility occupies valuable real estate much coveted by its neighbors. The nation is poor, and still struggling to find its feet, she explains, choosing her words carefully: "No, I do not think they could do more."
RESOURCES:
Images from the author's trip: www.well.com/user/stet/liudvinavas.htm
To trace your family history: www.jewishgen.org,
To find your ancestral shtetl, try "shtetl seeker": www.jewishgen.org/ShtetlSeeker
The Vilna Gaon Jewish State museum: www.jmuseum.lt/index.asp.
TRAVEL TIPS:
A number of airlines, including British Airways, SAS, LOT and Aeroflot offer through flights from Los Angeles to Vilnius for about $1,200-$1500 round trip.  Savvy and patient travelers can almost halve this by flying to Frankfurt or London and then using the European discount carrier Ryanair (www.ryanair.com), which offers cheap flights to Riga, Latvia and Kaunas, Lithuania.
Baltic prices are extremely low by European or American standards; with good accommodations available in Vilnius for less than $100 per night in, for example, an old monastery, the Domus Maria (www.domusmaria.vilnensis.lt,) built into the old city walls. Or pay much more at the luxury hotel Narutis (info@narutis.com). Both are in the heart of the tourist-oriented Old Town district. (We liked the away-from-the-center ambiance of Eguesthouse, which occupies an old factory (www.e-guesthousee.lt/en).
Russian is the most common second language, but English is spoken widely in Old Town. Roads in Lithuania are good and car rental reasonable and not heavily taxed  (a week for less than $150). Only the fearless would want to drive in Vilnius or other Balt city centers.
An extremely useful English source about all three Baltic republics (Lithuania, Latvia and Estonia) is the free, widely distributed monthly magazine City Paper, published in Talinn, Estonia (www.BalticsWorldwide.com). It has up-to-date tourist information about all three nations that was better than the guidebooks we brought. Easy to remember tip: "Thank you" in Lithuanian sounds exactly like "achoo," as in a sneeze.
AUTHOR'S LITHUANIAN GENEOLOGY:
Liudvinavas was the hometown of my paternal grandparents, my grandmother Miriam (Mary) Simons and my grandfather, Chaim Mankin, though they came to Pittsburgh separately about 100 years ago. When I was 18, I spent a summer staying with Mary, who spoke Yiddish, Polish, Lithuanian and Russian as a girl, and English as an adult in Pittsburgh. She told that she was from "Litvinovo," where her family had a farm, whose milk they sold in Mariampol. My grandfather (by then deceased) had been a miller.
http://jewishjournal.com/cover_story/215155/journey-back-shtetl/
Up Next
'Empire' Conquers Monstrous Task
12973
http://jewishjournal.com/world/12973/
Nation & World Briefs
Israel Reports Bird Flu Cases
Israel confirmed its first contagion by a deadly strain of avian flu. The Agriculture Ministry officially announced Monday that a virus that killed turkeys and chickens at three Negev farms was H5N1, a virulent strain that has spread across Europe, Africa and parts of Asia over the past three years.
The virus can kill humans if contracted from poultry, and scientists fear it could mutate and become directly communicable between people. However, the ministry said the outbreak, which prompted mass culling of poultry, was under control.
Families of Palestinian 'Martyrs' Receive UAE Funds
The United Arab Emirates (UAE) has given money to families of Palestinian "martyrs" killed or injured in the intifada. The money to the families of both civilians and militants was provided through the UAE's Red Crescent Society, The New York Times reported.
In at least one case, the money went to the family of a member of Islamic Jihad who was killed in clashes with Israel. The documents were provided to The Times by Gary Osen, a U.S. lawyer who is working on legal cases for U.S. victims of Palestinian terrorism.
The UAE is a federation of states that includes Dubai, where a government-owned company recently said it would sell its port-security operations to a U.S. firm, following an outcry about allowing a UAE-owned company to oversee security at U.S. ports.
EU Donates $78 Million for Palestinian Relief
The European Union donated $78 million for Palestinian relief. The sum, given to the United Nations on Monday for disbursement in the West Bank and Gaza Strip, was cast by the EU as an ad-hoc gesture that was not meant to undermine the 25-nation bloc's calls for Hamas, which won a majority in January's Palestinian Authority elections, to moderate its stance on Israel.
The EU has said its annual aid program of hundreds of millions of dollars for the Palestinians could be curbed or cut completely unless Hamas renounces terrorism, recognizes Israel's right to exist and accepts past Israeli-Palestinian peace accords.
Lithuanian Trial of Accused Nazi Collaborator Begins
The L.A.-based Simon Wiesenthal Center called upon Lithuanian authorities to expedite the trial of Nazi collaborator Algimantas Dailide, which began Sunday in Vilnius.
The center's Israel director, Efraim Zuroff, expressed hope that "the delay of justice and absence of punishment that characterized the cases of Dailide's superiors" in the Lithuanian security police, Alexandras Lileikis and Kazys Gimzauskas, would not recur in this case.
Dailide moved to the United States in 1950 and lived here until he was ordered deported in 2002 for his service in the Saugumas, the Nazi-sponsored Lithuanian security police for the Vilna Ghetto. No one has been convicted of Nazi-era war crimes in Lithuania since the country became independent in 1991.
Pollard Loses Court Bid for Access to Classified Data
The U.S. Supreme Court rejected Jonathan Pollard's petition for access to classified information used to convict him. A former U.S. Navy analyst, Pollard is serving a life sentence in a U.S. prison for spying for Israel.
On Monday, the high court rejected Pollard's request for a hearing on a petition for his attorneys to receive access to the evidence to bolster Pollard's argument for clemency. A hearing would not have affected Pollard's conviction.
Rabbi Calls for Creation of World Religions Organization
One of Israel's chief rabbis called for an international organization of religions. Yona Metzger, Israel's chief Ashkenazi rabbi, called Sunday for a "United Nations of religious groups" as the second World Congress of Imams and Rabbis for Peace opened in Seville, Spain, the BBC reported. About 150 rabbis and imams are taking part in the conference.
Also speaking at the three-day meeting, Rabbi Israel Singer of the World Jewish Congress' Policy Council rejected the idea that Jewish-Muslim tensions lie at the root of the Israeli-Palestinian conflict. He added that "religious crusaders" like Iranian President Mahmoud Ahmadinejad "must be exposed for what they are: impostors."
Meanwhile, a group of Jews, Muslims and Christians is making a solidarity trek across North Africa. The 10-member interfaith team, sponsored by the peacemaking group, Breaking the Ice, set off from Jerusalem on March 7 for a four-week journey scheduled to end in Tripoli, Libya. Among those taking part in the 3,400-mile trek is a retired Israeli fighter pilot; a former body double for Saddam Hussein's late son, Udai; a Palestinian accounting student; a New York firefighter, and a representative from Iran.
Michigan University Group Urges Israel Divestment
More than 40 professors and staff members at the University of Michigan presented a letter supporting divestment from Israel. Submitted online and to university regents last Friday, the letter argued that the school's financial involvements in Israel posed "serious moral or ethical questions."
During South Africa's apartheid, university regents voted to divest stock of companies doing business with the nation, and some Jewish observers worry that they will do the same now with Israel-related stocks.
Backers of divestment say the move will pressure Israel not to violate Palestinian human rights, but opponents say it ignores the reality that Israel is responding to Palestinian terrorist attacks.
3 Beat Jew in Paris; Police Arrest Suspects in Attack
A Jewish man was attacked in his car in a Paris suburb. Sunday's attack was carried out by three men of African and North African origin, according to the Office of Vigilance Against Anti-Semitism.
The three forced the man to stop his car and forcibly removed him from the vehicle, allegedly calling him a Jew in Arabic. The man was thrown to the ground and beaten. His attackers fled when another car passed by.
The victim managed to get his attackers' license plate number and go to the police station to press charges. The three men were then located and arrested.
Israeli Boxer Wins Prize
An Israeli boxer won a world heavyweight prize. Russian-born Roman Greenberg, 23, defeated Alex Vassilev in six rounds last Saturday at the IBO Intercontinental Heavyweight Championship in Monte Carlo. Now based in London, Greenberg has enjoyed 22 straight wins in his mostly amateur career.
Briefs courtesy Jewish Telegraphic Agency.
http://jewishjournal.com/world/12866/
Orthodox Alcohol, Drug Abuse Rising
12830
http://jewishjournal.com/world/12830/
Spectator – Family Doc Unlocks Doors
Growing up in Syracuse, N.Y, Eileen Douglas lived for the moments she could climb into her grandfather's lap and find the pennies he brought — special for her. He faithfully visited his grandchildren every day after leaving his work as a butcher. Yet he never really spoke about his upbringing in Kovno, Lithuania.
"I thought we weren't allowed to talk about it, that if you did, you would hurt the family," Douglas recalled. "My grandfather died suddenly when I was 12 and I never got to say goodbye."
Some 25 years after her grandfather died, Douglas paid a visit to her childhood home and stumbled upon a series of forgotten family photographs.
"These were people I'd never seen before," Douglas recalled. "I was shocked … they shattered my identity. How could it be that I did not know my own story?"
A broadcast journalist who spent her life telling the stories of other people, Douglas decided to apply years of professional expertise to her own personal history. The resulting 2004 documentary, "My Grandfather's House," records a poignant family saga that many Jews will find familiar.
Written and narrated by Douglas, the film, which screens Monday at the Skirball Center, unfolds like a personal diary as it chronicles the events that lead to the filmmaker's trip to Kovno. Accompanied by her adult daughter, Douglas searches for the home where her grandfather lived. Finally, as a woman in her 50s, she learns how her grandfather escaped conscription into the czar's army by fleeing to America. She also discovers how other relatives got herded into the Kovno Ghetto.
Douglas Steinman, who co-produced "My Grandfather House," views his partner's quest as "reversing the breaking of the glass, of restoring a family to one piece."
The detective work involved in making the film put Douglas in touch with more than 30 family members in North America, Russia and Israel that she either never met or had not heard from in years.
"I've got my family back," she said, "both living and dead."
"My Grandfather's House" screens Sept. 19, 7 p.m, Skirball Cultural Center, 2701 N. Sepulveda Blvd. $5 (general). For information, call (818) 771-5554 or visit www.jewishgen.org/jgsla.
 
http://jewishjournal.com/culture/arts/11921/
Spectator – The Great 'Wall' of Israel
11882
http://jewishjournal.com/culture/arts/11882/
Immigrant Dreams
On a recent trip to Manhattan, I traveled to the Lower East Side Tenement Museum, which I'd heard about from friends in Los Angeles.
The core of the museum is a restored 19th- century tenement house, which was a second point of landing, after Ellis Island, for a mixture of Italians, Germans and Eastern European and Sephardic Jews who made the hard crossing to America in search of better lives.
Built in 1863, the five-story tenement at 97 Orchard Street contained 20 three-room apartments, each encompassing about 325 square feet. These tiny apartments typically housed six or more people. It is hard today to imagine how they lived. The apartments had no showers, toilets or baths — those facilities were outside in the backyard. The hallways and most of the rooms were dark and dank. It must have been a challenging situation, to say the least. But thousands of families survived in these hovels until they could afford better.
During my visit I learned about the Rogarshevskys, a Jewish family from Lithuania that immigrated to the United States in 1901. All eight members of the family lived in one of those three-room apartments. The girls slept in the kitchen; the boys on a couch in the front room. The family's breadwinner — Abraham — worked as a presser in a garment shop; it was physically punishing work. These conditions contributed to Abraham contracting tuberculosis and he eventually died from the disease in 1918. As his beloved wife, Fannie, sat shiva in the family's tiny apartment, she worried over how she would survive without Abraham.
Fortunately for Fannie, one of the building's landlords was also from Lithuania, and he offered her the job of tenement janitor in exchange for free rent. For the next 20 years, Fannie did all of the dirty, disagreeable jobs associated with keeping 97 Orchard Street maintained — including cleaning the outdoor toilets and showers.
The Rogarshevskys, finding that their family name was a bit difficult for the American tongue, changed it to Rosenthal before the family moved out and spread across the East Coast. Today, the Rosenthals hold a variety of professional jobs — one is a rabbi, another is a doctor.
The Rogarshevsky story struck a responsive chord with me.
In 1919, my grandfather and grandmother, Jose and Mariana, immigrated separately to the United States from Mexico. Jose was in his early 20s and Mariana was still a teenager. Both had heard about a place called Detroit, where thousands of people were finding jobs assembling automobiles. Like Abraham Rogarshevsky and his family, Jose and Mariana each believed that America held the promise of a better life. As it turned out, neither Jose nor Mariana got farther than Arizona, where they met and married in 1925. My grandfather went to work for the railroad, which provided housing for the newlyweds and countless other Mexican immigrant workers. They were assigned to a 500-square-foot tenement apartment in a concrete block of such apartments known as a "section." The toilet facilities were outside and each apartment was overcrowded.
My grandparents eventually traveled with the railroad to Los Angeles. But inside the walls of a tiny tenement apartment, the first generation of the Delgadillo family in America — much like the Rogarshevsky family a continent away — began to give life and shape to their American dream. Today, the Delgadillos who followed Jose and Mariana — my parents, siblings, uncles, aunts and cousins — have taken the dream beyond what my grandparents might have imagined. We have joined the ranks of teachers, computer engineers, firefighters, bankers, police officers, entrepreneurs and elected public officials. We are no longer guests or new arrivals — we are a part of America in every sense of the word.
Many Americans, and many American leaders, own stories like these. When I consider the similar roads that have brought us all to this wonderful country — the physical and emotional experiences that we share — I find myself more optimistic about the possibility of finding ways to bring us together.

Rocky Delgadillo is city attorney for the city of Los Angeles.

http://jewishjournal.com/lifestyle/personals/9596/
No Compassion?
9546
http://jewishjournal.com/opinion/9546/